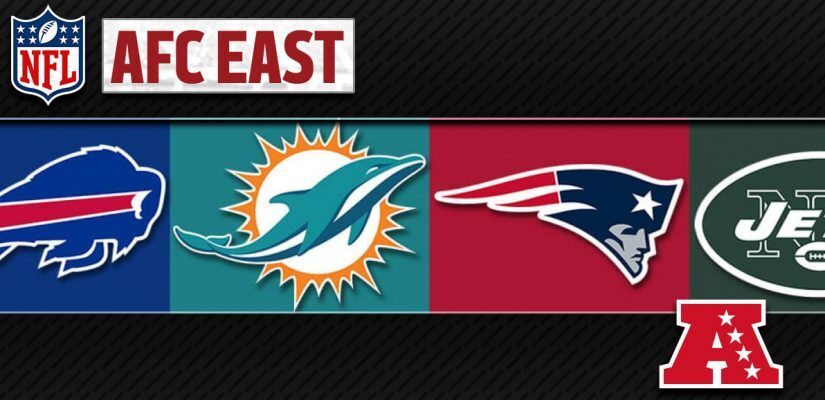 It's August, which means it's almost football season. If you're counting, we're actually just three days away from the first NFL action of the year. On Thursday night, the Las Vegas Raiders will open the preseason with a clash against the Jacksonville Jaguars in Canton, Ohio.
Preseason NFL games aren't the most enthralling TV spectacles you'll ever see, but football is football. The beginning of the preseason means the regular season can't be far behind.
In just over a month, the reigning Super Bowl champion Los Angeles Rams will host the upstart Buffalo Bills in what should be a fascinating interconference clash at SoFi Stadium. Barring injury, the Bills appear likely to head into the 2022 campaign as the betting favorites to win Super Bowl 57.
Needless to say, NFL betting sites also have Buffalo as a sizable favorite to win the AFC East Division this year. In fact, no team in all of football has better divisional odds than the Bills' -225 AFC East division odds.
Does that make the Bills a good bet to win the division for the third straight year? Or can you find better betting value elsewhere?
AFC East Division Betting Odds
Buffalo Bills (-225)
Miami Dolphins (+450)
New England Patriots (+500)
New York Jets (+2200)
Buffalo Bills (-225)
The Patriots absolutely owned the AFC East from 2001 until 2019. New England won a whopping 17 division titles in a 19-year span, though the East now runs through Western New York.
The Bills have won back-to-back division titles, and their -225 AFC East division odds indicate they're massive favorites to make it three in a row. Buffalo's 11-6 finish last year was a bit of a letdown on the heels of their 13-3 showing in 2020, but they still came awfully close to a second straight appearance in the AFC Championship Game.
The Bills' biggest offseason addition was former Super Bowl MVP Von Miller, who put pen to paper on a $120 million pact to come over from the Rams. The defense will also get All-Pro corner Tre'Davious White back from a torn ACL suffered last Thanksgiving.
Even when he can't practice (still removing from a torn ACL) Tre'Davious White is finding ways to be involved as much as possible and teach the young DBs a thing or two. pic.twitter.com/9XaWwUJUOt
— Heather Prusak (@haprusak) July 27, 2022
The team is optimistic the new arrivals will help shore up some of the defensive woes that cost the Bills dearly in their memorable playoff loss to Kansas City.
Putting points on the board should be no issue. The Bills will return nine offensive starters, though Ken Dorsey will replace the departed Brian Daboll as offensive coordinator. Jamison Crowder will serve as the replacement to Cole Beasley as Josh Allen's top slot target, while Stefon Diggs and Gabriel Davis give Buffalo two upper-echelon deep threats.
Devin Singletary will have competition in the backfield from second-round rookie James Cook. Cook figures to be utilized more in passing situations early on, though he showed at Georgia he's capable of handling a bigger workload if needed.
Assuming they can avoid the injury bug, there's no reason to doubt the Bills as a legitimate Super Bowl contender. The team's -225 AFC East division odds tell you all you need to know about where they stand relative to their three divisional bunkmates, as well.
Miami Dolphins (+450)
We've been waiting quite some time for the Miami Dolphins to become relevant again. Could 2022 be the year?
Miami made a couple of big splashes this offseason. Former 49ers offensive assistant Mike McDaniel came out of nowhere to land the Dolphins' head coaching gig. Shortly thereafter, the Dolphins came to terms on a blockbuster trade for Tyreek Hill, one of the most unique offensive weapons in football.
Brian Flores led Miami to a surprising 10-6 showing in 2020, but he was axed following the Dolphins' disappointing 9-8 finish last term. McDaniel and co. have said all the right things about QB Tua Tagovailoa, who has been rather uneven through his first couple of NFL seasons.
🐆 gettin' loose in the 🍊 jersey!
👀 @cheetah pic.twitter.com/W5voFE1XOZ
— Miami Dolphins (@MiamiDolphins) August 1, 2022
The ex-Alabama standout finished last season with better than 2,600 yards and 16 touchdowns to 10 interceptions across 13 games. Injuries have slowed Tagovailoa's development, but the addition of Hill should breathe some much-needed life into what has been a mediocre offense over the past several years. Hill and Jaylen Waddle give the Dolphins some legitimate weapons in the passing attack.
The Fins added a trio of veteran running backs in Raheem Mostert, Sony Michel, and Chase Edmonds this offseason, while Myles Gaskin remains after leading the team in rushing in each of the last two years. Signing top left tackle Terron Armstead away from the Saints should give the O-line a big boost, as well.
The Dolphins' +450 AFC East division odds put them about on par with the Patriots. Both are well behind the Bills with good reason, but would anybody be shocked if Miami took a big step forward this season?
Overtaking Buffalo is a very tall order, but there is a bit of value in Miami's +450 AFC East division betting odds.
New England Patriots (+500)
As mentioned, the Patriots absolutely ruled the AFC East for two full decades between 2000 and 2020. Since the departure of Tom Brady, however, New England has fallen back into the pack.
It's easy to forget, but New England went toe-to-toe with Buffalo atop the division for most of the 2021 campaign. Rookie Mac Jones helped the Pats get off to a hot 9-4 start before the team dropped three of its final four games in an unceremonious fashion. The Pats would then go on to suffer an embarrassing 30-point loss at the hands of the Bills in the AFC Wild Card Round.
Jones was more of a game manager than a game-breaker as a rookie, but that first season did give Bill Belichick reason for optimism. The former Alabama QB1 acquitted himself well in his first year of NFL action despite a lackluster group of weapons in the passing game.
Mac Jones to DeVante Parker got a rise out of the crowd … the two hooked up again deep later in practice in a live drill against the D. pic.twitter.com/LTiCWTx1pe
— Mike Reiss (@MikeReiss) August 1, 2022
DeVante Parker came over from the Dolphins shortly after Miami acquired Tyreek Hill. Injuries have slowed him in recent years, but Parker did put together an impressive 1,200-yard campaign for the Dolphins in 2019.
The Louisville product has good size (6'3″) and is a proven commodity in the red zone, which is something the Pats' offense sorely lacked a season ago. New England also drafted speedster Tyquan Thornton out of Baylor in the second round, who should add an element of verticality to what has been an otherwise vanilla New England offense in recent years.
While Brady got most of the attention during his time in Foxborough, the defense has been this team's true calling card for years. That defense was exposed in the playoff shellacking at the hands of the Bills, but they did add some much-needed speed this offseason.
Still, it's hard to imagine this version of the Pats ultimately giving the Bills a serious run, especially after what happened in their playoff matchup. If anything, the Patriots' +500 AFC East division odds look a little better than they probably should.
New York Jets (+2200)
Ah, yes, the New York Jets are here, too.
The Jets last won the AFC East in 2002, back when Chad Pennington was playing quarterback. New York wasn't even winning this division during the Mark Sanchez glory days between 2009 and 2010.
Since losing the second of their back-to-back trips to the AFC Championship Game in 2010, the Jets haven't made a single playoff appearance. New York also has just one winning season in that span.
The Jets showed some improvement last year, but it's hard to get too excited about a 4-13 record. The jury is still very much out on whether Zach Wilson is the long-awaited savior at QB, but reinforcements are on the way.
Zach Wilson throws a gorgeous ball to Garrett Wilson who almost makes a highlight catch#Jets pic.twitter.com/OvBt70teKL
— Optimistic Jets (@OptimisticJets) July 30, 2022
This offseason alone, the Jets beefed up offensively with the additions of Breece Hall, Garrett Wilson, Tyler Conklin, and CJ Uzomah. Between Corey Davis, Braxton Berrios, Elijah Moore, and Denzel Mims, the Jets have real depth in the passing game for the first time in well over a decade.
Wilson's 69.7 percent passer rating was the worst in the league a season ago, and he finished with more interceptions (11) than touchdowns (9) in 13 games. Whether Wilson shows major improvement from his first to second seasons will likely go a long way toward determining whether New York can make a dark-horse Wild Card push in 2022.
Of course, winning the division this year is incredibly unlikely. The Jets should be better, but their +2200 AFC East division betting odds make them incredible long shots to finish any better than fourth place yet again.
AFC East Division Prediction
Clearly, this division is the Bills' to lose.
Allen is set to open the 2022 season as the betting favorite to win MVP, and rightfully so. Buffalo has been trending in the right direction for the past few years, yet they'll enter the campaign as Super Bowl favorites for the first time in that span.
A rather soft division should only help the Bills' chances of cashing in on that elusive goal. Injuries can always pop up and throw a wrench into things, but anyone other than Buffalo winning the AFC East in '22 would be one of the biggest upsets we've seen in years.
You aren't getting much bang for your buck with the Bills' -225 AFC East division odds, but I really don't see any way around Buffalo going on to win a third consecutive division title.
Best NFL Bet: Buffalo Bills (-225)