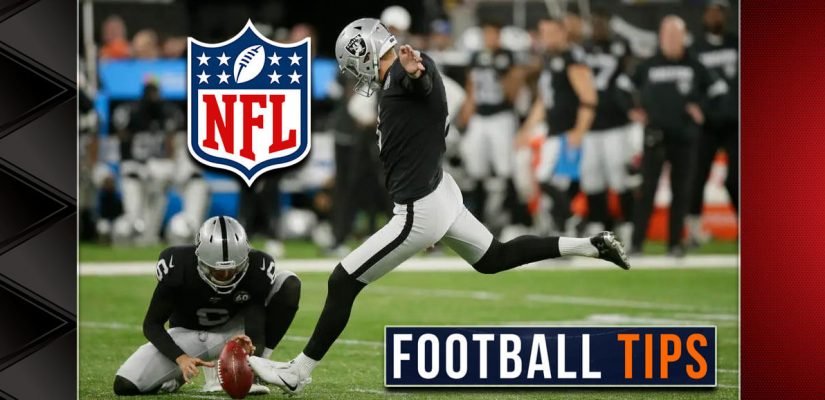 Are kickers football players? There is an old joke that the field goal kicker isn't a football player. This should only be said jokingly, though. Anyone that says kickers aren't real football players otherwise shouldn't be taken seriously.
DON'T OVERLOOK THE FIELD GOAL KICKER
The field goal kicker is an important part of any football team. You don't notice them until they miss a clutch kick. Then they're the scapegoat and the only player on the team that matters. Yes, punters are football players and important to the game, too.
I'm a football nerd and look at every variable in a game, and kicking plays a big role in the final score. Along with being a football nerd, I'm a football bettor, so handicapping the kicker is a must for your preparations.
Don't tell the Baltimore Ravens that field goal kickers aren't football players.
Justin Tucker wins Best Moment of the Year for his record-setting 66-yd kick against the Lions 🦵 🏈 pic.twitter.com/1OW2RodYqg
— NFL on ESPN (@ESPNNFL) February 11, 2022
Justin Tucker has saved the Ravens countless times in his career. Tucker recorded the NFL record, with a 66-yard field goal against the Detroit Lions this past year. That wasn't just a record, but a game-winner to break the hearts of the Lions at Ford Field.
New To Football?
If you are new to football and this all makes no sense, we will get into what a field in football is and how it impacts the game. We'll also go over how much a field goal in football is worth on the field.
You are better off learning early on that kickers are important, and if you don't believe they are after watching football for years, perhaps you need some convincing.
How Much Is A Field Goal In Football?
If you're new to football, then this will be helpful. However, football fans can probably skip this section and save some time. A field goal is worth 3 points in a football game.
In the NFL, there are no points for missing and kicking the ball through the end zone. This isn't the case in the CFL, though. Missed field goals that go through the back of the end zone are worth 1-point. This is the same for punting.
An extra point, which occurs after a touchdown if a team doesn't opt for a two-point conversion, is worth 1-point on the board. This doesn't seem like much, but that point can be important, especially for the point spread.
If you had the Rams -4 or -3.5 in the Super Bowl, the early botched extra point attempt ultimately burnt your money.
Is The Kicker Imporant In Football?
If you don't have time to read the rest of this article, I will keep it simple, yes, they are important. This is especially true since the extra point was moved back to 33-yard attempts from the 15-yard line.
A missed extra point can change the entire dynamic of a game. It often results in teams chasing that point through two-point conversion attempts.
More often in the modern game, teams are bypassing their kicker and going for two after their first touchdown.
The success rate for extra points has plummeted since the 33-yard field goal was introduced in 2015. In the 2021 season, only just over 92% of extra-point attempts were successful. This is the lowest since 1979.
The Extra Distance Hurts But Kickers Are Getting Worse
Moving the extra point to the 15-yard line hurt success rates. In 2014, extra points were made at a 99.3% clip. The following year when the new 33-yard field goal was introduced, kickers made 94.2% of extra points.
It's fallen since then, and for the first time in the new era, kickers have missed less than 93% of field goals. This can change the entire game plan for a team if their kicker isn't hitting extra points and chip-shot field goals.
Kickers Lead the NFL In Scoring
Whom do you believe led the NFL in scoring in 2021? If you picked Cooper Kupp or Jonathan Taylor, then you are well off the mark. Kickers dominated the point-scoring last year, and this is the case every year.
It wasn't a surprise that the high-scorer in the NFL was a kicker. In fact, the 13th highest-scoring players in the NFL were all kickers. Kupp's 134 points is the most points scored by a non-kicker in 2021. His teammate, Matt Gay, was the high-scoring player in the NFL with 179 points.
Gay edged out Evan McPherson of the Bengals with 178 points. The Rams and Bengals ultimately met in the Super Bowl, and the two highest-scoring players in the league participated and it wasn't Kupp and Ja'Marr Chase.
Kickers Alter How Coaches Approach Their Game Plan
As we noted, the coaching must change depending on the kicker. There are several ways to look at this from a coaching perspective.
If a team doesn't have a dependable kicker, they may be forced into going for two-point conversions more often.
Sometimes this works out well and a team converts, but it puts a lot of pressure on the offense to be successful with a struggling kicker on the roster. Nobody wants that uncertainty in close games.
Missed extra points and field goals can change everything for a head coach. They often have to chase those missed points.
Instead of taking the conservative route with 3 points close to guaranteed with a good kicker, offensive coordinators have to dial up the offense and take more chances. A quality kicker is a nice security blanket for a team.
Games Are Often Decided By Late Field Goals
Divisional Round Weekend came down to two last-second field goals. And in both instances, the team attempting the field goals came out a winner.
Money. Mac. Shooter. McPherson. Legend.
Visit https://t.co/KpeqK4RKUm for more highlights. pic.twitter.com/CIrXmzwZI0
— Cincinnati Bengals (@Bengals) January 23, 2022
The San Francisco 49ers beat the Packers on a 45-yard field goal, while Evan McPherson, who was instrumental during the Bengals' Super Bowl run, connected on a 52-yard field goal against the Tennessee Titans.
GOULD IS GOOD.
THE @49ERS WIN IN LAMBEAU TO ADVANCE TO THE NFC CHAMPIONSHIP. #FTTB #NFLPlayoffs pic.twitter.com/7JouarMybq
— NFL (@NFL) January 23, 2022
That was two No. 1 seeds removed from the playoffs on the leg of a kicker. If they miss, the playoffs and Super Bowl might have had a different look. So, it's not just games that are often decided by late fields, but important games often come down to the field goal kicker.
For sports bettors, 3 points is the most important point spread in football. There is a huge difference between a 2.5, 3, and 3.5-point spread. Kickers oftentimes decide which team is going to cover in these games.
How To Win Money On Field Goal Kickers
Football Kicker Prop Bets
Why should you pay attention to the kicker? This is a pretty big one if you like to bet NFL props. Kicker prop bets are available every week if you look around.
The Super Bowl has the most props, but weekly regular season games have kicker props as well.
If you do your homework, kicker props can be profitable. Blindly betting isn't going to do much, though. A couple of kicker props include the Over Under for the longest field goal in a game, Over Under for field goals made, or points scored for an individual kicker.
TheSportsGeek recommends checking out the best NFL betting sites for your prop betting experience this season.
Do Your Homework
Completing your homework and handicapping a game properly can improve your chances of riding a hot kicker to a win. Is this foolproof?
Absolutely not. Unless it's field goal kicker prop betting, you will have to look at the whole picture of a game, which should take into account the kicker and other aspects.
THE POINT SPREAD IS AN INDICATOR
This is going to be especially true in games where the point spreads are at key numbers like 3 points. The oddsmakers have crunched the numbers, and they believe the game is going to come down to a field goal.
In other words, it's important to look at how the field goal kickers are performing. A kicker playing without confidence can ruin a point spread. In a tight, low-scoring game, I want to be with a reliable kicker in good form.
The other angle to take is the weather report. If it's really windy, this is the kind of game that will impact kickers considerably. Ensure that you know the weather conditions of a game before making your bet. Live betting can be useful in this case.
Conclusion
Don't be lazy in your football research for games. Overlooking the kicker can often lose you money. Conversely, doing your due diligence and handicapping a game properly, which includes researching the kickers, provides you with a better opportunity for winning.