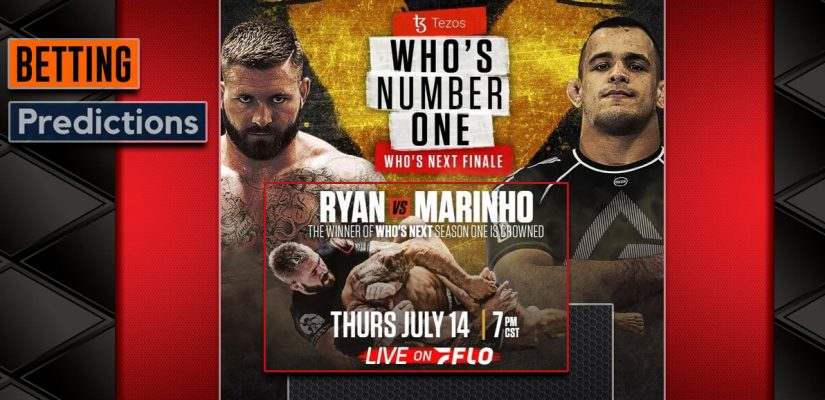 Who's Number One is back on July 14th! We have the WNO BJJ Odds and we're ready to share our BJJ breakdown and top picks for each match. 
How to Watch and Bet on Who's Number One BJJ
 You can see WNO BJJ on UFC Fight Pass starting at 7:00 PM ET. Catch all eighth fights with Who's Number One betting odds, and place your bets with betonline.ag by clicking any of our Place Bet buttons. 
Most of the top MMA betting sites are supporting WNO, and it's exciting to see the sport gaining more and more mainstream attention. 
Over Under Rules
The WNO rule set allows fighters to take as long as they'd like to get the submission. Theoretically, there is no time limit to any match. The Over Under is always a guess at the length of the match in minutes. 
WNO BJJ Odds for Predictions
Gordon Ryan -2000
Chambers vs Mitchell Over 30 +205
Tacket -600
Overvig vs Manasoiu Under 10 -350
Rakshan -500
Meregali -700
Ramirez vs Hanson Under 10 -130
Rodriguez +205
PLACE YOUR BETS NOW!
"Part of me respects him, and part of me thinks 'that was a mistake, now I have to embarrass you.'"https://t.co/7GC652eYFF
— FloGrappling (@FloGrappling) July 11, 2022
WNO Main Event Odds: Gordon Ryan vs Pedro Marinho 
Bet 
Odds 
Ryan Money Line
-2000
Marinho Money Line
+1000
Over 15 MInutes 
+150
Under 15 Minutes 
-180
The champ returns and we have no reason to believe it's not another win. Gordon Ryan looks prepared for his return in peak condition, while Marinho has been 2-0 for the year, his 52-19 Flograppling record doesn't support his win. Bet the Over if you're feeling tentative because Gordon tends to take his time. Our money is a parlay bet on Gordon "King" Ryan. 
PLACE YOUR BETS NOW! 
Who's Next Championship: Kyle Chambers vs Izaak Michell 
Bet 
Odds 
Chambers Money Line
+325
Michell Money Line
-425
Over 30 MInutes 
+205
Under 30 Minutes 
-265
Chambers upset the #1 contender Tackett with a leg lock after nearly an hour of competition. Michell is the favorite, mainly because of his association with Jones. It's unclear who will win, but no time limit with leg locking centered fighters is a recipe for a long night. 
Our pick is a triple your money bet; the Over 30 Minutes prop. 
WNO Parlay Pick: Rene Sousa vs Andrew Tackett
Bet 
Odds 
Sousa Money Line
+400
Tackett Money Line
-600
Over 10 MInutes 
-240
Under 10 Minutes 
+190
Tackett lost in the semi finals but he's clearly being highlighted here. Sousa is a 10th Planet competitor whose biggest wins are FUJI pro and High Rollerz. Tackett is going to destroy him, and put on a more exciting match than the Who's Next Finale. Bet the WNO BJJ odds on a Tackett Money line and look to parlay. 
PLACE YOUR BETS NOW! 
Tristan Overvig vs Daniel Manasoiu 
Bet 
Odds 
Overvig Money Line
+400
Manasoiu Money Line
-600
Over 10 MInutes 
+275
Under 10 Minutes 
-350
Manasoiu was taken out by Tackett, and we believe he has a conditioning issue.
Overvig is a pro MMA fighter, former collegiate wrestler, and nearly forty pounds smaller than Daniel.
Clearly setting Daniel up for a win here, but were betting the Under prop in case Overvig shows up and gets a double leg to back mount for a lucky finish against an under conditioned fighter. 
Spencer Fossier vs Mike Rakshan 
Bet 
Odds 
Fossier Money Line
+375
Rakshan Money Line
-500
Over 10 MInutes 
-280
Under 10 Minutes 
+220
Fossier was a Who's Next competitor that didn't perform well. Rakshan is an IBJJF placer, a student of Danaher, and has been competing and winning events for twelve years. We're taking the Mike Rakshan money line for $20 in winnings per $100 wagered. The Who's Number One odds show the under as the underdog prop bet, and the long match we were expecting could push either man's conditioning to the limit. Skip the parlay. 
PLACE YOUR BETS NOW! 
WNO Parlay Pick: Breylor Grout vs Nicholas Meregali 
Bet 
Odds 
Grout Money Line
+450
Meregali Money Line
-700
Over 10 MInutes 
-140 
Under 10 Minutes 
+110
Meregali crushes Grout.
We debated the Under prop, but Meregali adjusting to no-gi could make for a long match.
Grout is a 6-5 competitor on Flograppling compared to Meregali's 61-16-1 record in pro grappling. 
Bet the Meregali money line on a parlay pick. 
Fabian Ramirez vs Max Hanson 
Bet 
Odds 
Ramirez Money Line
+300
Hanson Money Line
-400
Over 10 MInutes 
+100
Under 10 Minutes 
-130
Ramirez was a Who's Next competitor. He's getting the opportunity to face another Who's Next member, Max Hanson of Dante Leon's tutelage. I see the Under as the right bet, with Ramirez having a better chance at success than many analysts believe. The WNO odds for the prop pay winnings of $76.92 per $100 bet. 
PLACE YOUR BETS NOW! 
WNO Upset Pick: Jacob Rodriguez vs Giancarlo Bodoni
Bet 
Odds 
Rodriguez Money Line
+205
Bodoni Money Line
-265
Over 10 MInutes 
-155
Under 10 Minutes 
+125
Rodriguez ADCC trials run was a thing of beauty. He's taking no breaks, with a match against the IBJJF Pans Champion of 2021 in Bodoni. Bodoni is an Alliance Bjj competitor with a focus on classic attacks. Still, Rodriguez has something special, both in his tenacity of submissions and his athleticism. This is our only money line upset pick, Jacob Rodriguez wins for a triple your money bet. 
PLACE YOUR BETS NOW!