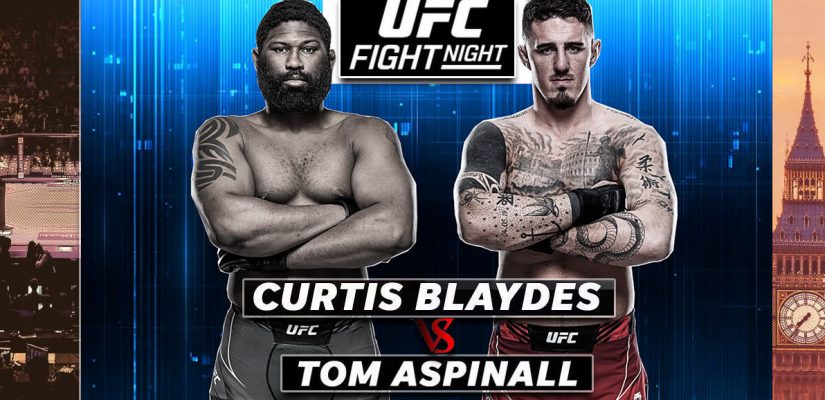 Our UFC Fight Night 208 betting odds cover all fourteen fights. This UFC London card is stacked with several clear winners, and in our opinion, underrated fighters with fantastic odds. 
How to Watch and Bet on UFC London: Blaydes vs Aspinall 
Tune in to UFC London, UFC Fight Night 208 on July 23rd, 2022 at 12PM ET. This entire show will air on ESPN+, with the main card starting around 3:45 PM ET. Click any of our bet now buttons to build your betting ticket on Bovada, one of our UFC betting sites of choice for UFC Fight Night 208 odds. You'll see 15 to 22 betting markets for each of the 14 fights. 
UFC Fight Night 208 Predictions 
Tom Aspinall Money Line -141
Chris Curtis Money Line -109
Pimblett vs Leavitt: Over 1.5 Rounds -130
Krylov Money Line -200
McCann Money Line -425
Oezdemir vs Craig: Fight Goes to Decision, No -325
Ludovit Klein Money LIne +305
Diakiese vs Hadzovic: Over 1.5 Rounds -285
Wood vs Rosa: Over 1.5 Rounds -450
Pearce Money Line -193
Nelson vs Herbert:Fight doesn't go the Distance -305
Leonardo vs Bohm: Fight Finishes 1 Full round, yes prop bet at -800
Claudio Silva Money Line +188
PLACE YOUR BETS NOW! 
UFC Fight Night 208 Odds 
Each fight has a greater selection of odds at Bovada, but we've covered our top bets and props for each fight. 
UFC London Main Event Pick: Tom Aspinall -141 vs Curtis Blaydes +115
Blaydes is the underdog for the very first time. He lost to Ngannou as the favorite at -240, and he lost to Derrick Lewis at -390. Aspinall is still undefeated in the UFC, stopping all five opponents. 
His odds history isn't as dramatic, but his crushing defeat of Volkov as a -120 solidified his place as the favorite. Let's go over some of our top UFC Fight Night 208 predictions for the main event. 
See you tomorrow for a STACKED #UFCLondon card!
[ Prelims 12pm ET | Main Card 3pm ET | LIVE on @ESPNPlus ] pic.twitter.com/64z3gpvRgB
— UFC (@ufc) July 22, 2022
Tom Aspinall to Have a Knockdown -120
If Blaydes is going to make this fight competitive, early grappling is going to be key. This makes for a long fight. Blaydes went the distance with Volkov in 2020, racking up five rounds and fourteen takedowns. Expect Aspinall to be forced to box; both his UFC fights against grapplers have seen knockdowns. 
Tom Aspinall Money Line -141
This guy has something special. His knockout power and fearless style make him difficult to train for. His quick submission of Volkov makes me believe his BJJ game is high enough above Blaydes, who couldn't even threaten a Volkov finish, that we could see an early night on the feet or via submission. 
PLACE YOUR BETS NOW! 
UFC London Co- Main Event Pick: Chris Curtis -109 vs Jack Hermansson -112
Hermansson is the favorite after losses at +205 to Strickland and +115 to Vettori. He's struggled against hard hitting athletes, which is scary going up against Chris Curtis. Curtis is 4-0 in the UFC with three knockouts. He was moderate in PFL but has found a stride finishing UFC fighters as the underdog. 
Fight Goes to Decision, No -141
Hermansson is capable of leg locks and a unique submission style that he is still growing into. It's still developing, but he's dangerous. Curtis has finished 75% of his UFC opponents, and five of his last seven fights total. 
Chris Curtis Money Line -109
Hermansson's history of getting knocked out is troublesome. It's tough to bet on him against a knockout artist after his only wins are over men with 0-1 UFC TKOs.  Curtis has never been submitted, even by Magomed Magomedkerimov. Expect Curtis to win via TKO or decision.
PLACE YOUR BETS NOW!  
Jordan Leavitt +215 vs Paddy Pimblett -265
Pimblett is a rising star and has been the favorite in every fight since his loss to Soren Bak at +105. He's finished four fights in a row in the first round. Leavitt was the underdog against Ogden at +125, a fight he won via decision. Jordan 'The Monkey King'  lost to Puelles at -160 in 2021, but has three UFC finishes in a mostly grappling centered fight game. 
Leavitt Money Line +215 
An upset is very possible in this fight. Pimblett's UFC opponent's to date have both been 2-1 coming in. Jordan is the best fighter he's faced since Soren Bak and a real test of his ability. Leavitt is easy to underestimate and mostly the underdog because of hype, not skill. 
Over 1.5 Rounds -130
Pimblett and Leavitt have both not been finished in their past ten fights. They both have first round finishes, but Leavitt is going to drag this out because of the nature of Pimblett's weight cuts. It's the smart way to approach this fight, and something I fully expect him to do. 
PLACE YOUR BETS NOW! 
Nikita Krylov -200 vs Alexander Gustafsson +165
Gustafsson took two years off after three losses in a row. He was once one of the more dangerous light heavyweights ever, but has fallen in his age, now 35. Krylov has struggled in his past four, winning only two of his last six fights. 
Krylov by Submission +250
The UFC Fight Night 208 odds put a Krylov submission win at more likely than any other method of victory prop bet. It's not our top bet, but it's close. Gustafsson was submitted in one round by Werdum in his last showing, and Krylov's history of toppling and choking tall fighters counts for four of his UFC wins. 
Krylov Money Line -200
Our top bet is the Krylov money line, paying winnings of $50 per $100 wager. He's a younger fighter with plenty left in the tank, while Alex's attempt at returning to the ring seems half hearted, taking full years off and only returning to training for one camp. 
PLACE YOUR BETS NOW! 
Molly McCann -425 vs Hanna Goldy +335
Molly shocked us with her knockout win of Luana Carolina, a fight we were sure would go to decision. She's facing Goldy, a 2-2 UFC fighter coming off a submission win, showing moderate boxing but poor striking defense. 
McCann Money Line -425
This is Molly's hometown and she's being set up to win big. Bet the favorite for one of the more one-sided matches of the night. This is our parlay pick for the UFC Fight Night 208 betting odds. 
PLACE YOUR BETS NOW! 
Volkan Oezdemir -150 vs Paul Craig +125
Craig beat Krylov and is somehow lower on the card. He's finished his last four opponent's in the UFC, and has only ever won via finish. Oezdemir lost his last two fights, and is now 5-5 in the UFC despite hovering inside the top ten. 
Gentle reminder that is, in fact, PAUL CRAIG FIGHT WEEK MF 🔥🏴󠁧󠁢󠁳󠁣󠁴󠁿🐻 #UFCLondon @PCraigmma pic.twitter.com/DVtJqVcpK4
— MMA² (@mma_squared) July 19, 2022
Paul Craig Submission Win +185
It's clear that Craig has the submission game to do it, and Oezdemir struggles to do damage without takedowns. Craig has the ability to bait people into ground fighting. It's not our top pick, but it's an obvious choice for Craig fans. 
Fight Goes to Decision, No -325
Our top UFC Fight Night 208 odds bet for Craig vs Oezdemir is that someone is getting finished. Craig has only won via finish, and Volkan has a 60% fight finishing rate and has won only two decisions (40%.) I think Volkan can win by knockout, and Craig will throw himself into submission work early given his confidence from the winning streak. 
PLACE YOUR BETS NOW!
Mason Jones -400 vs Ludovit Klein +305
Jones is a takedown machine that is now 1-2 in the UFC. He has a 52% takedown ratio, but if you can't wrestle, you'll spend the fight on your back. Klein is 2-2 in the UFC, and has struggled against moderate grapplers. Klein has knockout power, but it's only been demonstrated once inside the octagon. 
Ludovit Klein Money LIne +305
A former kickboxer and younger fighter (27) this man is still learning. Mason has a high striking output, but has shown that he can finish fights. Expect Klein to bring more experience to the ring and look to catch Mason on his way in for takedown attempts. This is our top upset money line of the evening. 
PLACE YOUR BETS NOW! 
Marc Diakiese -400 vs Damir Hadzovic +300
Diakiese shocked us in his win over Borshchev in March, putting him at 6-5 inside the UFC. He faces the 4-4 Hadzovic also coming off an upset win over Medeiros. 
Over 1.5 Rounds -285
These fighters are both decision fighters in their best performances. Both fighters have knockout wins, but over debuting and losing record UFC fighters. Expect lengthy grappling exchanges, and Diakiese to slow the pace of Hadzovic for a late finish or decision in a close fight. 
PLACE YOUR BETS NOW! 
Charles Rosa +420 vs Nathaniel Wood -650
Wood is the biggest favorite on the card, but he's 1-2 of his last three fights. Rosa has struggled to do much of anything in his last seven fights, despite once being one of the UFC's top submission fighting prospects. 
Wood Money Line -650
Wood is likely to win this fight, though he's not a knockout striker and won't submit Rosa. This likelihood of a long fight makes Wood a fighter who was not confident in betting on. 
Over 1.5 Rounds -450
Either fighter has a decision win or lucky punch in them late in the fight. Both fighters have third round submission wins and a string of decisions on their record. 
PLACE YOUR BETS NOW! 
Makwan Amirkhani +158 vs Jonathan Pearce -193
Pearce is 4-1 in the UFC, and his only loss was to Lauzon in 2019. Amirkhani has struggled in his past six, going 2-4. Expect Pearce to win every aspect of the fight.
PLACE YOUR BETS NOW! 
Charles Johnson +360 vs Muhammad Mokaev -550
Mokaev is undefeated and a submission specialist with knockout power. As he refines his striking, he's going to be tough to handle. This fighter is only 22 years old. Bet the undefeated Mokaev in a nice parlay pick. 
PLACE YOUR BETS NOW! 
Kyle Nelson +225 vs Jai Herbert -285
Both fighters are 1-3 in the UFC and there is no real reason to believe either is better than the other. Herbert's stats aren't any more impressive and both fighters have been finished three times in the UFC. Bet the UFC Fight Night 208 odds for 'fight doesn't go the distance' at -305. 
Victoria Leonardo +100 vs Mandy Bohm -120
Bohm lost her UFC debut in a brutal decision. She's the favorite over the 1-2 Leonardo, who won her DWCS showing via knockout but was thrown to the wolves against Fiorot. 
Bohm was knocked down twice in her loss, so she has some staying power. Bet the Fight Finishes 1 Full round, yes prop bet at -800. 
PLACE YOUR BETS NOW! 
Claudio Henrique Da Silva +188 vs Nicolas Dalby -240
Dalby has struggled, going 3-3-1 and 1NC in the UFC to date. Silva is on a two fight skid, but has five UFC wins under his belt since 2014, losing only 3 fights his whole career. We see the upset here, with Silva winning the fight via submission early on. Take the money line for an easy underdog win.
PLACE YOUR BETS NOW!