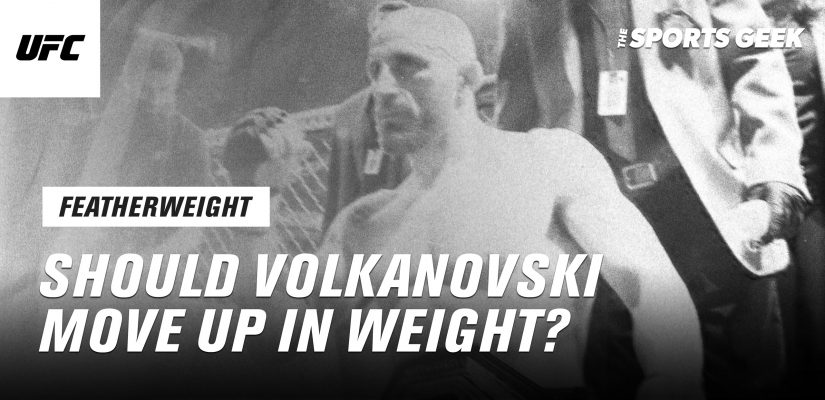 Alexander Volkanovski is one of the greatest mixed martial artists of all time, and it's not even up for debate; his record tells the same tale, too, and so do the astonishingly dominant wins over so many of his peers, all of which failed to jeopardize his reign.
It's not just about winning. It really isn't. It's about sending a message and making a statement. And, well, no one does it better and more decisively than Alexander "The Great" Volkanovski. We're blown away, really, by his utter dominance and ability to compete at the highest of levels. The things this man has done and the ease with which he has done them has left no one indifferent.
Just beating Max Holloway three times — across a whopping seventy-five minutes — is a feat that will never be repeated; it also speaks volumes about his talent, work ethic, and overall ability to weather even the most threatening "storms."
CUT FROM A DIFFERENT CLOTH
How does he do it? How does he keep getting better with each new outing? Is there a limit to his potential? The guy's thirty-three years of age. Not a dinosaur by any stretch of the imagination but not a "spring chicken" either.
And yet you'd never be able to tell based on his performances. Five rounds against the biggest "killers" the Featherweight division has to offer? Piece of cake; just another day at the office. He's never the taller man. His reach is quite deceiving (as in much more impressive than expected) but to fully utilize it he always has to step forth, to endanger himself and allow his opponents to hit him — something which, paradoxically, so rarely happens. And even when it does it's because he himself deemed it a worthy trade-off.
Alexander Volkanovski — A Master At Work
Volkanovski already beat Max twice. So how in the world he had found the motivation to step inside the Octagon with a certified "savage" and engage in fisticuffs for the third time will forever remain a mystery.
To make things even more fascinating — and to add on to the legend that is Alexander Volkanovski — this entire fight was "short notice." He had fought "The Korean Zombie" mere weeks ago (mid-April, to be more exact). So imagine going from one fight camp straight into another and then sharing the Octagon for another twenty-five minutes with the same human you already hold two wins over.
That sounds like fiction.
His drive is astonishing and so is his ability to perform. The guy can dominate like so few who came before him even on a bad day and that's not something that we see all that often. In that he is without equal.
That's because he's as well-rounded as he is. That's because his preparation and stamina and sheer willpower come in clutch whenever the need arises. He could've given in to that choke from Brian Ortega and no one would blame him but he didn't and that, in short, is how legends are made. That's also just one of many moments during which he had an "out."
TRULY UNASSAILABLE
But Volkanovski is a behemoth, even though he might not look the part. He'll go through any wall or obstacle you put before him — no questions asked.
And now, after cleaning out the entire Featherweight division (with aplomb, one might add), his sights are set on Charles "do Bronx" Oliveira — another legend of seemingly equal talent and ability.
Wouldn't that be a spectacle? Two masters of their craft — both of which happen to be at their peak right now — duking it out with hundreds of thousands watching?
We're starting to water at the mouth just by thinking about it.
I'm still up 2-0 on knockdowns for trilogy. Prob gonna need a 4th to settle this. 😂 Just playing. Congrats to my brother @alexvolkanovski . Go get that 55 strap. You earned the shot. You're #1 P4P right now. pic.twitter.com/5lUNWZVbRA
— Max Holloway (@BlessedMMA) July 3, 2022
Alexander Volkanovski vs. Charles Oliveira — What Are the Odds?
The bookies have already spoken; in their "infinite wisdom" they favor Oliveira at -130. Volkanovski, therefore, is the underdog (+110). These are quite interesting lines but they do make sense.
Volkanovski has been shredding through Featherweight with staggering ease but much of the same can be said for Charles who has strung wins over Tony Ferguson, Michael Chandler, Dustin Poirier, and Justin Gaethje.
That's the very definition of a "murderer's row."
At least two of those men are future Hall of Famers. And yet Oliveira beat them all — in quite dominant fashion, no less. His "legend" and narrative is of equal value to that of Volkanovski's, so it should really come as no surprise that he's ever-so-slightly favored over the Featherweight champion.
Whether this fight will ever get made still remains to be seen though.
"It's all about timing," Oliveira said in a recent interview. "Everybody knows that I would like to fight Conor because of the money and everybody knows that I think that Islam has to fight a little bit… at least once before challenging for the title. Now there's Volkanovski. But the thing is everybody wants to fight me."
And, well, he's not wrong.
There's a special kind of prestige that comes with winning the Lightweight strap. It's the most stacked division in the UFC and becoming its champion means something a bit extra.
Oliveira has earned himself a reprieve. He should also be able to choose his next opponent after nearly cleaning out the division. Fortunately, all three of his options — that being Islam, Conor, and Alexander — are all exceedingly alluring; whatever he decides will, therefore, surely result in fireworks.
As for Volkanovski, the answer would simply have to be affirmative: a move to Lightweight would be the absolute best course of action, both for us, the fans, but also for his legacy (and bank account).
Should this fight ever come to fruition, our guide on all things UFC betting online will surely come in clutch.
FUTURES BETTING — Alexander Volkanovski vs. Charles Oliveira Odds: