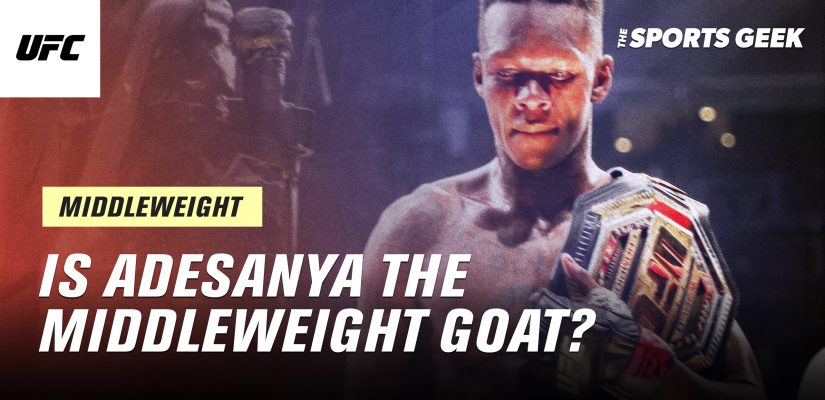 Is Israel Adesanya the Middleweight GOAT? It's an interesting question to ponder on, what with him being as dominant and seemingly unassailable as he is. Before we delve any deeper into that whole debate, however — a debate which is ever-evolving — we first ought to touch on Israel's last performance: the "snoozefest" against Jared Cannonier.
A lot of people aren't impressed and that, in short, is a tremendous shame. It's also quite telling, too, of the kind of "fans" and "pundits" and "connoisseurs" that constitute the roaring multitude.
Styles make fights and for a fight to occur, two parties need to engage in fisticuffs. If Jared isn't willing to step in harm's way and truly challenge Adesanya (and take on the risk that comes with it), then there's very little "The Stylebender" can — or should — do.
Israel is one of the most talented counter-strikers in the history of the UFC, rivaled only by the legendary Anderson Silva — a highlight-reel machine in his own right. So we fully understand why his opponents don't want to "take the first step;" it is, however, the only possible route one can take if one intends to dethrone such a fighter.
Playing his game simply isn't going to result in a win. There's really no other way to say it.
REASONABLE, IF A BIT UNDERWHELMING
There's also the monetary side of things: Israel earned well over five million dollars for his efforts. Why would he ever put such a tremendous sum of money on the line? Why would he ever do anything out of character and endanger himself against a worthy opponent? So that he would get praised by thousands of roaring (and, most likely, drunk) fans in attendance? So that he would get a pat on the back from the higher-ups?
That'd be the most foolish thing in the world. He's the one carrying the strap, after all. The onus is on his opponents to do something, to get the action going, to engage and bring the fight — both figuratively and literally.
If they're not willing to do so (or are ill-equipped for the task at hand), then he'll cruise to a win each and every single time — and rightfully so. An easy payday, they call it.
It's Really Not That Simple
Adesanya's also fighting some of the baddest men alive. He might be the baddest among them, but for that to remain the case, he simply has to keep fighting in his own style — a style at which he so excels.
In other words: we know what he's going to do and how he's going to do it well before he steps foot inside the Octagon; his "game" hasn't changed nor will it. His opponents are the ones that need to adapt.
NO WORTHY CHALLENGERS
They're the ones that have to do something extraordinary to really endanger such an evasive — and seemingly unassailable — tactician.
No one should, therefore, be blaming the incumbent champion for failing to "entertain" the masses, regardless if it's Israel Adesanya or someone else entirely.
It takes two to tango, after all.
Is Israel Adesanya the Middleweight GOAT?
That's the million dollar question, although it seems like no one's willing to talk about it after such a "boring" performance last weekend. It is the right time to bring it up, though, whether someone likes it or not.
Izzy has successfully defended his belt a whopping five times across just two and a half years. He's been one of UFC's most active champions and his pay-per-view numbers speak for themselves, too. He might not always put on a show but his dominance cannot be denied.
STILL A WAYS TO GO
He does, however, trail in the title defense department: five compared to Silva's ten. That's no small difference although, in all fairness, not all of Silva's opponents had the tools to compete. Some of his challengers weren't nearly as versatile and capable as those that Adesanya keeps on facing.
The "game" has evolved and few are the men willing to engage "willy-nilly" as was the case back in Silva's heyday. Everyone knows what's at stake which is why Israel has had so many "stinkers."
The last guy that lost his temper and started swinging for the fences ended up being humiliated beyond all measure.
Adesanya, stagerringly dominant and capable though he is, still hasn't done enough to be deemed the Middleweight GOAT. We should definitely revisit this topic in a year or two's time — assuming he's still champion — but right now, as things stand, there's something missing.
That something, however, may well be the resurrection of a years-old rivalry.
Enter Alex Pereira, former GLORY kickboxing champion (in two division, no less) and also the last man to knock Izzy out.
What's Next for Israel Adesanya?
The narrative has been many years in the making and one simply has to congratulate the UFC — and Pereira himself — for navigating it with such precision and dexterity. He was never matched up with a pure wrestler, someone who could neutralize his strengths and deny him a potential title shot.
SURPRISINGLY VULNERABLE
His last opponent was a tremendously capable albeit still strategically flawed opponent — one whose ego got the better of him. "Standing and banging" with one of the best strikers in the world?
What is that if not lunacy and hubris?
The thing is, Adesanya needs a worthy challenger to truly shine and flew his prowess. The Vittoris and Stricklands and Romeros of the world, while undoubtedly able and talented, simply don't fit the bill. There's really no other way to say it.
NECK AND NECK
Pereira, on the other hand, can — and most likely will — challenge Adesanya in the one aspect he's so exceedingly dominant in: striking. He has many of the same tools and weapons as the "Stylebender" and he also has the resume to prove it, too.
Now, one mustn't forget that their first fight went the distance (and was incredibly competitive). The second one was actually a lopsided affair until Pereira caught Israel near the very end of round three. One could, therefore, easily argue that Adesanya is the better fighter and that he has also evolved a fair bit more, too; that, however, is a hypothesis that has yet to be tested.
In any case, Izzy needs a guy like Pereira in order to "complete" his legacy, to solidify his (already quite incredible) personal narrative.
And, well, he surely knows it, too.
FUTURES BETTING — Israel Adesanya vs. Alex Pereira Odds: