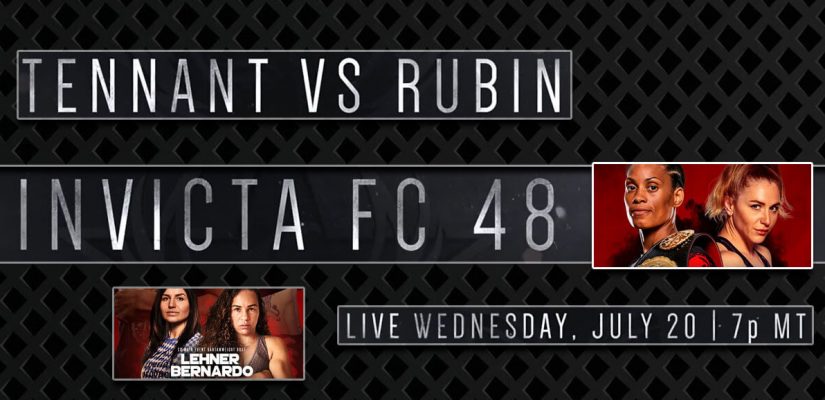 <Invicta is back and Betonline.ag has given us the Invicta 48 odds for all six fights. Each fight is money line betting only, including the main event Invicta Bantamweight title fight. 
<How To Watch and bet On Invicta 48
<Invicta 48 airs on July 20th, 2022 at 9:00PM ET. Watch the fights on AXS TV streaming, and bet by clicking any of our Place Bet buttons, bringing you to the highest paying MMA betting sites. 
<Invicta 48 Predictions
<For each fight, we've offered a money line prediction, but you'll scroll to see them organized by risk, parlay and underdog picks. 
<Olga Rubin +215 
<Talita Bernardo -245
<Kristina Williams +100
<Isis Verbeek +100
<Amber Leibrock -185
<Djukic vs Norton, No Bet 
PLACE YOUR BETS NOW!
<Invicta 48 Odds and Betting lines 
<We're looking at all seven fights and building a betting ticket based on your risk profile. Check out picks by parlays to add to a betting ticket, win big on underdog money lines, and find out what bet's we think you're better off skipping. 
Invicta FC 48 Set for July 20th! https://t.co/cJlS8Y8u9D via @YouTube #WMMA #MMA #InvictaFC48 #InvictaFC pic.twitter.com/DkyW49hRQ6
— WMMA Scene Now (@NowWmma) June 13, 2022
<Invicta 48 Main Event: Taneisha Tennant -275 vs Olga Rubin +215
<Invicta 48 Odds for the main event put Rubin as the second biggest underdog of her career aside from her +265 loss to Julia Budd in 2019.
Tennant lost in DWCS to Danyelle Wolf in 2020 via decision, but had never been defeated in her amatuer, professional or exhibition career.
<Tennant vs Rubin Tale of the Tape  
<Fighter
Taneisha Tennant 
Olga 'Big Bad' Rubin 
<Age
<33
<32
<Height
<5'7''
<5'9''
<Reach, Stance
<72'' Orthodox 
<69''
<Record
<4-1
<7-2
<Submissions, TKO
<0, 1
<0, 2
<Fighter Training Camp
<Budokan MMA 
<Great Britain Top Team
<Combined Record of Defeated Opponents
<17-4
<30-14
<This is a striker versus grappler battle. Rubin is a GBTT fighter focused on ground striking while Tennant is best in stand up exchanges. Expect the Taneisha reach advantage to count when she's circling the outside to avoid the takedown. Rubin has three wins against quality fighters, while Taneisha's four pro wins don't represent her two exhibition wins for Invicta's reality show. 
<Prediction: Olga Rubin +215 Upset 
<Rubin's striking isn't great, but GBTT's grappling is Tennant's weakness. She lost to a grappler on DWCS, and Rubin has faced much tougher strikers and grapplers in Budd and Kavanaugh. Both fighters have taken time off to evolve, Rubin has done so at a better training camp. 
<Bet the upset for $214 in winnings per $100 wager. 
PLACE YOUR BETS NOW! 
<Invicta 48 Upset Betting Pick
<Here are the fights we think are most likely to end up as an underdog win. 
<Liana Pirosin -130 vs Kristina Williams +100
<Pirosin struggled at high levels of Invicta, losing two of her last three. Williams has done the same, but her losses are mostly for Bellator, losing to the undefeated Juliana Velasquez and other high level fighters. However, Williams has beaten Emily Ducote and most recently the 4-1 Flore Hani. 
<Prediction: Williams Money Line +100
<Williams has fought far tougher fighters, and has more momentum, going 3-2 over her last five compared to Pirosin's 2-3. The odds makers see pirosin as a stronger finisher, but in reality neither woman has had a knockout since 2017. 
PLACE YOUR BETS NOW!
<Melissa Oddessa Parker -130 vs Isis Verbeek +100
<Isis has been on a roll, winning her last three MMA fights and knocking out a bare knuckle MMA opponent in two rounds. Parker is a boxer with multiple submission wins over lower level fighters.
Parker's boxing career includes a 6-0 record with two knockouts.
 
<Both fighters are facing the toughest fighters of their career by far, but our biggest concern is Parker's age, which the Invicta 48 odds don't seem to reflect. 
<Prediction: Isis Verbeek Money Line +100
<Parker is 35 years old and it affected her conditioning in several fights. Isis seems to be improving, and her coach at Team Bigi Boy is Michael Babb, a coach that produces several UFC level fighters. 
PLACE YOUR BETS NOW!
<Invicta 48 Parlay Betting Pick
<These bets are perfect for tacking onto your combat sports betting ticket in a week packed with MMA events. 
<Amber Leibrock -185 vs Morgan Frier +155
<Leibrock struggled at the Bellator level and had an early career loss to Megan Anderson. Frier is a ground fighter coming off back to back losses at PFL. Among wins, she has four first round finishes over debuting fighters, but no wins over anyone with even a single win. 
<Prediction: Leibrock -185
<Our parlay pick is Leibrock. Her wins over fighters like Janay Harding of Bellator and Amy Coleman show us that she can best competitive fighters. Her two years away have been focused on developing her boxing and conditioning, including plenty of training at WCCA. 
PLACE YOUR BETS NOW! 
<Invicta 48 Value Bets
<Here we have a fight that isn't right for a parlay, but we're confident in the win. 
<Tiliata Bernardo -245 vs Yana Gadelha +195
<Yana is a submission fighter that has lost to five times lower level fighters. She's never had betting odds in past bouts, and is coming off a loss by submission in May. Bernardo was 1-3 in the UFC, even going to decision with Irene Aldana. Her submission defense should carry her in this fight. 
<Prediction: Bernardo Money line -245
<She's been active as a pro fighter five years longer than her opponent, and her Invicta 48 odds pay out winnings of $40.82 per $100 wagered. 
PLACE YOUR BETS NOW! 
<Invicta 48 Fights to Avoid
<Auttumn Norton -115 vs Maria Djukic -115
<This is easily the closest bout on the card. Norton has one loss, but Maria is only undefeated as a pro. She struggled in her amatuer career and only has four total fights. Norton has a 6-2 amatuer record that spans back to 2012. It's too close to call. 
PLACE YOUR BETS NOW!