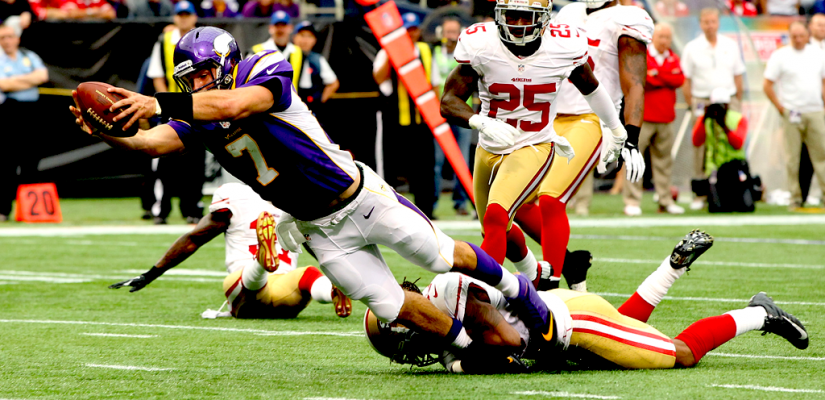 There's nothing better than calling an NFL upset. On second thought, I'll walk that back. There's really nothing better than nailing an NFL upset bet.
The NFL is the most popular sport in the United States for a variety of reasons. Now that more and more states have opened up legalized sports betting industries, however, it's fair to assume the league's popularity will only continue its upward trajectory.
Betting on the NFL is no easy task, but there is money to be made if you can find a way to identify when upsets may occur. If it were easy, everyone would do it, of course. That is why we're taking the time to highlight some of the best ways to spot an NFL upset.
The following are a few handy ways to make good NFL upset predictions.
Listen to the Odds
What's the first rule in all sports betting? Pay attention to what the sportsbooks say. The people that set the odds don't just stumble into their jobs. For the most part, NFL betting lines are incredibly sharp, which, obviously, makes things exceedingly difficult for bettors.
That said, the betting lines can never be perfect.
There are a lot of factors that may go overlooked, even by the sharpest of NFL oddsmakers. Betting lines are also typically unique from sportsbook to sportsbook, which is why shopping for lines is an absolutely vital task for any winning football bettor.
Generally, if the sportsbook has any team listed as a massive favorite (any spread north of 10 points is is quite large, by NFL standards), the odds aren't great for your underdog pick to pan out. A spread that big indicates one team is woefully overmatched, on paper.
Betting on any team to win a game outright as a double-digit underdog is going to be a losing endeavor in the long run. Sure, you may hit one here or there that helps offset your overall losses to a degree, but any moneyline bet on such a huge underdog is going to lose a lot more often than it wins.
The point here is to not ignore the point spreads when you're trying to peg an NFL upset moneyline bet. The point spreads, moneylines, and totals are all tools we can use to our advantage when looking for betting value. We can target any of those or all three, depending on how we feel about the stance the sportsbook provides.
Don't Always Bet Moneylines
As mentioned, there is always value to be had in football betting lines. The point spread is a good alternative to the moneyline, as the spread gives us a pretty good indicator of how the oddsmakers feel about the quality of two teams in a given game. Betting on underdog moneylines can be more profitable if you get lucky, but those wins will be fewer and further between.
While the moneyline odds you'll get on most underdogs will offer more profit potential than their point spread odds, sometimes you should simply eat the value and opt to take a 'dog to cover the spread. This is a more risk-averse way to still turn a profit with fewer setbacks along the way.
Even the worst teams in the league on a win-loss basis can be reliable against-the-spread bets. Take the 2022-23 Detroit Lions as an example. Detroit finished the season just 3-13-1, but they were a much more respectable 11-6 against the spread. If the Lions are +500 underdogs to beat the Packers, you're much more likely to win any bet on Detroit if they cover the 10-point spread in a hypothetical matchup.
Sure:
The Lions will beat the Packers on occasion, but the risk of betting on their moneyline is certainly immense.
This is still risky, but it gives you an out in the likely event that your upset pick doesn't exactly come to fruition.
Monitor Injuries
Online sportsbooks certainly take injuries into account when they set their NFL lines. Obviously, if Patrick Mahomes isn't suiting up for the Chiefs, Kansas City simply will not be the play in a game in which they'd ordinarily be favored.
NFL teams are typically decent about updating their injury reports throughout the week. These days, most oddsmakers set their game lines pretty far in advance, and those early lines can't always factor injury situations into the equation. If you have a personal lean on Mahomes' chances of playing through a questionable tag, for example, perhaps you can get your bet placed early in an attempt to take advantage of the increased value in the odds, which may be slow to update.
There are 22 players on the field at a time, and teams typically deal with a slew of injured players over teh course of a season. Keeping an eye on line movement is something you can use to your advantage.
Please Note:
This certainly doesn't mean to always target teams just because a key player is out, but it does increase the likelihood of an upset if they are the favored team. The Chiefs may open as an eight-point favorite before news of the Mahomes injury comes out.
That line may change dramatically by the time the two teams kick off the following Sunday. Sometimes, you can get favorable NFL upset lines if the sites are slow to react to new injury situations.
Narratives
Sometimes, NFL fans put too much stock into narratives. Sure, Tom Brady would love to return to New England and throw eight touchdown passes against his old team, but that doesn't mean he'll actually be able to do it. That said, there is a certain narrative-driven aspect to betting that won't always be reflected in betting lines.
This sentiment can be used with betting on any sport. Battles are often won and lost in the trenches, while players can shine in less than ideal situations if they have extra motivation to do so. Targeting underdogs in rivalry games can be very advantageous. Divisional rivals play each other twice a year, and that extra familiarity can often come in handy for the underdog. These coaches also scheme against their rivals twice as often. There's a reason it's often difficult to beat the same team twice in a season.
Paying attention to things that would otherwise come of ass meaningless to the actual game can actually play a big role in how teams perform. This shouldn't be your deciding factor when betting on underdogs, but there is an argument to be made for narratives as a driving force in some NFL upsets.
Scheduling & Fatigue
Does anybody like Thursday Night Football? Probably not. It's a legitimately terrible product for a number of reasons, not the least of which is the fact that most teams have only had about three days off since their last hard-fought game. A lot of the time, Thursday Night Football is an ugly slugfest between a pair of fatigued teams.
In just about every way:
Teams are potentially putting an inferior product onto the field in these short-week contests. This can create a huge gap that otherwise wouldn't necessarily exist, turning slight favorites into easy picks or big underdogs into monster upset specials. Let's say the underdog in a Thursday night showdown is coming off of a bye, while the favorite just played the previous Sunday. The rest advantage will likely be weighed in the betting lines, but perhaps not as heavily as it should be. The NFL season is a rigorous one, and the physical nature of the game will take a toll on even the sport's best athletes.
Noting schedules can be very key to upset picks, especially if one team has had to travel a lot or is dealing with key injuries leading into the game at hand.
Please Note:
Thursday Night Football games specifically have been called out for a lack of competitiveness and for player safety reasons. It's caused the NFL to at least consider rethinking their stance on how they schedule games.
However, as long as they exist, along with other prime-time games (including overseas), they will provide situations to monitor and potentially exploit when it comes NFL upset predictions.