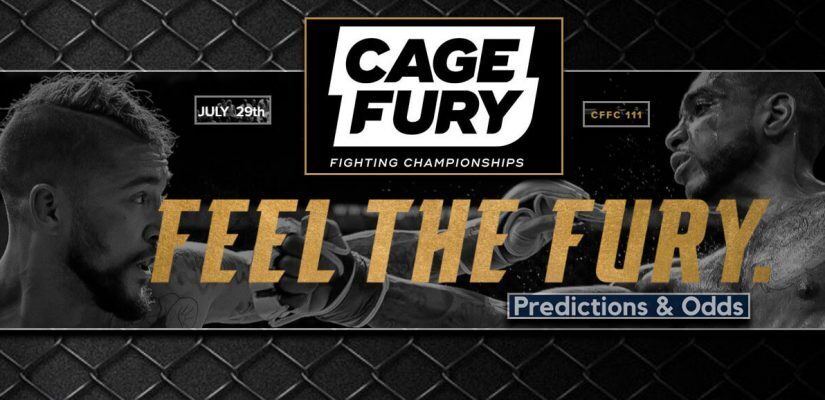 Caged Fury Fighting Championship is back on UFC Fight Pass, July 29th, 2022 at 7:00 PM ET. Betonline.ag brings us the CFFC 111 odds, showing money lines for all ten of the main card bouts. We're delivering our top prediction for each fight! 
CFFC 111 Predictions 
First a quick list of our top bets. We'll go into detail on each CFFC 111 betting pick below, including which fights to parlay and which you should limit your wager.
Lee Money Line -400
Forest Money Line -450
Anderson Money Line +165
Adams Money Line -400
Piersma Money Line -400
Manley Money Line +230
Wilson Money Line -600
Williams Money Line -175
Smith Money Line -1000
Mann Money Line -110
PLACE YOUR BETS NOW! 
CFFC 111 Odds and MMA Betting 
Betonline is one of our top MMA betting sites. Each button will take you straight to building your ticket at Betonline.ag. The CFFC 111 odds are accurate as of Thursday, July 28th. Just one day before fight time! 
CFFC 111 Main Event: Miles Lee -400 vs Donovan Beard +300
Lee is out of the prestigious Renzo Gracie Philly. He's undefeated in pro and amatuer appearances, and is on a fast track to bigger and better things. Beard is a quality fighter, with four losses in his pro-am career.
Prediction: Lee Money Line -400
While Beard has multiple finishes, his fights have primarily been against fighters with losing or debutin records. Lee has sought the toughest possible opponents. He's a sparring partner for undefeated UFC contender Sean Brady, and gives him trouble in training footage. Lee should win in a dominant victory. 
Raheam Forest -450 vs Trevor Ollison +350
Forest defeated Beard in 2021. He struggled in his amatuer career, but has come a long way since 2016. Ollison has lost five of his last seven in boxing and MMA combined.
He holds an impressive win over Wade Johnson, but doesn't bring much else to the table.
Prediction: Forest Money Line -450
Expect the winning streak to continue. Forest is at a great camp, and his conditioning has brought him a stunning level of knockout power. 
PLACE YOUR BETS NOW! 
DeAndre Anderson +165 vs Beau Samaniego -205
Samaniego is 3-1 as a pro, but has only beaten one fighter with any pro wins. Anderson has struggled in his recent showings, but he's facing fighters like Da'Mon Blackshear. 
Prediction: Anderson Money Line +165
The underrated fighter knocked out the 4-0 Jose Perez in 2021 and has beaten three other fighters better than anyone Beau has even faced. Expect the upset for a 1.65 times your wager return on the CFFC 111 odds. 
Reginald Adams -400 vs Justice Lamparez +300
Adams is fresh off the third loss of his career. His opponent Lamparez is on a three fight winning streak over fighters with losing records.
Many of Justice's losses have been to losing record fighters, like the 3-6 Josh Nealy, who knocked him out in 2021.
Prediction: Adams Money Line -400
Adams is clearly the better fighter, and he's set up for a comeback win. This is a fantastic parlay pick. I don't see a realistic way for Justice to bring home the win. 
PLACE YOUR BETS NOW!
TJ Welch +300 vs Jonathan Piersma -400
Welch and Piersma were last minute additions to the card. Tj is coming off two finishes of debuting fighters, and his amatuer record was a respectable 8-4. Piersma is a high quality grappler, going to draw in a match with former Bellator GOAT Rafael Lovato Jr in 2021. 
Prediction: Piersma Money Line -400
The CFFC 111 odds pay $25 in winnings per $100 wager on Piersma, and for good reason. He's a growing threat to the welterweight division and has 9 pro-am submission wins. 
Trey Manley +230 vs Isaack Watkins -290
Manley has been cross training at American Top Team. He hasn't faced many decent pro fighters, but he has one punch knockout power. Watkins is undefeated, and also has failed to face anyone significant. 
Prediction:  Manley Money Line +230
Trey is the more experienced fighter. He has more finishes, and has trained at higher level facilities. In the lead up to this fight, he spent six weeks at ATT and I think that will make all the difference. 
PLACE YOUR BETS NOW! 
Petera Wilson -600 vs Stan Tippins +400
Wilson is a 5-1 amatuer with four TKOs making his pro debut. His toughest opponent was 3-2, so we're not sure where his -600 odds are coming from. Tippins is 2-1 as an amatuer and pro. He's never defeated a fighter with any wins at all, besting only debuting fighters in all four wins. 
Prediction: Wilson Money Line -600
Wilson has more experience and athleticism. I'm not convinced it will be a one sided fight, and it may be best to keep your wager frugal. 
Joe Tran +145 vs Kris Williams -175
Williams is a debuting pro with a 3-0 amatuer record. The CFFC 111 odds seem to reflect a lack of losses, rarely considering a fighter's quality of opponent. Tran defeated many solid fighters in his 6-2 amatuer run, but his knockout loss to 0-1 Ben Coyle set him back. 
Prediction: Kris Williams Money Line -175
We took a deeper look at the fight tape. Williams is the stronger wrestler, and is likely to put Tran in bottom position for ground striking finish or a unanimous decision win. 
PLACE YOUR BETS NOW!
Nehemias Cruz +600 vs Dakota Smith -1000
Smith is the strongest favorite on the card, and this is his pro debut. He's 6-0 as an amatuer, but only faced two fighters with winning records, winning one bout by disqualification. Cruz has lost his last three fights, going 1-6 across his entire pro-am career. 
We are back at it this Friday! @CFFCMMA is bringing another stacked card LIVE to FIGHT PASS! #CFFC111 pic.twitter.com/zITSwIxlDl
— UFC FIGHT PASS (@UFCFightPass) July 26, 2022
Prediction: Smith Money Line -1000
This is an easy fight to add to any parlay ticket. Smith will continue his winning streak over Cruz, who can't seem to find a win despite his best efforts. 
Chase Mann -110 vs Quadarrius McGinnis -120
The closest fight on the card pits two grapplers against one another. Chase Mann is less experienced, but McGinnes has four career losses. 
Prediction: Mann Money Line -110
Mann is better conditioned, and McGinnis has repeatedly struggled with strong fighters. Chase Mann's one loss was to Jarious Gill, who's a vicious finisher and an IBJJF Pan Am medalist. 
PLACE YOUR BETS NOW!