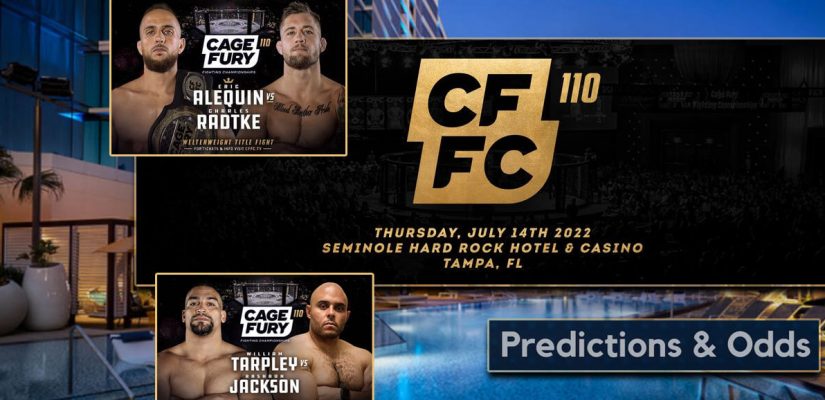 CFFC 110 is showing money line betting odds only. We're taking a quick look at the full card and making predictions on the CFFC 110 odds from Bovada.
How to Watch CFFC 110
Catch the fight on UFC Fight Pass, Thursday July 14th, 2022. The fights start at 7:00 PM ET with the main event expected to air around 9:00 PM ET. Click any of our Place Bet buttons to get in on the action, or check out our MMA betting sites page to learn more. 
HUGE CARD THURSDAY NIGHT!!
The 125lbers go to battle 7/14 at CFFC 110! pic.twitter.com/WK8u64x65x
— UFC FIGHT PASS (@UFCFightPass) July 13, 2022
Top CFFC 110 Predictions
We list the nine fighters we've selected to win. Scroll to see an MMA breakdown for each fighter. 
Santo Curatolo -400
Mark Grey -325
Jorge Molina -165
Gonzalo Ojeda +165
Kendly St. Louis -170
Charlie Radtke -425
Guilherme Crossi -150
Tyler Keating +150
Tarpley vs Jackson: No Bet
PLACE YOUR BETS NOW!
Main Card CCFC 110 Odds 
There are two amatuer fights at the bottom of the card that don't have betting odds, so the first two fights you see while tuning in are undercard bouts. We'll only be listing fighters with money line odds, as there are no props for this show. 
Santo Curatolo -400 vs Lloyd McKinney +275
McKinney is the more experienced pro, with 23 fights reaching back to 2006. He's 1-2 over his last three, including two submission losses. Curatolo is a powerhouse at 5'3''. He recently lost at the Contender Series, but has won all six fights via finish. 
Curatolo's been knocked out, but McKinney is a submission specialist. It looks like Curatolo is the much more physical  and complete fighter, while McKinney failed to evolve beyond his grappling roots. Bet Curatolo for $25 in winnings per $100 wagerd. 
PLACE YOUR BETS NOW!
Mark Grey -325 vs Shawn Lunghi +230
Both fighters are undefeated, including in their amatuer records. Grey's striking leaves plenty to be desired, and he's got a wrestling focus as a decorated freestyle and University All American. Lunghi is the more dangerous fighter, but it's clear that Grey should neutralize him for a boring bout with a clear unanimous decision winner. Bet CFFC 110 odds for Grey, $30.77 in winnings per $100 wagerd. 
PLACE YOUR BETS NOW! 
Jorge Molina -165 vs Jesus Hernandez +125
Molina was a competitive amatuer that lost his pro debut. His 8-4 amatuer record included multiple TKOs and a five year span. Hernandez is a submission fighter with one knockout loss. He's never beat a fighter with a winning record, facing mostly debuting athletes and losing record opponents. Jesus lacks the experience to close the gap on Molina. This is a fight Molina is taking to get a win and pad that loss a bit. Bet Molina for winnings of $60.61 per $100 wagered.  
PLACE YOUR BETS NOW! 
Gonzalo Ojeda +165 vs Adam Amado -220 
Ojeda is 3-1 fighting out of brazil. He's a BJJ fighter and hasn't faced much competition. Amado had a 5-2 amatuer run, but has lost by submission before, losing his last fight by ground control. Ojeda has all the tools to win, especially when considering Amado is out of DEFWAR, a gym with no real BJJ leadership. Bet the CFFC 110 odds on Ojeda for an upset return $165 per $100 wagerd. 
PLACE YOUR BETS NOW!
Kendly St. Louis -170 vs Daniel Matos +130
St. Louis is on a two fight winning streak after tough run ins in 2020 and 2021. That includes a loss to the UFC's Borshchev. Matos is a BJJ fighter on a four fight winning streak. He's been pro since 2015, and competing since 2013. Matos has padded his record with three losing record fighters in a row, going to split decision with a 6-7 fighter last May. 
Bet Kendly S. Louis for $58.82 in winnings per $100 wagerd. 
PLACE YOUR BETS NOW! 
Caleb Crump +285 vs Charlie Radtke -425
Radtke is out of MMA Masters, a growing Florida comp that includes Colby Covington and Jacare. He's been beaten before, but has come back in his last two fights, besting then undefeated Jonathan Piersma. 
Crump just submitted Brady Minner, a tough Nebraska wrestler.
Radtke has the advantage in knockout power, but not much else. We're giving a tentative bet to Radtke, offering $23.53 in winnings on a $100 bet. 
PLACE YOUR BETS NOW! 
Max Quinones +115 vs Guilherme Crossi -150
CFFC 110 Betting odds for Quinones accurately represent his chances. Crossi beat Jake Bagley to top off an undefeated amatuer career. He lost to An Ho in his pro debut, a fighter that's now nearing the LFA title after two knockout wins. 
Crossi may be the strongest bet on the card, offering $66.67 per $100 bet. 
PLACE YOUR BETS NOW!
Tyler Keating +150 vs Solomon Maldonado -200
Keating was a 4-3 amatuer that lost his pro debut. He has three fight finishes, and we were unable to confirm Maldonado's record. He's been fighting amateur since 2009, and at 34, his two pro fights have been over the last four years. 
Keating should win via upset. Solomon's only pro win is by Disqualification and I'm unsure he has any finishing ability at all.
The CFFC 110 odds point to this underdog win as one of the top three bets on the card.
PLACE YOUR BETS NOW!
Willie Tarpley -145 vs Rashaun Jackson +110
Tarpley is another DEFWAR fighter, and he's facing a fighter with four losses in a row. These are all unfortunate fights, because Rashaun Jackson has been thrown at two UFC fighters and Austin Lane, former NFL player. 
This fight could go either way, and the CFFC 110 odds aren't lucrative enough to take the risk. We say skip this one, but tune in for an exciting and competitive bout.
PLACE YOUR BETS NOW!