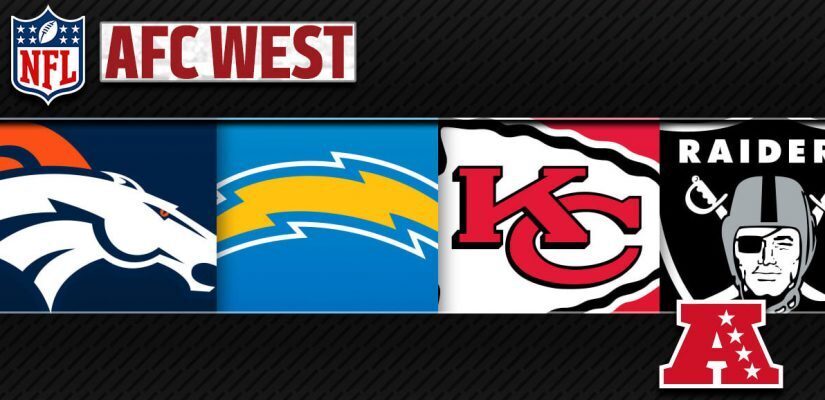 The AFC West sure does look like the best division in football. On paper, at least.
We've got a true arms race here. The Kansas City Chiefs have ruled over this division for the last handful of years, but the other three teams are making real moves in an attempt to close the gap. All of the Los Angeles Chargers, Denver Broncos, and Las Vegas Raiders are looking a lot more formidable heading into 2022.
So, the Chiefs' path to a seventh consecutive AFC West crown won't be an easy one, especially when you can make a real argument that Kansas City was the only team in the group that didn't get better this offseason.
Of course, the Chiefs will be relevant as long as Patrick Mahomes is running the show. NFL betting sites know this, which is why KC remains an early favorite to top the division again later this year.
Are the Chiefs a worthy favorite? Or will another team come for the crown?
AFC West Division Betting Odds
Kansas City Chiefs (+175)
Los Angeles Chargers (+220)
Denver Broncos (+260)
Las Vegas Raiders (+650)
Kansas City Chiefs (+175)
Could the Chiefs' reign atop the AFC be coming to a close? Kansas City lost in upset fashion to the Bengals in last year's AFC Championship Game. Heading into '22, the Chiefs are not the favorites to represent the conference in Super Bowl 57. That honor belongs to the Buffalo Bills instead.
It was always going to be a challenge for Kansas City to keep its Super Bowl roster intact as long as Mahomes' massive contract is on the books. Some of those chickens came home to roost this offseason, when all of Tyreek Hill, Tyrann Mathieu, Anthony Hitchens, Charvarius Ward, and a few others skipped town for greener pastures.
The Chiefs attempted to patch up the receiving corps by signing Juju Smith-Schuster and Marquez Valdes-Scantling, but replacing Hill's production will be next to impossible. Hill's ability to stretch the field and garner attention from opposing defenses opened up just about everything else Mahomes, Andy Reid, and co. want to do offensively.
Getting to opposing quarterbacks was a major problem for the Chiefs in 2021. Kansas City finished with the fourth-fewest sacks in the NFL with 31, and that figures to be an area of concern again this season without any notable upgrades along the front seven.
Marquez Valdes-Scantling: With Patrick Mahomes back there, we can pretty much do anything. https://t.co/hfL2Bn5Nq3
— ProFootballTalk (@ProFootballTalk) August 1, 2022
Clearly, this is the most vulnerable the Chiefs have looked heading into any season since Mahomes' first year as the starter. Kansas City has hosted each of the last four AFC Championship Games, but running that streak to five this year is going to be a massive challenge.
Still, the uncertainty does make the Chiefs' +175 AFC West division odds look pretty alluring. These are the longest preseason AFC West division betting odds we've seen on Kansas City in quite some time. This division still runs through Mahomes until further notice, after all.
Los Angeles Chargers (+220)
There's a pretty good chance the Chargers' +220 AFC West division odds will look a little silly a couple of months from now. This team has been on the rise for the past couple of years, and the front office is clearly confident 2022 could be the year they get back to the top of the division.
The Chargers haven't won the AFC West since they were in San Diego, however. That last division crown came way back in 2009, well before Mahomes showed up and took over.
Khalil Mack vs Rashawn Slater pic.twitter.com/OzMLzHvCqB
— Tyler Schoon (@tylerjschoon) August 1, 2022
The Bolts have made just one playoff appearance in the five years since moving to LA. With their SoFi Stadium bunkmates having won the Super Bowl last year, the Chargers know they're running the risk of becoming the Clippers to the Rams' Lakers among LA area football fans if they don't turn it around in a hurry.
Justin Herbert is the real deal. The former Oregon signal-caller looks like one of the best value bets of all to win MVP in 2022 after an outstanding showing a season ago in his first full campaign as the QB1.
Herbert amazingly topped 5,000 passing yards along with 38 touchdowns to 15 interceptions. He could stand to take better care of the football moving forward, but there's no limit to what the 24-year-old can do on the football field.
The offensive line looks like one of the better units in football despite some uncertainty at right tackle. Mike Williams re-signed this offseason, while Keenan Allen continues to chug along as one of the game's most unheralded elite WRs.
The biggest offseason moves came on the other side of the ball. LA made a splashy trade with the Bears to land Khalil Mack, while the Chargers also plucked the top corner, JC Jackson, off the free-agent market. LA also took a total of three defensive backs in the draft in an attempt to overhaul the secondary.
With so much talent on both sides of the ball, the time is now for the Chargers to make a real run at the Chiefs. Los Angeles' +220 AFC West division odds offer loads of upside in a tough division.
Denver Broncos (+260)
Speaking of teams looking to get back on track, how about those Denver Broncos? The Broncos haven't even qualified for the playoffs since winning Super Bowl 50 seven years ago, but they're primed to end that drought in 2022.
Denver has been searching for a quarterback since Peyton Manning retired after that championship. They've finally found one after trading for Russell Wilson, who comes to town on the heels of a memorable decade-long run under center for the Seahawks.
Super Bowl-winning QBs don't become available very often, so the Broncos' decision to make the deal was a no-brainer. In the Mile High City, Wilson will be surrounded by a trio of high-upside young pass catchers in Courtland Sutton, Jerry Jeudy, and Tim Patrick.
Needless to say, this offense should improve considerably with an actual competent QB calling the shots. Denver hasn't even averaged 21 points per game in any of the last six years, which is rather embarrassing.
Wilson will team up with new head coach Nathaniel Hackett, one of the men credited with helping resurrect Aaron Rodgers and the Packers over the past few seasons. Javonte Williams and Melvin Gordon give Denver arguably the most talented two-pronged rushing attack in all of football, as well.
We could get used to this. 😏@DangeRussWilson ➡️ @SuttonCourtland for SIX! 🙌 pic.twitter.com/1zqnb2tU8Z
— Denver Broncos (@Broncos) August 1, 2022
The Broncos are also deep in the secondary, and new addition Randy Gregory should form a nice edge-rushing partnership with Bradley Chubb. The defense hasn't been a huge issue for this team over the past few seasons under Vic Fangio, and there's plenty of reason for optimism on that side of the ball, too.
With a new QB and a new head coach coming to town, the Broncos are one of the biggest wild cards in the AFC. If Denver gets off to a bright start, their +260 AFC West odds will look like an absolute steal.
If they struggle out of the gates, however, they're going to have a tough time making up the necessary ground in a division with three other legit playoff contenders.
Las Vegas Raiders (+650)
It's easy to forget the Raiders were one of the two playoff teams from last year that qualified out of the AFC West. Las Vegas ultimately lost a heartbreaker to the Bengals in the first round, but that setback looked a little better in light of Cincinnati's unexpected Super Bowl run afterward.
The Raiders entered the offseason hoping to upgrade Derek Carr's weaponry, which is exactly what they did. Vegas nabbed arguably the NFL's best receiver, Davante Adams, in a blockbuster trade with the Green Bay Packers.
Adams and Carr, who were college teammates at Fresno State, will be reunited in Sin City. The Raiders' passing attack already featured a couple of matchup nightmares in Hunter Renfroe and Darren Waller, and the addition of Adams suddenly gives the Silver & Black an embarrassment of riches at the offensive skill positions.
Davante Adams has only dropped 6 passes in his last 347 targets… pic.twitter.com/TRgaBTRPSF
— Raider Nation Boston (@RaiderNationBOS) July 31, 2022
However, Las Vegas' +650 AFC West division odds are the longest heading into the season, almost by default. The Raiders wound up outlasting the rival Chargers in a memorable season finale to clinch a Wild Card spot last year, yet the Bolts' +220 AFC West division odds are significantly more favorable heading into '22.
The defense is a bigger question mark. Vegas will have its third different defensive coordinator in as many years, and shifting from a 4-3 scheme to a 3-4 could lead to a slow start on that side of the ball.
Newcomer Chandler Jones could be a game-changing presence opposite Maxx Crosby on the edge,  while new signing Rock Ya-Sin should start at corner next to Trayvon Mullen.
We could see the Raiders involved in quite a few shootouts. With a stellar offense and a few question marks on defense, the Raiders' +650 AFC West division odds make them a volatile wager heading into the new season.
AFC West Division Prediction
Honestly, there is no wrong answer when it comes to the AFC West division betting odds. You can make a viable argument in favor of any of the four teams to eventually win this division.
The Raiders' +650 AFC West division odds may offer more upside than the Chiefs' +175 number, but getting KC at +175 still looks like pretty good value. The Chargers (+220) and Broncos (+260) are a couple of values that could pay off handsomely if things break their way, however.
As of now, Denver looks like the best value on the board at those +260 AFC West division betting odds. This division is a true toss-up, so you might as well take a potentially undervalued Broncos side with massive expectations entering 2022.
Best NFL Bet: Denver Broncos (+260)