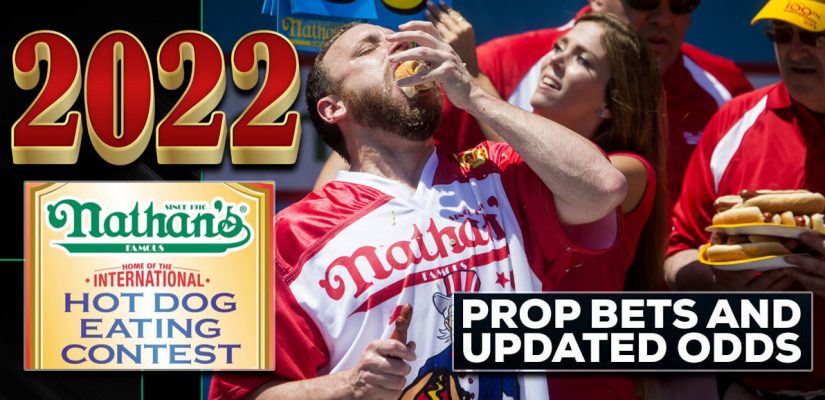 The Fourth of July means different things to different people. To some, the day serves as a yearly reminder of the many freedoms we enjoy as Americans. To others, it's simply an excuse to gather with friends, drink too much beer, and eat too much junk food.
Whatever the case, we can all agree that the Nathan's Famous Hot Dog Eating Contest is as American as it gets. Every year, several of the world's top competitive eaters take the stage and wow us all with their amazing feats of gluttony. Since ESPN offers coverage of the event every year, we can safely say competitive eating does, indeed, qualify as a sport.
The only thing more American than participating in the Hot Dog Eating Contest is betting on it. Fortunately, top entertainment betting sites have you covered in that regard. Yes, there are Hot Dog Eating Contest odds and prop bets out there ready for your wager.
How should you bet on the 2022 Nathan's Famous Hot Dog Eating Contest?
2022 Hot Dog Eating Contest Betting Odds
Outright Winner
Joey Chestnut (-2500)
Geoffrey Esper (+700)
Nick Wehry (+1000)
Darron Breeden (+1200)
Gideon Oji (+2000)
In news that should surprise absolutely nobody that has been paying attention to this competition over the years, Joey Chestnut is a massive betting favorite to win it again in '22. Chestnut – who is essentially the Michael Jordan, Babe Ruth, Muhammed Ali, or Tiger Woods of the competitive eating circuit – is listed at -2500 to win yet another hot dog eating contest on July 4th.
Since his first victory in 2007, Chestnut has failed to win this contest a grand total of one time. That upset came back in 2015 when Chestnut was edged in shocking fashion by rival Matt Stonie. That defeat ended Chestnut's streak of eight consecutive victories. However, Chestnut has gone on to start a new streak of six straight titles since that stunning setback seven years ago.
Chestnut is now 38, but he's showing absolutely zero signs of slowing down. In fact, he broke his own record by consuming an incredible 76 hot dogs and buns just last year. No other competitive eater has ever topped 70 HDBs in a single 10-minute competition, yet Chestnut has now accomplished the feat in every contest since 2016.
Geoffrey Esper (+700) looks like the biggest threat to Chestnut's reign of gluttony. The 47-year-old looks more like a bodybuilder than a competitive eater, but he shouldn't be taken lightly. Esper holds 14 world records of his own. That includes an amazing 293 Jack's Donut Holes in an eight-minute span, as well as 83 slices of 10-inch pizza in a 10-minute competition.
Chestnut has won a remarkable 13 Hot Dog Eating Contests in the last 14 years. While there was a little blip on the radar several years ago, all that did was motivate him even further. Frankly, I see no reason to bet against him until we see him fall off the wagon.
At the -2500 Hot Dog Eating Contest odds, you can argue Chestnut is actually a little undervalued by oddsmakers. This bet looks extremely safe.
Best Bet: Joey Chestnut (-2500)
Hot Dog Eating Over/Unders
Joey Chestnut (74.5)
Geoffrey Esper (52.5)
Nick Wehry (49.5)
Darron Breeden (42.5)
Gideon Oji (42.5)
Michelle Lesco (31.5)
As you can see, the hot dog eating prop bets aren't even all that competitive. You can wager on the over/under for each of the aforementioned eaters, with both sides of each bet paying out at the same -115 odds.
Chestnut comes in with a remarkable over/under of 74.5 HDBs on the heels of last year's new record-setting performance. Chestnut has only gone over this year's 74.5 total twice, however. He hit 74 on the nose back in 2018 before a relatively (relatively!) disappointing 71 HDBs in 2019. He followed that up with 75 in '20 before the aforementioned 76 a year ago.
How much more can Chestnut physically consume in the 10-minute span? There's no telling, but the fact that he seems to up his game with each passing year shows he's certainly capable of breezing past the 74.5 over/under.
No other eater comes in with a prop above 52.5. That would be Esper, who would set a new personal record if he comes even close to that prop. Esper went into last year's competition with the goal of finishing second and downing at least 50 HDBs. He hit that mark on the nose in a second-place finish, so mission accomplished on both fronts.
That said, this year's over/under of 52.5 looks a little high for a guy that has only cracked dogs 50 once in his career.
The over on Chestnut's 74.5 HDB prop and the under on Esper's 52.5 mark look like the best Hot Dog Eating Contest bets here.
Best Bets: Chestnut Over 74.5 (-115), Esper Under 52.5 (-115)
Will Joey Chestnut Set a New Record?
Chestnut has set so many Hot Dog Eating Contest records over the years that they should probably name the competition after him following his retirement.
The veteran topped himself yet again with 76 a year ago. That means he's broken his own records five times in the last six competitions, with the only exception being his "underwhelming" 71-HDB showing in 2019.
I do have questions about just how much further Chestnut can push his own limits. Competitive eating requires no shortage of training. Because this man has absolutely nothing left to prove when it comes to his ability to demolish his competition, his primary goal with each passing year should be to beat his own records. Simply winning the Hot Dog Eating Contest, at this point, isn't enough for a guy with 13 Mustard Belts in his closet at home.
At this point, why would we doubt Chestnut's ability to set another record in 2022? Eventually, it's fair to wonder whether one of these records will prove to be unbreakable by anybody else. Until someone else comes along and dethrones the king, it'll be up to him to try and continue to raise the bar.
With the Hot Dog Eating Contest betting odds at -115 on both sides, why not have some fun and bet on Chestnut to set a new record? Betting against Jordan in his prime was not a profitable endeavor. Why should we treat Chestnut any other way?
The greatest eater of them all will set a new record yet again on the Fourth of July.
Best Bet: Yes (-115)