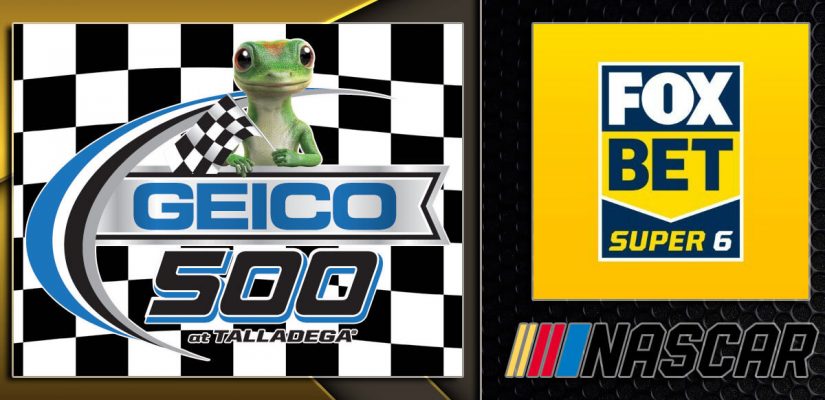 NASCAR is on the superspeedway in Alabama at Talladega on Sunday. After three straight weeks on the short track, we're going fast at Talladega. We have the NASCAR GEICO 500 Super Six picks for Talladega.
This is 'Dega.
? @TALLADEGA pic.twitter.com/6fJaQQlZ6A
— NASCAR (@NASCAR) April 23, 2022
You can only find the GEICO 500 Super Six picks on the FOX Bet app. This is a free NASCAR prop contest that asks a series of questions. If you are able to correctly select the six NASCAR GEICO 500 Super Six picks, then you will likely share the prize pool. If you want to pick a winner, check out our best online NASCAR betting sites.
In the unlikely scenario that you are the only person to select all six questions, you're winning all of the money. FOX has $25,000 to give away this week at Talladega. Last week we had a good time on the dirt at Bristol. Kyle Busch came through for a +1400 winner in a wild finish.
Talladega can get wild, but for different reasons at a superspeedway. This is our first superspeedway race since the Daytona 500 to open the season. For drivers, they just have to hope they're out of the way and not involved in the Big One.
Head below for our best GEICO 500 Super Six picks at Talladega.
1. Where will the pole-sitter finish at the end of Stage 2?

Christopher Bell won the pole after an impressive time of 52.927 seconds.
Bell edged out Martin Truex Jr. for the pole at Talladega. His time was good enough over Truex's 53.008.
This is the first pole for Bell at Talladega. He's only appeared in four events at the biggest track on the Cup Series schedule.
After finishing 29th, 39th, 17th, Bell had his best outing at Talladega in his last start here in October. Bell finished 5th, moving up from 12th in qualifying.
He finished 34th in the first superspeedway race this year at Daytona. He only has one top-5 finish. Bell had a fast car in qualifying, but I'm not overly optimistic.
NASCAR GEICO 500 SUPER SIX PICKS
2. How many lead changes will there be by the end of Stage 2?
Several lead changes can be expected at Talladega. A driver leading for a portion of this race that you may not expect is the norm at a superspeedway.
Kyle Larson is a terrific driver, but he's never liked racing at a superspeedway. There is an element of good fortunes and luck that goes into having success here.
EXPECT THE UNEXPECTED
There is likely going to be a driver or a few that are having a good day and get caught up in a wreck. Look for regular lead changes at Talladega.
I'm leaning towards 19 to 24 lead changes with C the best option for the second question in our GEICO 500 Super Six picks.
NASCAR GEICO 500 SUPER SIX PICKS
3. Which of these drivers will have the fastest lap by the end of Stage 2?
Daniel Suarez will be well-liked in the third question for the Geico 500 Super Six picks. Understandably after his qualifying went well this weekend.
Suarez is scheduled to start 4th on the grid following a strong qualifying session. He was clocked at 53.234 seconds.
Despite Suarez running strong in qualifying, expect Ty Dillon to be fast. He will be drifting from further back at a track he likes.
Dillon is 10th, 12th, 3rd in his last three starts at Talladega. In seven of eight races, Dillon has finished in the top-15 and no worse than 17th in his career.
He is worth a good look in the third question of the NASCAR Talladega Super Six picks.
NASCAR GEICO 500 SUPER SIX PICKS
4. Which of these drivers will have the most laps led by the end of Stage 2?
Ryan Blaney has been running well this season, but doesn't have a win to show for his efforts. Blaney is consistent and it has led to second in the Cup Series standings.
After four top-5 finishes, Blaney has 321 points for a three-point deficit behind Chase Elliott. All three drivers in the top-3 don't have a win, which goes to show why many people don't like this point system.
Don't expect him to be liked by the public on the Super Six app after qualifying 22nd. This is Talladega, though, and a lot can happen in short order. I will fade the public and go Blaney.
NASCAR GEICO 500 SUPER SIX PICKS
5. How many laps under caution will there be by the end of Stage 2?
Accidents and mishaps are bound to happen at Talladega. Keep in mind that this is a monster track, though. It takes a lot longer to complete caution laps at a place like Talladega than it does at Bristol.
Cautions have been going down over the last ten years at Talladega like at most other tracks in NASCAR. I'm going to side with the public for the fifth question and opt for 6-12 caution laps at the end of Stage 2.
NASCAR GEICO 500 SUPER SIX PICKS
6. Which of these drivers that have yet to win at Talladega will finish best at the end of the race?
Kyle Larson will be a popular pick in the final question, but he's never been a huge fan of superspeedways. This is an opportunity to fade the public and look elsewhere.
Larson qualified 5th, but William Byron wasn't that behind to qualify 8th. Unlike Larson, Byron hasn't done too bad at superspeedways.
Byron is 11th, 4th, 2nd, 36th in his previous four attempts at Talladega. In his last race in October, Byron ran into bad luck and crashed out. That can happen here.
I'm going with Byron to finish best in this field at the end of the race.
NASCAR GEICO 500 SUPER SIX PICKS