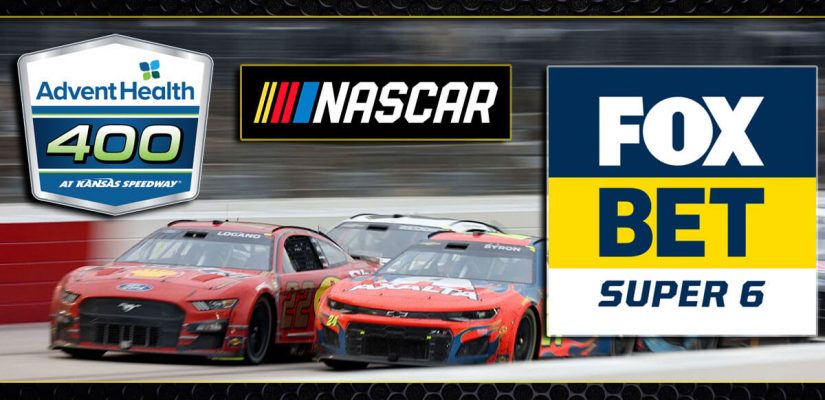 The NASCAR Cup Series arrives in Kansas at Kansas Speedway for the AdventHealth 400. This 400-mile race is the 13th race of the season, so we're zipping right by this season. The Cup series schedule is most certainly a marathon and not a sprint.
Click your heels three times to start your engines.
📍 @kansasspeedway pic.twitter.com/QvOLhoMOKX
— NASCAR (@NASCAR) May 11, 2022
If you are looking for a free prop contest, we have the best NASCAR Kansas Super Six picks to try and help you make money. There is nothing to lose by playing the NASCAR Fox Bet Super Bowl. It's a free contest, so even if you don't know anything about NASCAR, it's worth a play.
The Kansas Speedway Super Six has $5,000 of prize money to be won on Sunday. If there is more than one winner, it will be split up amongst the perfect cards. Our NASCAR Kansas Super Six picks hopefully are the only winners in the AdventHealth 400.
We also have the best AdventHealth 400 odds and picks at TheSportsGeek for this race at Kansas Speedway. If you need NASCAR betting sites, then we have you covered in that department as well.
Luck comes into play if you're going to win. It's important to have fun and hope for the best with your Kansas NASCAR Super Six picks. Head below for our free NASCAR Kansas Super Six picks and best NASCAR betting sites.
1. Where will the pole-sitter finish at the end of Stage 2?
Christopher Bell won the pole for the third time in his career on Saturday.
He will lead the grid around the track to the green at Kansas Speedway. Bell is looking for his first win this season.
He is 10th in the Cup Series standings and a good driver. However, Bell always seems to play behind the big boys.
Bell seems a step too slow often. He's finished 6th and 4th in his previous two starts. With the pole at Kansas, Bell continues to get more confident.
He's 8th, 28th, 10th, 23rd in his previous four career starts at Kansas Speedway, qualifying 10th and 8th in the last two races. I'm going with 5th or 6th for answer D.
NASCAR Kansas Super Six Picks
2. How many laps under cautions will there be by the end of Stage 2?
Note that this is caution laps and not cautions. Fox Bet tends to change this question to cautions and caution laps. Kansas is a 1.5-mile D-shaped oval.
There were 7.5 cautions and 36.8 laps under yellow over the last 18 races, which goes back ten years. Like most tracks, cautions have decreased significantly recently.
There were 31.5 cautions laps in the last eight years and then just 24.5 laps over the last two races. B and C are going to be the most popular answers.
I'm going with 13 to 18 caution maps at the end of Stage 2.
NASCAR Kansas Super Six Picks
3. Which of these drivers will have the fastest lap by the end of Stage 2?
Kyle Busch has been fast at Kansas in the past and is fast going into Sunday. Busch qualified 6th with a time of 30.340 seconds.
He's 28th, 1st, 5th, 11th, 3rd in his previous four races at Kansas Speedway. This is the defending champ of the AdventHealth 400, and he is bringing another good car here.
Qualifying 6th this weekend is the third straight race that Busch is in the top-10 to start. He's been top-10 in qualifying at Kansas in 12 of his previous 14 attempts with two wins.
Who's looking at a good run this weekend? #AdventHealth400 pic.twitter.com/YaorzMmUbO
— NASCAR (@NASCAR) May 14, 2022
Busch likely has a fast car on Sunday. He's my pick to have the fastest lap for this Kansas NASCAR Race Super Six pick.
NASCAR Kansas Super Six Picks
4. Which manufacturer will have more cars in the top-10 of Stage 2 and how many will they have?
Fox Bet Super Six is using this unique question again this week. It is an attempt to produce fewer winners and result in a bigger grand prize.
It's a two-part question, where you must predict the manufacturer and how many cars they'll have in the top-10.
There are seven Chevy drivers that qualified in the top-15. If you want to go further back to 22nd, Chevrolet has the most cars with 12.
Tyler Reddick and Kyle Larson were in good form in qualifying, finishing 2nd and 3rd. Alex Bowman is the next Chevy in 8th. Ryan Blaney and Austin Cindric are the only Fords in the top-10 on the grid.
The better question is probably whether Toyota or Chevorlet will have the most cars in the top-10.
I'm going with Chevrolet to have four cars in the top-10 at the end of Stage 2 on Sunday.
NASCAR Kansas Super Six Picks
5. Which driver will have a better finish at the end of Stage 2 and what place will they finish?
I'm potentially looking at William Byron to win, so he's a driver I'm circling. He certainly looks better than Brad Keselowski.
Byron is tied with Ryan Blaney for second in the Cup Series standings. He has 388 points following 2 wins and 4 top-5 finishes.
Byron is coming off a solid showing at Darlington to finish 13th, and he was decently fast in qualifying. He will start 13th on the grid after a time of 30.553 seconds.
Keselowski doesn't provide the most confidence after a lackluster showing in qualifying.
He starts 30th for the AdventHealth 400 at Kansas Speedway. Let's go with Byron and that he'll be within striking distance in 4th to set up a good finish.
NASCAR Kansas Super Six Picks
6. Which driver will have the better finish at the end of the race and by how many cars?
This is a good one between Christopher Bell. Bell won the pole after an impressive qualifying session. However, Tyler Reddick is right there on the front row with Bell in 2nd at the drop of the green flag.
Bell has finished 8th, 28th, 10th, 23rd in four career starts at Kansas.
He had his best finish in his most recent attempt at Kansas Speedway in October.
That said, Reddick continues to knock hard on the door and will get in soon.
Reddick is 22nd, 7th, 25th, 13th, 9th in five attempts at Kansas Speedway. This season he has been close, including 2nd last week at Darlington and four races back in the dirt race at Bristol.
If Chase Briscoe doesn't make contact with Reddick on the final lap, we are probably talking about a win for Reddick. Kyle Busch stole that race from Reddick.
With Reddick finishing well ahead of Bell by 10 spots at the checkered flag, let's go bold.
NASCAR Kansas Super Six Picks