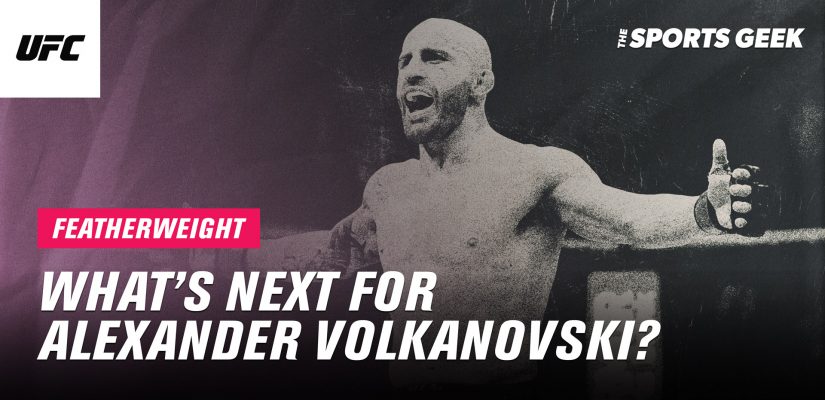 The odds of Alexander Volkanovski going down in history as one of the all-time greats are growing by the minute. With each new outing he not only further solidifies his (already astounding) legacy, but also showcases an incredible amount of growth.
The fact that he's able to do this despite being thirty-three years of age is no small feat. He is by no means a spring chicken and yet he still keeps finding new and exciting ways to evolve as a mixed martial artist — and opponents are surely terrified for that being the case.
If no one could beat him in the past (back when he perhaps had a few holes in his game), what hope do they have at pulling it off now? The fashion in which he "disposed" of the "Korean Zombie" has left no one indifferent. He styled over his opponent. It was as big a mismatch as we can imagine, so the fact that everyone's been singing Volkanovski's praises should really come as no surprise.
A BONA FIDE GIANT
This talented Australian has gone through Darren Elkins, Chad Mendes, Jose Aldo, Max Holloway (twice), Brian Ortega, and Chan Sung Jung all in succession and within a four year time frame. That's an astounding resume, all things considered.
We wouldn't go so far as to say that he's cleaned out the entire division, but you certainly could make an argument for that being the case. He holds two wins over former champion (and future hall of famer) Max Holloway who's still ranked first.
That alone speaks volumes.
These two legends might not be a world apart, but there is a gap between them, and even if they face off for the third (and, hopefully, final) time, we're pretty sure that Alexander would get yet another win on the board over "Blessed."
A Strange Position to Be In
So what's next for Alexander Volkanovski, one of the best mixed martial artists who've ever taken flesh? There really aren't many options out there, and most readily available ones are nowhere near hype enough to get one's blood pumping. The UFC is a business, perhaps now more than ever. If you have a champion who's now basically lapping his division — and has shown very few signs of weakness and slowing down — it becomes a whole lot more complicated to sell his fights.
Most folks tune in for the intrigue. The narratives. The trash talk. They really couldn't care less for the minute details, for the layered techniques, the set-ups, the personal struggles and the effort to overcome them in front of thousands of roaring spectators.
WHAT NEXT?
So how does one go about it, then? How can they market an exceptionally talented champion, one whose wins speak for themselves? Volkanovski has found himself in the same spot Jon Jones was in just a few years ago. People simply stopped caring.
He was still a respectable pay-per-view draw but his numbers were by no means impressive given his stature and GOAT-like status. Tuning in to see Jon Jones outclass and demolish whoever was next in line simply wasn't all that alluring.
And it mattered very little if there was a shot of it ending in a violent KO or a drawn-out decision — one that would put its spectators to sleep.
🗣 THE CHAMP IS HERE!
[ @AlexVolkanovski | #UFC273 ] pic.twitter.com/zrAfb75jfc
— UFC (@ufc) April 10, 2022
He's Just Too Darn Good
Even the most dominant faces and champions fade from memory if there's no one to truly challenge them.
Granted, we still haven't reached such a point with Alexander Volkanovski but, odds are, it's going to happen at some point in the very near future. Plus, he's an "old school" kind of champion — a fighter who lets his skills do the talking.
That's not the most hype-inducing kind of set-up in the post-McGregor era of the UFC.
Fans have been "spoiled" and beguiled by his overly theatrical persona; so much so, in fact, that many of his forerunners have been trying tirelessly to emulate his formula and accrue even a modicum of his success. They've yet to succeed.
In the world of Khazmat Chimaevs, Colby Covingtons, Jorge Masvidals, and the irreplaceable Diaz brothers, Alexander Volkanovski has "very little" to offer other than his awe-inspiring skillset and champion mentality. These things are endlessly more important, of course, but not to the average fan — not to the roaring multitude that's only tuning in for the carnage and bloodshed.
A CLASS ACT
Volkanovski isn't brash or ego-driven, he doesn't succumb to hubris, he doesn't throw chairs at buses or partake in any altercations backstage — he's a professional through and through, and a competitor the kind of which we rarely see.
He still hasn't gotten his due, but we're certain he'll be remembered as one of the all-time greats once he's done with MMA, not just in his division but in the UFC in general.
So, with the "Korean Zombie" in the rearview mirror, what's next for Alexander "The Great" Volkanovski?
Possible Next Opponents for Alexander Volkanovski
The jury's still out on what Volk will do next and whom he'll end up facing. Still, we do have a fairly good idea on what his options are and who's most likely next in line.
The first opponent that immediately comes to mind is none other than Max Holloway. There's still ample interest for that trilogy fight and, needless to say, it'd be a barnburner for the ages — much like the first two.
There still aren't any odds for Volkanovski vs. Holloway III, but it's been over two and a half years since the last time Volk was an underdog. He was favored at -190 in their previous fight, so putting him at -210 feels pretty adequate.
FUTURES BETTING — Volkanovski vs. Holloway 3 Odds:
That, however, isn't the most exciting option. A clash with Henry Cejudo — one of the best and most accomplished mixed martial artists in history — would no doubt be many times more exciting, to say nothing of its historic importance.
A clash like that one would be for "all the marbles," a match-up between two absolute legends, both of which happen to be in their prime. Cejudo is probably a bit rusty, but we're confident that he'd be able to step up and deliver, much like he was able to on so many occasions in the past.
Who'd come out on top is anyone's guess though. Betting on the sitting champ — who also happens to be the more active fighter at this point in time — definitely makes a bit more sense, but it'd be mighty close, that's for sure.
FUTURES BETTING — Volkanovski vs. Cejudo Odds:
A Move Up in Weight
Fighting Holloway for the third time and welcoming Cejudo back into the UFC aren't the only options currently on the table — Alexander's also flirting with the idea of moving up in weight and challenging the winner of Charles Oliveira vs. Justin Gaethje for the lightweight crown.
"Obviously, I'm looking at this lightweight division. I've done my part now. You haven't heard me talk about the lightweight division. People have asked me about it, but I've never said 'give me that fight.' I always said, 'I plan on doing that in the near future.'
I want to wait for the right time. I'm the type of guy that you have to earn the opportunity to do something like that. I've had four title fights, four wins and three defenses. I'm in the position where I can start calling for this type of [expletive]. That's why I feel like that is definitely an option. I want three fights this year. I'm not going to sit there and wait for the division," said Volkanovski during a recent interview.
And, well, it's hard to argue otherwise. He's been absolutely incredible in all of his fights and is one of the more active UFC champions as well. A consummate professional, if you will. The whole COVID-19 pandemic definitely made his job a living nightmare — what with Australia having such strict rules and restrictions — but he was able to work around it as best he could.
Is a move up in weight realistic, though? We don't see a reason why not. He might not be as favored as he is in his own division, but it would nonetheless be a move worthy of our undivided time and attention.
We don't, however, think it's going to happen in 2022. He'll probably take on Holloway around August and then, potentially, clash off with Cejudo — or another contender — near the tail end of the year. That kind of timeline makes the most sense. With that being said, a move up in weight seems rather inevitable at this point, especially if he finds a way to close out his trilogy with Max on a high note.
In any case, his next fight will almost surely have a historical significance to it; there aren't any boring options left for Alexander Volkanovski, so keep an eye on the featherweight champion as he's bound to deliver yet another masterful performance the next time he steps foot inside the Octagon!
FUTURES BETTING — When Will Volkanovski Move Up in Weight?: