A small profit for September. But we swung from -$4,000 to +$12,000 before ending with a $1,000 profit.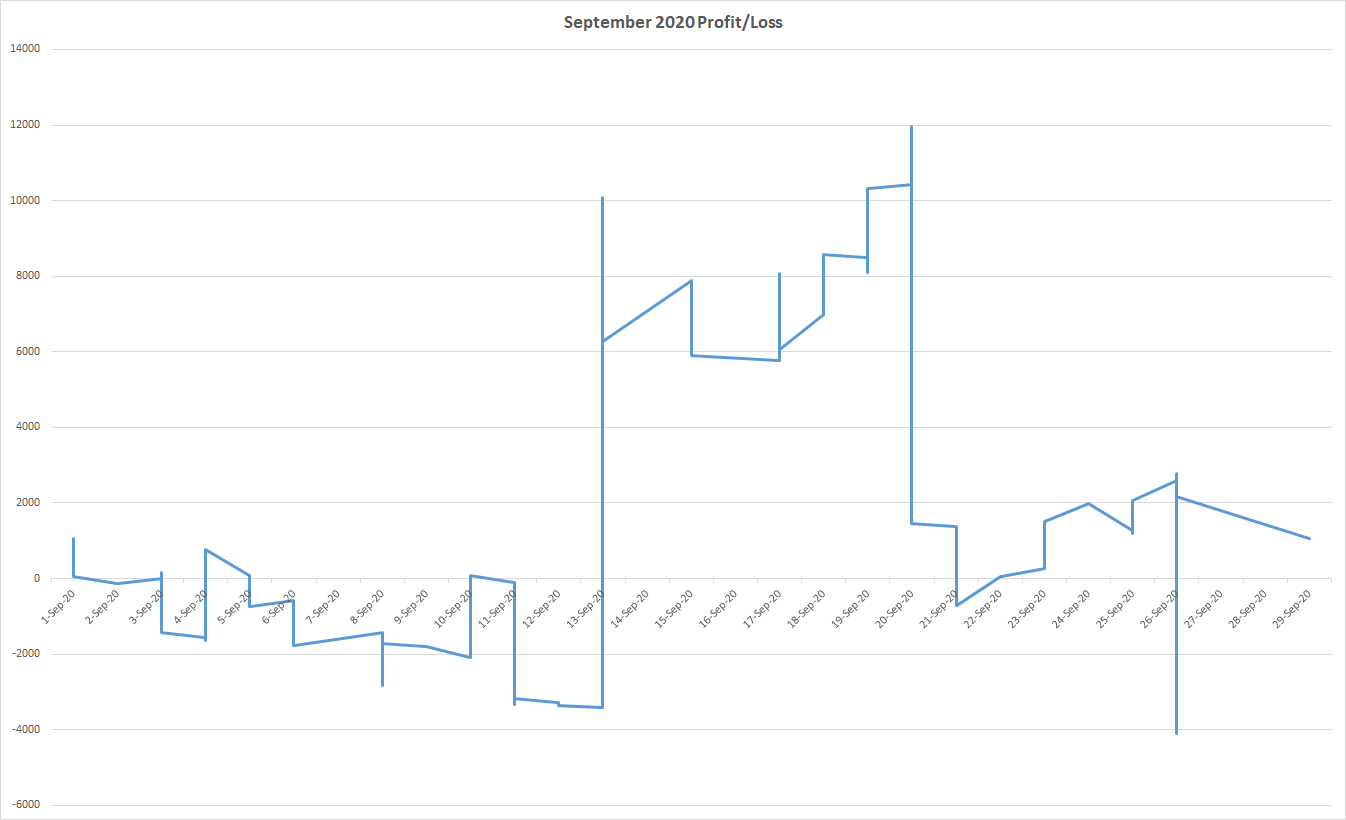 In September, I placed 84 bets, won 34, lost 47, 3 were refunded. I made $1,060.00 profit at 1.14% ROI.
NBA
The NBA season is almost over and in September I placed 23 bets and won 13 of them.
I turned over $32,110.00 on the NBA and lost $730.00 at -2.3% ROI.
That brings the season total to $39,820.00 profit at 6.3%.
If you want to place the exact same bets as me, you can join the Dailyprofit service.
NRL
A tiny win on the NRL this month. I turned over $5,450.00 and won $90.00 at 1.7% ROI.
That brings the season total to $3,930.00 profit at 10.9% ROI.
AFL
The AFL did poorly again in September, winning just 5 from 21 bets. Lucky they were all small bets.
I turned over $2,230.00 and lost $350.00 for a -15.7% ROI.
The brings the season total to -$1,320.00 loss at -10.8% ROI.
NFL
The NFL season started strong and then gave most of the profits back at the end of the month.
I turned over $52,890.00 and won $2,050.00 at 3.9% ROI.
Next month
In October we see the end of the NBA, AFL and NRL. But we add the NFL totals betting as well as the Line bets. I'll enjoy the break from daily betting.
Total Profit for September was $1,060.00
Sign up to my mailing list to keep following my journey.
Stats Year 8/9/10/11
Total bet amount: $4,659,030.00
Profit/Loss: $166,170.00
POT: 3.57%
Bets Placed: 3353
Won: 1716
Lost: 1599
Half Payout: 6
Refunded: 32
Winning %: 51.8%
Total profit per day: $494,750.00 / 3,744 = $132.14
Total Turnover: $34,907,250.00
Total ROI: 1.41%
Sport/TipsterWageredProfit/LossROISeptember P/L
AFL H2H$458,200.00-$4,090.00-0.90%-$350.00
AFL Line$452,680.00-$22,670.00-5.0%$0.00
NRL H2H$744,790.00-$10,320.00-1.4%$90.00
NRL Totals$79,240.00$1,780.002.2%$0.00
NBA Totals$1,805,120.00$146,550.008.1%-$730.00
NBA H2H$208,240.00-$13,830.00-6.6%$0.00
MLB Totals$9,250.00-$1,870.00-20.2%$0.00
NFL Totals$587,090.00$50,480.008.6%$0.00
NFL Line$298,140.00$19,550.006.6%$2,050.00
Mistakes$16,280.00$590.003.6%$0.00
Total$4,659,030.00$166,170.003.57%$1,060.00