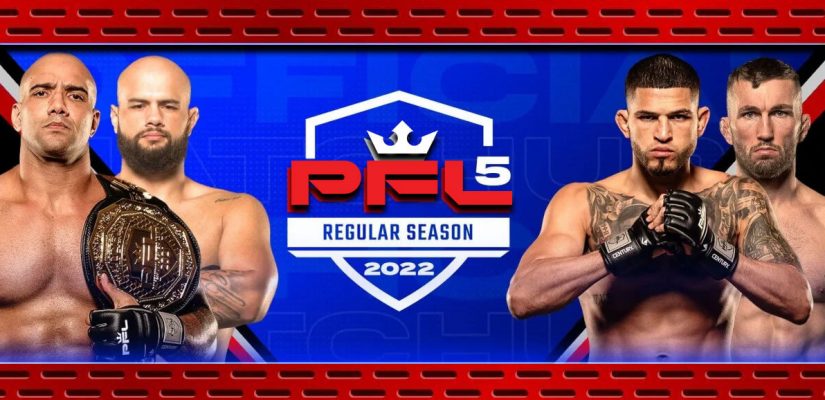 PFL has put together an eleven fight card for Friday, June 24th 2022. We've used Bovada's odds to offer you our top PFL Week 5 odds and predictions. We'll cover the main fights in detail, and give a snappy synopsis of the undercard. 
How to Watch and Bet on PFL Week 5: 2022 Regular Season
Go to ESPN+ and place your bets by 6:00 PM ET on 6/24/2022 to see the full card. Click any of our place bet now buttons to be taken to Bovada, where you can build your ticket on a top MMA betting site. 
PFL Week 5 2022 Predictions
Bruno Cappelozza vs Matheus Scheffel: Cappelozza Money Line -265
Anthony Pettis vs Stevie Ray: Pettis Money Line -220
Renan Ferreira vs Klidson Abreu: Abreu Money Line +375
Chris Wade vs Kyle Bochniak: Wade Money line -625
Ante Delija vs Shelton Graves: Ante Delija Money Line -900
Bubba Jenkins vs Reinaldo Ekson: Jenkins Mony Line -285
Denis Goltsov vs Maurice Greene: Goltsov Money Line -650
Lance Palmer vs Sheymon Moraes: Moraes Money Line +130
Sam Kei vs Juan Adams: Adams Money Line -185
Alejandro Flores vs Ryodji Kudo: Flores Money Line -190
Brendan Loughnane vs Ago Huskic: Loughnane Money Line -1100
PLACE YOUR BETS NOW!
Bruno Cappelozza -750 vs Matheus Scheffel +415
PFL 2021 winner Cappelozza faces the struggling Scheffel. Cappelozza has been the favorite in his string of wins, save for an upset win at +390 over Ante Delija last May. Scheffel has lost his last two as the underdog to Delija and at DWCS. 
Top Cappelozza vs Scheffel Method of Victory Props 
Fighter 
Cappelozza
Scheffel
TKO 
-265
+800
Round 1 Win
-150
+1400
The PFL Week 5 odds show Cappelozza dominating the bout in the opening rounds. He's defeated four of his last five opponent's before 1:30 of the second round.
Scheffel has been finished in the first two rounds six times in his career.
Top PFL Week 5 Main Event Over Under Bets
Bet
Over 
Under
1.5
+200
-300
Goes the Distance 
+425
-700
The -300 under bet is the goal of both fighters. Both men like the early knockout, and will show up aggressive. Bruno has seen only one decision over his last fifteen fights. 
6 Points and the 1st round finish for Bruno Cappelozza!#2022PFL2 pic.twitter.com/HcBajmTR8W
— PFL (@PFLMMA) April 29, 2022
Cappeloza vs Scheffel Betting Prediction
Cappeloza has tighter striking and a better overall MMA game. Our pick is the Cappeloza money line at -265, with winnings of $37.74 per $100 wager. 
PLACE YOUR BETS NOW! 
Anthony Pettis -220 vs Stevie Ray +165
Former UFC athlete Pettis is 1-2 in MMA, coming off a triangle choke win after back to back losses. He was the favorite in all three bouts ranging from -200 to -323.
Ray is three years out of the UFC having gone 6-4 for the promotion.
He lost his first PFL showing at +110. 
Top Pettis vs Ray Method of Victory Props
Fighter 
Pettis 
Ray
Inside the Distance 
+195
+425
Round 1 Win
+500
+900
Round 2 Win
+800
+1200
Pettis has only one finish since knocking out Thompson in 2019. Ray has been on a similar path, winning at various pro grappling events but unable to win in MMA. His last finish was Leonardo Marfra in 2015. 
What a sequence this was in the main event … And what a night to kick off PFL 2021 season. Two two-time champs AND Anthony Pettis all fall in the first event. Wild. pic.twitter.com/MspGKnsex5
— Brett Okamoto (@bokamotoESPN) April 24, 2021
Pettis vs Ray Betting Prediction
The PFL Week 5 odds show Pettis as the favorite not because of winning streak, but because of recent performances. Ray has had one fight in three years, losing in April. Pettis has been competitive consistently, and people are unsure if Ray has the right training environment in Scotland to stay competitive in PFL. Bet the Pettis money line at -220 for a $45.45 payout per $100 wagered. 
PLACE YOUR BETS NOW! 
Renan Ferreira -650 vs Klidson Abreu +375
Ferreira is a 6'8'' heavyweight on a four fight winning streak. His only losses are a DQ and a 2016 armbar before he joined Team Nogeira. His opponent is Klidson Abreu, a 6'2'' American top team fighter that has some major wins over fighters like Sam Alvey, Viktor Nemkov and Johnny Walker. 
This fight has all the makings of an upset. 
Our betting pick is the underdog Klidson Abreu.
He's overlooked, and he's in the right training environment to put away the bigger man with superior grappling.
 
PLACE YOUR BETS NOW!
Chris Wade -525 vs Kyle Bochniak +375
Wade is getting older and losing to more PFL undefeated talent. His last fight was a decision win over Lance Palmer, putting his finishing ratio over the last ten fights at 10%. Bochniak is coming off a loss in his PFL debut to Bubba Jenkins, a fighter that Wade managed with ease in late 2021.
Kyle struggled for the UFC, going 2-5 overall.
Nothing about his recent performances show that he can beat Wade. Our PFL Week 5 prediction is the Chris Wade money line, but look to the Over 2.5 rounds prop bet at -310 for a better payout, or if you think Kyle stands a chance. 
OH MY GOD!!!!@Zabit_MMA @KyleBochniak WOW!!! #UFC223 pic.twitter.com/4a9U2PBDSL
— UFC (@ufc) April 8, 2018
This was a fun moment, and crystalized Bochniak as a guy ready to fight, but not to win.
PLACE YOUR BETS NOW! 
Ante Delija -900 vs Shelton Graves +500
Delija was last year's PFL finale runner up. He's lost to Burno Cappelozza twice, both times in the 2021 season. Other top level heavyweights like Marcin Tybura and Denis Smoldarev have finished Ante. 
Graves was beaten badly at ACA, ending a seven fight winning streak. He had multiple submission losses early in his career, and Ante's grappling centered style is exactly what Graves doesn't want to see. Bet the Ante Delija money line for the most likely win. If you're looking for a risky prop bet, we think the Will the Fight Go the Distance, No prop bet at -450 is a great way to double that payout. Be warned, Ante has seen four decisions in his last eight fights. 
PLACE YOUR BETS NOW!
Bubba Jenkins -285 vs Reinaldo Ekson +210
PFL odds nearly always favor Bubba Jenkins, who has only lost to Chris Wade across two seasons. Ekson is on a four fight winning streak, but hasn't faced anyone notable in his career.
His one losses are to local fighters that are still rising through the international ranks.
 
Jenkins has been submitted twice before, the preferred winning method of Ekson. 
That shouldn't shift your bet much, but if it makes you scared to bet the Jenkins money line, consider the Over 2.5 rounds prop bet at -220. Jenkins has seen four decisions straight, slowing his pace as he enters his mid thirties. 
PLACE YOUR BETS NOW! 
Denis Goltsov -650 vs Maurice Greene +430
Goltsov is a great fighter but only weighs 244. His loss to Ante in 2021 was a decision due to being out wrestled. Luckily, Maurice Greene is even smaller, weighing in at 241. Goltsov has faced defeated better fighters, while Green struggled in the UFC, going 4-4 overall. 
Goltsov is a dangerous finisher, and Maruice's tendency to work off his back and look for the submission will work against him here. 
Over Under Odds for Goltsov vs Greene
Bet
Over
Under
1.5 Rounds
+160
-230
Will the Fight Go the Distance
+340
-585
Bet the Under 1.5 rounds at -230 if you're afraid of Green's submission work, otherwise look to the Goltsov money line. 
PLACE YOUR BETS NOW!
Lance Palmer -170 vs Sheymon Moraes +130
Lance has lost his last three fights to the who's who of PFL's featherweight division. Moraes has done the opposite, exiting the UFC to win three straight with two finishes, facing moderate opposition. 
Moraes work inside the UFC was largely underrated, and the featherweight division in PFL isn't on the UFC level. Look no further than Chris Wade's performance in both organizations for proof. Bet Moraes at +130 for a high paying upset. 
PLACE YOUR BETS NOW! 
Sam Kei +140 vs Juan Adams -185
Kie is the smallest heavyweight on the card at 240, 6'3''. Adams is nearly the biggest at 6'5'' 266 pounds. The guy missed weight for the heavyweight division. He was knocked out by Austen Lane and Justin Tafa.
Justin "Badman" Tafa gets the stoppage win. Spoils the hometown fighter Juan Adams night.#UFC247 pic.twitter.com/bHKjJtw2kT
— WhatsUpMMA (@WhatsUp_MMA) February 9, 2020
Adams has weaknesses to be sure, but Kei doesn't have the right tools to exploit any of them. 
Take the Juan Adams money line for an easy parlay win or winnings of $54.05 per $100 wager. 
PLACE YOUR BETS NOW! 
Alejandro Flores -190 vs Ryodji Kudo +145
Flores has far more experience and comes out of Valle Flow Striking, one of the most interesting gyms developing into a powerhouse of top talent. He's won four straight after losing on the contender series DWCS.
Alejandro Flores lands a slick takedown! Saba gets back up…#2022PFL1 LIVE on ESPN+
🌎 https://t.co/jPNvomkWj8 pic.twitter.com/2BrqBgS8oe
— PFL (@PFLMMA) April 28, 2022
Kudo is a Japanese fighter who did well in his local scene, but has lost two straight as he rises in the ranks. The best fighter he's actually beaten is the 5-1 Min Hyuk Lee. 
Flores should take this fight via knockout so long as he avoids any early takedowns from Kudo. Bet the Flores Money line and expect a showy display of striking combinations. 
Brendan Loughnane -1100 vs Ago Huskic +600
Loughnane is the biggest favorite on the card. His opponent has lost his last two bouts against mid level opponents. Expect Loughnane to take the decision win or easy knockout as he bounces back from his fourth career loss to the undefeated Movlid Khaybulaev. 
PLACE YOUR BETS NOW!