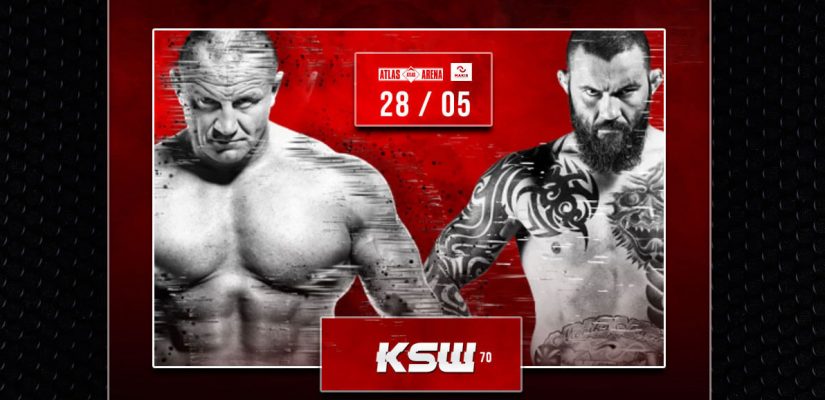 KSW 70 is streaming online for free in the United States. You can bet on KSW 90 on most MMA betting sites, but we're getting our odds from Bovada. We've looked at the entire eight fight card, and we've selected our top betting picks for each bout. We're highlighting each pick with an MMA breakdown on why we're confident in our KSW 70 predictions. 
KSW 70 Betting Picks
KSW 70 Main Event Betting Pick Michal Materia -275
Co Main Event: Omielanczuk money line at -600
Kijanczuk vs Erslan Under 1.5 Rounds -240
Radoslaw Paczuski money line at -175
Parlay Pick: Ugonoh vs Samociuk Doesn't Go the Distance Prop bet -480
Value Bet: Damian Piwowarczyk Money Line -230 
Upset Pick: Tommy Quinn Money Line +400 
Rajewski vs Barrio Over 1.5 Rounds Prop -220
PLACE YOUR BETS NOW!
KSW 70 Predictions and Fight Odds 
We're starting with our main event and working down to the prelims, giving you a quick preview of all eight fights. 
Mariusz Pudzianowski vs Michal Materia 
The main event features the 45 year old Pudzianowski, a former strongman, up against an up and coming middleweight from Berserker's Team.
Get on the Mariusz Pudzianowski Diet!
> It will only require:
– High amounts of physical activity
– Gigantic Muscles
**** Being worlds strongest man is a bonus
– Perhaps a few super special supplements 😜 pic.twitter.com/dPCsPS3VMJ
— Marcus Wolford (@mvmntcoach) May 24, 2022
Unconventional training from the big man.
Materia is easily the toughest fighter of Mariusz career, and we've seen the strongman lose via submission in the past. Bet Michal Materia at -275, a $36.36 payout per $100 wager. 
PLACE YOUR BETS NOW! 
Daniel Omielanczuk vs Ricardo Prasel
Prasel is a +400 underdog, and despite doing well on the local scene, oddsmakers have little faith he can handle the former ACA champion Omielanczuk. Zuk is on a losing streak, going 1-3 over his last four.
He's looking to step down and take an easy win, and I think he's found it in Prasel.
Bet Omielanczuk at -600 for a $16.67 return per $100 wagered. 
PLACE YOUR BETS NOW!
Rafal Kijanczuk vs Ivan Erslan
Rafal is on a three fight winning streak with two finishes. Erslan is on a similar winning streak that includes multiple finishes via knockout and submission. The KSW 90 odds on the Under prop for this fight are -240 at 1.5 rounds. 
Erslan and Kijanczuk have a 75% finish ratio in wins and Kijanczuk has a 100% finish ratio in losses. The under pays $41.75 per $100 wager. 
PLACE YOUR BETS NOW!
Radoslaw Paczuski vs Jason Wilnis 
Both of these fighters are undefeated professionals, but Paczuski is also an undefeated kickboxer. Wilnis is only a +135 underdog despite a losing kickboxing record. After reviewing fight tape, it's unclear if Wilnis has quality grappling at all, and Paczuski should control every area of the fight. Bet Paczuski's money line at -175 for a $57 payout per $100 wager. 
PLACE YOUR BETS NOW!
Izagbe Ugonoh vs Mark Samociuk
Ugonoh is 2-2 as a professional boxer and has mixed success in MMA. He's been knocked out three times in the last five years.
Samociuk has also been knocked out three times in three years.
Ugonoh is a slight favorite, but the 'Fight Doesn't go the Distance' prop at -480 is a much better bet. The no decision prop pays out at $20.83, and is one of the better KSW 70 bets to put onto a parlay ticket. 
PLACE YOUR BETS NOW!
Damian Piwowarczyk vs Bartosz Leśko
Piwowarczyk is a -230 in one of the more one sided bouts on the card. He's undefeated across ten bouts with four finishes in his last four fights including a win over 7-0 Marc Doussis. Lesko is 11-2-2 and coming off a knockout loss. Bet Piwowarczyk money line at -230 for a $43.48 payout per $100 wager. 
PLACE YOUR BETS NOW!
Albert Odzimkowski vs Tommy Quinn
Quin is a +400 underdog in spite of a 3-1 run over his last four. He hasn't fought since 2019 and is coming out of retirement to face Odzimkowski, a fighter on a three fight losing streak. 
Judging from his fight tape, Quinn is underrated.
At +400 odds and four times your wager,  he's our upset pick of the evening. 
PLACE YOUR BETS NOW!
Lukasz vs Rajewski vs Francisco Barrio
Rajewski is coming off a loss that ended a three fight winning streak. He's now facing 9-2 Croatian local champion, Barrio. Both fighters have good grappling and conditioning. On paper Rajewski is a strong favorite, but I see a long fight. We're taking the Over 1.5 Rounds prop at -220, a $45.45 payout per $100 wagered. Both fighters have seen decisions in wins and losses against quality opponents, and many of their finishes have been over lower level or losing record fighters. 
PLACE YOUR BETS NOW!