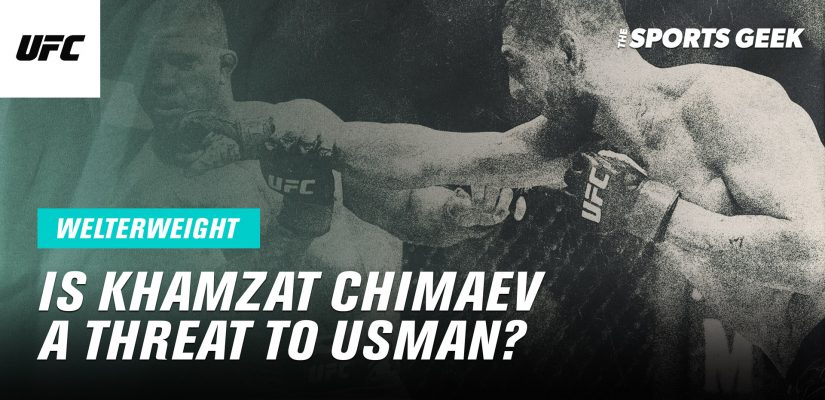 The hype around Khamzat Chimaev is unreal. There's really no other way to put it. And the odds of him facing the sitting champion Kamaru Usman — and a man who's a part of the ever-evolving GOAT conversation — are rising by the minute.
Khamzat's most recent three-round barnburner (a FOTY candidate, no doubt) has told us many different things, and they're all incredibly positive.
Heck, that might be an understatement!
So rarely does a fighter of his kind show up, one with an immense amount of hype and a skillset worthy of it. A young challenger with all the hallmarks of a future champion: a brash persona, unyielding confidence, and a genetic disposition to dominate.
Chimaev — An Astounding Amount of Potential
He's still rough around the edges which, frankly, was to be expected, and he can bleed, too — hardly a surprise given his inexperience and proclivity for fighting with reckless abandon.
But whatever he might lack in patience and control, he more than makes up for in sheer grit, determination and, perhaps most importantly, heart.
Chimaev's a beast. There's really no other way to put it. The things he's done and the fashion in which he's done them have blown us away. He was already a superstar — one with an immense amount of hype behind his back — even before he beat Gilbert Burns.
The amount of momentum he has gained by beating "Durinho" is astounding, and it's well-deserved, too.
It goes without saying, but Khamzat's the real deal. Even those who had doubted him were proven wrong just a few days ago — and in the most tremendous of fashions, no less.
He didn't have many doubters, what with everyone boarding his hype train a long while ago, but the point stands nonetheless; now it's official, with Khamzat being ranked right behind the perennial title contender Colby Covington.
His rise has been a meteoric one and, needless to say, we can't wait for him to once again step foot inside the Octagon and show us even more of his (already quite impressive) arsenal.
pic.twitter.com/rV3DiOtuGq
— Khamzat Chimaev (@KChimaev) April 11, 2022
Potential Match-Ups? They're All Hype
And so, with yet another dominant win on his record — over a spectacular opponent, no less — the MMA community has been trying to figure out what exactly are Khamzat's options and what's most likely to happen going forward.
It's an interesting mental exercise, one that is mighty challenging and, therefore, quite taxing. We simply cannot predict anything with absolute confidence, but we do have a fairly good understanding of what Khamzat's future might hold thanks to a very interesting statement from Dana White:
"I think if Khamzat Chimaev wins this weekend, we see him and Colby Covington next. So I have a fight coming up on ABC. In a perfect world, if everything plays out right, I would love to do Khamzat vs. Colby there if Khazmat should win on Saturday night," said Dana on the The Pat McAfee Show prior to UFC 273.
It's a match-up that makes sense. Two fighters at the peak of their powers, both of which happen to be ranked right beside each other. What's not to like?
Moreover, if there's one fighter who can (and most certainly would) keep up with Chimaev in the cardio department, it's Covington. And don't even get us started on the match-up itself: both of them are incredible wrestlers with a very pronounced affinity for trading blows and throwing caution out the window.
The oddsmakers have Chimaev as the heavy favorite (-200), but don't let that fool you: Covington is the better, more well-rounded fighter and he would almost certainly find a way to emerge victorious.
The following odds would make a lot more sense:
FUTURES BETTING: Chimaev vs. Covington
Colby's the vastly more experienced fighter, but he, too, loves to skirmish and exchange heavy blows. A spectacle, therefore, would pretty much be guaranteed. The winner from that fight would then almost surely get an immediate title shot — as is only right.
Belal Muhammad might have something to say about it, though.
A New Challenger Approaches
After beating Vicente Luque (an incredible athlete in his own right), Belal has every right to ask for a title shot as well. He might not be as popular as Colby or Khamzat, but he's nonetheless been making waves and is a lot more vocal than one would expect.
He's not the flashiest fighter around but whatever he might lack in pizzazz and exuberance he more than makes up for in sheer grit and determination. He's also willing to fight anyone, which is something that cannot be said for the vast majority of his peers.
Plus, Colby has sort of gone MIA ever since he got assaulted in broad daylight by his former training partner (and once friend) Jorge Masvidal. He has his hands full, by the looks of it, and it's still a bit too early to make any kind of prediction whether he'd be willing to return to action so soon. We're bound to hear from him in a couple of weeks' time, but until then we can only theorize.
That's why Belal's position is so darn interesting. He has sort of positioned himself as a logical alternative, a fighter who's willing to step up now and make a statement, come hell or high water. Chimaev wants to return to action as soon as possible, and if he can set up a date with Belal around the same time that Usman and Leon Edwards are scheduled to face, we could have a very interesting four-man tournament on our hands.
It's All Still Up in the Air
Colby is the de facto second best welterweight on the planet, but a third fight with Usman is still a ways off. That much is obvious. The UFC, therefore, will probably lean on "plan B" and, in doing so, throw some "fresh blood" into the mix.
A fight between Belal and Chimaev might not be the most exciting thing in the world, but it's actually not half bad either. It'd be a number one contender's match, should it ever come to fruition, with the winner then finally going up against Kamaru at a later date — presumably late Q4 2022.
Now, Belal's no slouch, but we don't think he's any better than Gilbert Burns, so betting on Chimaev in that case sort of feels like a no-brainer. He might not be that much more capable than this Chicago native, but he's currently ranked second for a very good reason — and we don't plan on denying him his due any longer.
FUTURES BETTING: Chimaev vs. Belal Muhammad
Chimaev vs. Usman | What Are the Odds?
In a potential fight with Usman, the bookies have the sitting champion favored at -200. We think that's perhaps a bit too generous towards Chimaev, but we get the point: he has an inordinate amount of hype behind his beck and a skillset to match.
Be that as it may, the "Nigerian Nightmare" is still a cut above.
He's not only one of the best fighters in the history of mixed martial arts but perhaps even a legitimate "GOAT" candidate. Chimaev, on the other hand, is a fearless athlete, but also one that still has lots to learn and is probably a few years away from actually etching his name in the history books — i.e. winning a UFC title.
"Feeding" him to Usman, therefore, doesn't really make much sense. He'd put up one heck of a fight, there's no doubt about it, but he also has many holes in his game, all of which were on full display during his most recent clash with Gilbert.
A champion like Usman — one that is as good as they come — would surely be able to exploit said flaws and capitalize, much like he did on so many occasions in the past.
In any case, it'll be interesting to see what happens next. Chimaev is closer to a title shot than any of his peers and he knows it, too. If we were him, we'd take the Belal fight in a heartbeat — Colby's a much more layered challenge, one that Chimaev, incredibly though he obviously is, wouldn't be able to tackle and overcome.
FUTURES BETTING: Chimaev vs. Covington