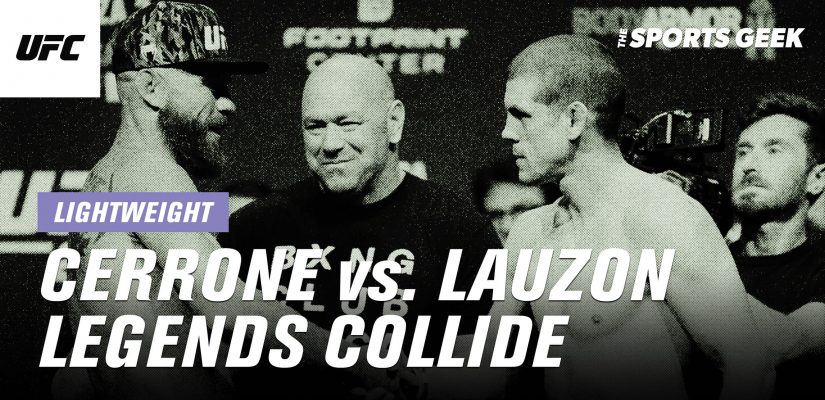 The odds of Donald Cerrone vs. Joe Lauzon resulting in fireworks are extremely slim — if not even non-existent. They're both legends and veterans that are adored and revered across the globe, but they're also on the tail end of their careers.
They're way past their prime and have nothing left to prove or fight for.
That doesn't mean we're not going to tune in, but rather that it's hard to get excited about their forthcoming "swan song." If it goes the distance and both men end up looking great, then we'd be happy, too. But given their age and current ability, a barnburner probably isn't in the cards.
It's a legacy fight, is what it is. A clash between two legendary figures and men who've, at least in some way, made the sport of MMA what it is today.
Still, every good run has to come to an end, and that, too, holds true for Cerrone and Lauzon, both of whom should really think about hanging up their gloves.
Cerrone vs. Lauzon Odds | A Clash of Legends
These two veterans might not be particularly cautious when it comes to their preferred style of fighting, but they're nonetheless well aware of their current position and the amount of time they have "left" before calling it quits.
Cerrone even made if "official:"
"I have 48 fights under Zuffa," he said. "I'm saddened that I couldn't have my 49th and put on a show for you all. My number is 50, gentlemen. I'll retire when I get 50. So I got two more fights in the UFC. So thank you Dana White, thank you Joe Lauzon for not taking that fight with an ill, sick Cowboy. You want a strong, healthy, bad [expletive]," said Cerrone in a recent post on Instagram.
So, for Donald, it's Lauzon and then one last fight before he rides off into the sunset. That's a pretty good plan, all things considered.
Lauzon, on the other hand, wasn't nearly as forthright.
He's lost six fights in a row, two of which came by way of decision, with the remaining four being relatively one-sided shellackings.
In all fairness, though, four of those losses came at the hands of Tony Ferguson, Justin Gaethje, Conor McGregor, and Anthony Pettis, so by no means has Cerrone been fighting "has-beens" and amateurs.
THE ODDS WERE STACKED AGAINST HIM
That simply needs to be said as we're ultimately working with a severely skewed narrative here. Cerrone wasn't expected to win any of those fights. We cannot, therefore, criticize him too much as it wouldn't be fair.
Lauzon was slightly more successful with two wins in his last six outings, but he hadn't faced nearly as stiff an opposition as did Cerrone.
All of this changes very little in regards to their retirement — or that fact that they should retire, rather.
The fact that they're scheduled to fight each other is somehow both poetic and fitting.
This, for all intents and purposes, might as well be their very last fight inside the Octagon. Cerrone plans on fighting one more time but who knows whether that's possible or not — whether fate has other plans, as it so often does.
GIVE THEM THEIR DUE
So tune in. Cheer. Celebrate. Let out your voice, and praise these two legends as they enter fisticuffs for what may or may not be the very last time.
June 19th is the date and you'd best clear out your schedule and prepare ample amounts of popcorn as these two are bound to start swinging from the very moment they step foot inside the Octagon — a cage which they know all too well.
And, on the off chance you're looking to put your money on the line, here's our list of the very best UFC betting sites out there!
Donald Cerrone vs. Joe Lauzon Odds:
Who's Next for Cerrone?
Whether or not Cowboy wins his next fight doesn't really matter. He's a "company man" and if he wants to go out guns blazing and fight that one last time his wish is bound to be fulfilled (and rightfully so).
Whom could he face, though?
Another seasoned veteran (who may or may not be past his prime) or, perhaps, a promising up-and-comer, someone like Patrick "Paddy the Baddy" Pimblett? It's a strange mix, no doubt, but it does make sense the more you start thinking about it.
Pimblett has an inhumane amount of hype behind his back. He's engaging, fights in a most reckless fashion, and has a horde of staunch fans screaming his name whenever he enters the arena.
He is, by all means, a future superstar, regardless of whether or not he becomes a champion further down the line.
AN AGE-OLD SET-UP
So what better way to build him up and further empower and enlarge his narrative, than by "feeding" him to a guy like Cerrone? He wouldn't be favored in that particular match-up but he would have a chance at emerging victorious — and that's more than enough to pique everyone's interest and fire up the masses.
His stock wouldn't plummet no matter the end result and that's vital for both his personal narrative and the UFC's marketing machinery. And on the off-chance he ends up winning, he'd instantly crack Top 15 and take one big step towards true relevance within his division.
We know Donald's down for it so all Paddy needs to do (other than sign on the dotted line) is to beat Jordan Leavitt on July 23rd and we could very well have ourselves a spectacle!
Donald Cerrone vs. Paddy the Baddy Odds: