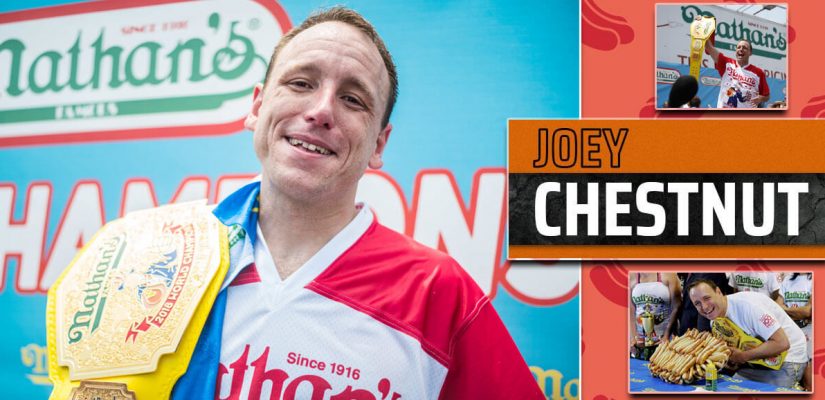 Athletes come in different shapes and sizes.
Babe Ruth, arguably the greatest slugger in the history of baseball, was built more like an offensive lineman than a baseball player. Regardless, the Babe smacked over 700 home runs in his career and remains a legend to this day.
We can debate whether competitive eating is a real sport all day long. To me, there isn't much of a debate at all.
Competitive eating is no different than something like auto or thoroughbred racing. There's a clock, one winner, a bunch of losers, and they put it on ESPN. Sounds like sports!
Over the years, Joey Chestnut has become the Babe Ruth of the competitive eating circuit. The 38-year-old Kentucky native owns a number of world records in a variety of categories, but he's most known for his exploits in the field of hot dog eating.
You've probably wondered to yourself just how much Chestnut is actually eating when he sets a new hot dog eating record with each passing year. If so, you've come to the right place.
Joey Chestnut's Records
Chestnut's victory at the 2021 Nathan's Hot Dog Eating Contest was the 14th of his career, extending his own personal record. He also broke another of his own records by scarfing down a whopping 76 hot dogs and buns over the course of just 10 minutes of action.
Chestnut's rise to the top came immediately on the heels of Takeru Kobayashi's rise to fame. The diminutive eater claimed six straight Nathan's Hot Dog Eating Contest belts between 2001 and 2006 before Chestnut claimed it for the first time in '07.
Chestnut beat Kobayashi, 66-63, in that 2007 competition, which started a string of eight consecutive titles for the young Kentuckian. Matt Stonie pulled off a rare upset win with a 62-60 triumph over Chestnut in the 2015 competition, but Chestnut has since won it six more times in a row.
While Chestnut is most known for eating hot dogs, he also holds records in a number of other competitions. He's the current record-holder for eating the most cheese sandwiches (47), poutine (28 pounds), two-foot pizza slices (6.5), gyros (30), pulled pork sliders (62), and mutton sandwiches (81). All of those records were set in 10-minute contests.
But that's not all! Not by a long shot. Back in 2020, Chestnut set a new record by consuming 32 McDonald's Big Macs in 38 minutes. He ate 38 bowls of red beans and rice in New Orleans across an eight-minute span that same year. He's also the record-holder for shrimp cocktail, tacos, ice cream sandwiches, meat pies, burritos, whole turkeys, Pierogis…and we're still not particularly close to the end of the list.
Chestnut currently holds 55 different records for 55 different types of food.
Eating hot dogs will always be Chestnut's main claim to fame, but painting him into a corner does a disservice to his true versatility at the dining room table.
This man will chow down on world-record amounts of whatever food you put in front of him. Nothing could possibly be more American than that.
Just How Much Does Joey Chestnut Really Eat in One Hot Dog Eating Contest?
While Chestnut has surely made a nice living for himself on the competitive eating circuit, one would imagine his career path has a toll on his body over the years. 2022 will mark Chestnut's 16th appearance in the Nathan's Hot Dog Eating Contest.
Across his last 15 outings in the contest since his first victory in 2007, Chestnut has eaten a whopping 1,089 hot dogs and buns on the big stage. Some estimates say Chestnut has eaten over 19,000 hot dogs in all competitions since 2007.
There is almost no nutritional value in a hot dog, which is typically comprised of a bunch of mystery meat. According to The Sporting News, Chestnut took in an astounding 22,800 calories when he set a new record with 76 hot dogs and buns a year ago.
Joey Chestnut's record-breaking 76 hot dog feast by the numbers 🌭 pic.twitter.com/AqXNMoMFKa
— 𝐓𝐡𝐞 𝐒𝐩𝐨𝐫𝐭𝐢𝐧𝐠 𝐍𝐞𝐰𝐬 (@sportingnews) July 4, 2021
The Food and Drug Administration (FDA) says the average American adult should consume around 2,000 calories on a daily basis.  So, a little basic math tells us Chestnut took in over 11 days' worth of calories in the 10 minutes it took him to break his own hot dog eating record last July.
Based on that insane caloric intake, Chestnut still wouldn't be able to burn it all off if he ran the entire 200-mile distance between New York City and Boston immediately after the competition. Of course, after you eat 76 hot dogs, the only place you're probably running to is the nearest restroom.
In addition to the nearly 23,000 calories, Chestnut also chomped down 1,824 grams of carbs, 1,368 grams of fat, and over 830 grams of protein. Again, he did all of this in 10 minutes. 
Can Chestnut Keep Breaking Records?
Over the course of his illustrious career, Chestnut has set a new hot dog eating record on a number of occasions. Chestnut has topped 70 hot dogs and buns alone in each of the last six competitions.
Before he first crossed the threshold in 2016, nobody had ever done it. Chestnut is still the only eater in the history of the Nathan's Hot Dog Eating Contest to down 70 or more in a single competition.
He keeps breaking his own records, but how much further can he go? Chestnut somehow finds a way to keep improving upon his old records, but there are some physical limitations in play here. Unless they make the competition longer, it's going to be difficult for anyone to blow past Chestnut's standing record of 76.
Surprisingly, somebody has actually conducted a study in order to determine how many hot dogs it's humanly possible to eat in the current 10-minute window. Dr. James Smoliga, who may have a little too much free time on his hands, used data to figure out that a future hot dog eater could down as many as 84 HDBs in this competition.
Whether Chestnut can reach those heights obviously remains to be seen. However, based on how often he keeps outdoing himself, would anybody really put 84 hot dogs past him?
Conclusion
Based on his unprecedented success, it's fair to assume Joey Chestnut won't stop eating hot dogs any time soon. This is in spite of the study that determined Chestnut's 19,000-plus hot dogs consumed since 2007 may have cut more than a year off of his life expectancy. Nearly 1,100 hot dogs in the Nathan's contest alone may have shaved about 27 days off of his life, as well.
Chestnut, who comes in at about 230 pounds most of the time, has maintained that he works hard when he's not eating in order to ensure he's as healthy as he can possibly be. Nobody that binge eats this heavily is going to be perfectly healthy, of course, but I would imagine he's doing the best he can while keeping his competitive edge.
Regardless, the sheer amounts of food Chestnut scarfs down on a yearly basis should make you feel a little bit better about your own overeating habits this Fourth of July.