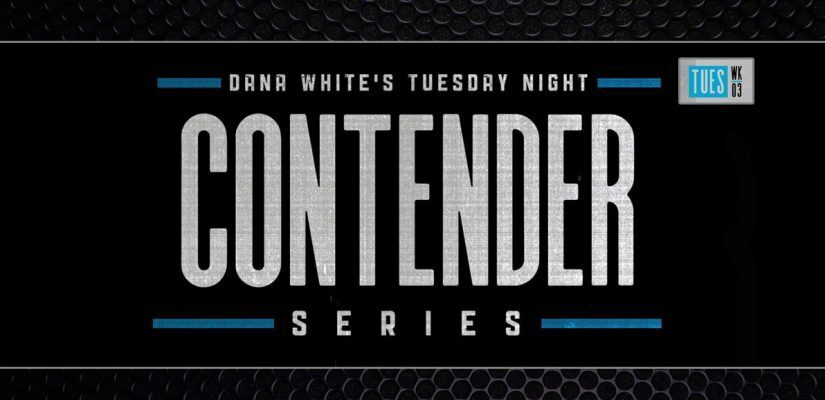 DWCS is back with five fights and exciting up and comers including the second MMA fight for NCAA Division 1 wrestler Bo Nickal. The DWCS Week 3 2022 odds are pulled from Betonline.ag, one of our top UFC betting sites, with excellent first time bettor bonuses.
DWCS Week 3 Odds
Many of these fights, including the main event, are worth considering for a parlay pick. We offer high risk and low for each bout. Focus on the parlay for the lower risk bets. 
Zachary Borrego +1350 vs Bo Nickal -2450
The main event is expected to be the most one sided fight of the night. Nickal was a dominant wrestler and his first fight for IKON was a ground strikes knockout inside thirty three seconds.
His first two amatyer bouts were also quick finishes.
Borrego is no slouch, but his inability to finish will cost him. He was outwrestled multiple times in his amatuer career by fighters with little to no wrestling background. 
DWCS Week 3 Betting Odds for Zachary Borrego vs Bo Nickal 
Bet 
Odds 
Borrego Money Line
+1250
Nickal Money Line 
-2450
Goest The Distance Yes, No 
+500, -800
Nickal by TKO 
-225
Nickal Inside the Distance 
-1500
Borrego +3.5 Points 
+900
Borrego points spread is interesting. If he can go the distance and win even one round, it's a nine times payout on your bet. Not something we're willing to risk after reviewing his fight tape. 
High Risk Prediction: Goes the Distance, No -800
Nickal has submissions on his record, and ATT's BJJ program is top notch under Marcos DaMatta. Borrego has been submitted before, so don't bank on the knockout win.  
Low Risk Prediction: Nickal Money LIne -2450 
The DWCS odds are being generous to Borrego. This is a Bo Nickal welcome party, and I'm sure we'll see a finish inside two rounds. Borrego could survive, but I give it less than 1 in 10 odds. 
PLACE YOUR BETS NOW! 
Paulo Renato Jr. +248 vs Jamal Pogues -288
Renato is on a nine fight winning streak and has nearly all finishes since 2016. He's facing Pogues, a fighter with three loses by finish. Pogues surprised us with a decision over Marcos Brigagao in 2019, then quickly lost to LFA's Alex Polizzi in 2020. 
DWCS Week 3 Betting Odds for Paulo Renato Jr. vs Jamal Pogues 
Bet 
Odds 
Renato Money Line
+248
Pogues Money Line 
-288
Goes the Distance Yes, No 
+250, -325
Pogues by TKO 
+150
Renato Inside the Distance 
+350
We're shocked to see Pogues as the favorite, until we saw Renato's fight record. He's never beaten an opponent with more than four fights who didn't have a losing record. The quality of fighter Renato is facing is low, but his power is undeniable. 
High Risk Prediction: Renato Inside the Distance +350
Renato has knockout power and has scored three straight.
He's an athlete and there's no taking that from him. Pogues is simply a better striker, but his chin is in question. 
Low Risk Prediction: Pogues Money Line -288
This man's ability to expose overrated fighters is second to none. He lacks finishing power, but he's repeatedly put undefeated fighters on notice if they don't have the skill to hang with real kickboxers. His time with Joe Stevenson has dramatically improved his BJJ.
PLACE YOUR BETS NOW! 
Anvar Boynazarov +120 vs Erik Silva -140
This is a classic striker vs grappler match up. The 8-1 Silva is on a five fight submission streak, all inside the first round. He's fought for LUX, with a growing skill pool of Latin American athletes. Boynazarov is a Tiger Muay Thai striking expert with kickboxing wins over Giga Chikadze and Bailey Sugden. He's switched to MMA with three knockouts back to back. 
DWCS Week 3 Betting Odds for Anvar Boynazarov vs Erik Silva 
Bet 
Odds 
Boynazarov Money Line
+120
Silva Money Line 
-140
Goes the Distance Yes, No 
+250, -325
Silva by Points 
+400
Boynazarov by TKO 
+185
Silva could win by points, racking up takedowns to score rounds. I don't think it's likely. Both men are looking to impress, and DWCS has been clear about its intentions; make fighters put on a show. 
High Risk Prediction: Boynazarov by TKO
I question the skill of Silva because he's a coach that runs his own school. It's tough to find people to push you at your own academy, and few can do it well. Boynazarov can catch you with knees on the way in for easy TKO's on a wrestler. 
Low Risk Prediction: Goes the Distance No -325
Either fighter gets an easy win here. Boynazarov's grappling is nearly untested, and his best opponent was 4-2. We may see a first round finish, or a late upset after a boring game of cat and mouse. 
PLACE YOUR BETS NOW!
Clayton Carpenter -340 vs Edgar Chairez +280
Undefeated Flyweight Carpenter is out of the MMA Lab in Arizona. He's finished four fighters in his three year pro career, most recently a thirteen second head kick. Chairez is a finisher as well, with spinning elbow and flying knee knockouts. This fight could go either way. 
DWCS Week 3 Betting Odds for Clayton Carpenter vs Edgar Chairez
Bet 
Odds 
Carpenter Money Line
-340
Chairez Money Line 
+280
Goes the Distance Yes, No 
+190, -230
Clayton by Submission 
+175
Chairez +3.5 Points
+155
Chairez point spread is a moderate bet, considering that Clayton has a better grappling background. If it's a decision, it should be Clayton's fight. 
High Risk Prediction: Chairez Money Line +280
Fight tape for Chairez shows one punch knockout power that few have at 125. He throws his whole body into punches in a way that will be risky against seasoned strikers, but can undoubtedly put anyone to sleep. 
Low Risk Prediction: Goes the Distance No -230
Between their sixteen pro bouts, these fighters have seen a decision each. We're looking for first round finishes, and early aggression for a flyweight battle that should be fight of the night. 
PLACE YOUR BETS NOW! 
Sandra Lavado +195 vs Karolina Wojcik -230
Wojcik has been a nightmare in the KSW and European MMA scene since 2016. She's an exciting high volume striker with submission skill, but has struggled to get the finish in her last eight fights.
Lavado struggles to get decent competition in Peru and Mexico.
Her last win was over a 0-1 fighter via decision. 
DWCS Week 3 Betting Odds for Sandra Lavado vs Karolina Wojcik
Bet 
Odds 
Lavado Money Line
+195
Wojcik Money Line 
-230 
Goes the Distance Yes, No 
-325, +250
We're betting the finish is rare, and you should skip any method of victory bets unless you think Lavado's BJJ resume outshine's Karolina's. The DWCS Week 3 odds offer an unconvincing -165 for a Wojcik decision win. 
High Risk Prediction: Goes the Distance Yes -325
This bet is a greater favorite than Karolina, but fans looking at fight tape may fail to see the difference in skill. We think Wojcik will shine, but this should be more of a point fighting match than a slug fest. 
Low Risk Prediction: Wojcik Money LIne -230
Wojcik has beaten better fighters overall and her record shows more consistent finishes against low quality opponent's. Were also concerned with Lavado's size and that it's better suited for the 105 pound atomweight division. 
PLACE YOUR BETS NOW! 
DWCS Wrap Up
DWCS put on a boring show last week, and we're convinced that pressure to perform will show less and less decision wins from DWCS fighters. Look to the under and no decision props when you're confused on what to do with the DWCS Week 3 odds.