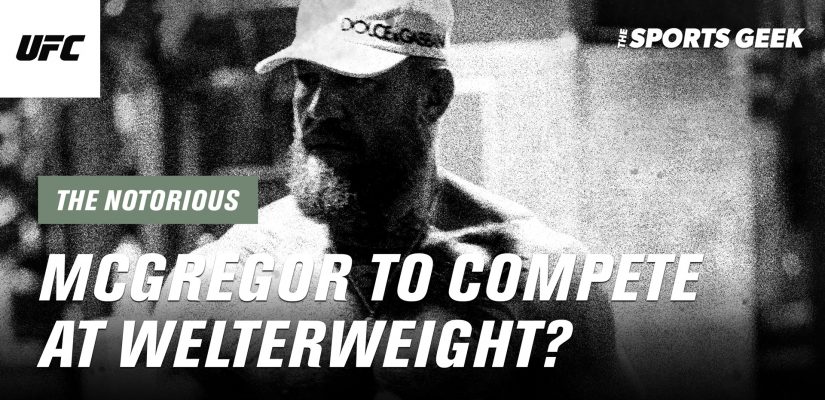 Conor McGregor, one of the most accomplished mixed martial artists of all time — and a most polarizing figure — will reportedly return to action this August as a welterweight. That, in short, is definitely a reason to celebrate, regardless if you're a fan of his or not.
Then again, it's no secret that McGregor has lost a bit of his luster after dropping so many fights in a row. The old adage "you're only as good as your last fight" doesn't really apply to Conor, but there's still some truth to such a statement.
It's been almost two and a half years since the last time he got his hand raised. That's almost an eternity in MMA terms. And, well, it came at the expense of a dwindling Donald "Cowboy" Cerrone, so it's not like it's worth much anyway. If we ignore that clash for the sake of argument, you'd have to go all the way back to November 12th (UFC 205) to find his last triumph.
Calling him "inactive" would be a feat of generosity. There's really no other way to put it.
Despite this, "The Notorious" is still as popular as ever. He's a master at stirring up a conversation, be it through his fists or social media. He's always commenting, giving his two cents, calling people out or, conversely, responding to everyone else's callouts — of which there are many.
Conor McGregor Odds | A Welterweight Through and Through
Rumor has it that he'll return as a welterweight and, well, such a decision sure does make a lot of sense. We're not particularly partial to it, what with the 170-pound division being so darn uninteresting at the moment, but it's definitely the only logical option given his current weight and overall amount of mass.
LIMITED OPTIONs
There are perhaps two or three fights that make sense: Colby Covington, Khamzat Chimaev, and last but certainly not least, Kamaru "The Nigerian Nightmare" Usman. All three match-ups are hype enough to have us start watering at the mouth, and all three would sell like crazy.
What'll happen and whom Conor will face next is anyone's guess though. Heck, he might go for a trilogy fight with Nate Diaz for all we know. It's not as hype a match-up as the three aforementioned ones, but it's not like the "casuals" care much — it, too, would generate record amounts of interest (and, by proxy, revenue).
Then again, we don't know how motivated he is and how many fights he has "left." He's still just thirty-three years of age, but he's also a businessman, a father, potentially a boxer, and — perhaps most importantly in this case — obscenely rich. Now, we couldn't care less about how much money he has in his bank account, but being well-situated does affect one's performance.
It's hard to wake up in the morning and go out for a run. He's one of the most popular combat athletes of all time, a former two-division UFC, and a future hall of famer. He has nothing left to prove. If he were to retire this very instant he'd still go down as one of the all-time greats — an individual that has "revolutionized" the game in a myriad of different ways.
A 'HIGH PROFILE' FIGHT IS THE WAY TO GO
One could argue, therefore, that the only kind of fight that would pique his interest — or match-up, rather — is one that involves another legend, a fighter of seemingly equal "importance." If that really is the case, then Kamaru Usman seems like the only possible choice given Conor's current weight.
Now, that particular match-up doesn't make much sense given the current state of his career, but it sure would break a few pay-per-view records. And, well, knowing just how things are done over in the UFC, that may well be enough.
The rules are different for a man like McGregor, but you probably knew as much.
No Shortage of Options
When you're as big of a draw as McGregor, you always have a slew of alluring options at your disposal. In fact, we might as well go a step further and call things as they are: Conor can pick and choose his next opponent, and he's probably weighing his options very carefully.
He has already lost a fair bit of stock, and another loss may well prove to be "fatal." Then again, we'll always tune in to see him fight, regardless of his record. He's a one-of-a-kind fighter, after all.
The latest fighter to call him out is none other than Michael Chandler — and he did so after sending Tony Ferguson to the "shadow realm" with one of the most jaw-dropping front kicks you'll ever see.
Conor, naturally, was quick to respond.
"I'd have a nice knock off this guy, no doubt about it. A firework spectacle. I like the 170 shout also. Tipped him over. I'm definitely game to fight this guy at some stage in my career. I see it happening after tonight. Congrats on a solid win Michael and another barnstormer," said McGregor on Twitter.
STILL ON THE FENCE
Conor's keeping his options open and his cards close to his chest. He's non-committal and, well, understandably so — every move he makes can either generate or burn through millions upon millions of dollars.
His actions have weight and meaning, and he's surely aware of it as well.
We can't really envision a world in which he steps inside the Octagon and gets his hand raised against a veritable "killer" like Chandler — what with him having such a lengthy layoff — but he'd surely be quite competitive, of that much we're certain.
FUTURES BETTING — Conor McGregor vs. Michael Chandler Fight Odds:
He could also fight Dustin Poirier for the fourth (and hopefully final) time. That particular clash doesn't make much sense, but Conor's only looking for big, marquee match-ups, and that particular one would surely sell like crazy.
We don't see him winning this one either. He did have a few good moments in their last two outings, but they were neither impressive nor frequent enough to warrant anyone's benefit of the doubt — Poirier's the better fighter at this point in time and everyone knows it.
FUTURES BETTING — Conor McGregor vs. Dustin Poirier IV Fight Odds:
And, well, don't even get us started on a potential fight with the "The Nigerian Nightmare." We're talking about a frontrunner in the ever-changing GOAT conversation. He's amongst the best and most dominant fighters the world of MMA has ever seen — he'd barely break a sweat against a legend who may or may not be past his prime.
And, well, a legend that couldn't even walk without crutches just a few months ago. That, too, is an important thing to keep in mind.
In any case, McGregor has a myriad of different options to choose from, but it feels like whatever he ends up doing isn't going to result in him getting his hand raised.
One thing's for certain: we'll all tune in, eager as ever, to see "Mystic Mac" compete.