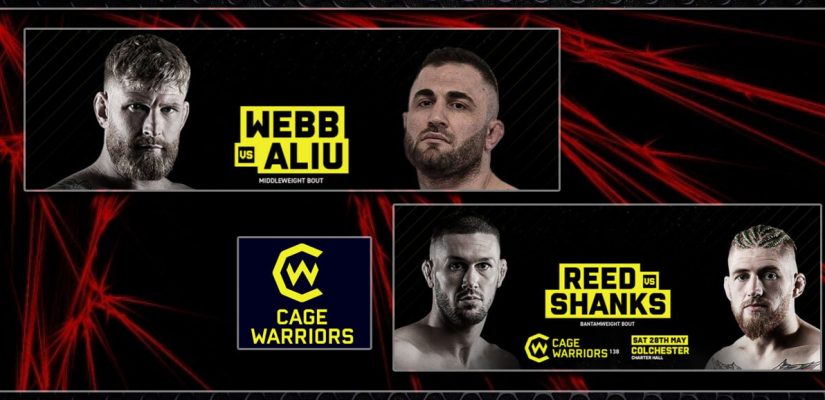 UFC Fight Pass is bringing us another short and sweet Cage Warriors event to bet on. Cage Warriors 138 odds are available through Betonline.ag, one of our top MMA betting sites. You'll see prop bets for each bout, as well as money line odds. CW 138 is headlined by James Webb vs Leon Aliu, a classic wrestler vs BJJ battle. 
Place your bets by 1:00PM ET, May 28th, 2022 to get in on the action for all six bouts. 
Top Cage Warriors 138 Betting Picks 
Aliu vs Webb CW 138 Main Event: Over 2 ½ Rounds +120
CW 138 Co Main Josh Reed +175 money line
Cage Warriors 138 Main Card: Orlando Prins -120 Money Line 
Value Bet CW138 Lukosiunas vs Elliot Under 1 ½ Rounds -105
Cage Warriors 138 Scott Pedersen Money Line -215
Upset pick: Lupoli vs Hignett Under 2 ½ Rounds +130
PLACE YOUR BETS NOW!
Cage Warriors 138 Odds and Fight Picks
All six fights are listed from main event to the opening bout. The earliest fight is at 1:00PM ET, and the show is expected to end around 4:00 PM ET. 
We'll cover the top Cage Warriors 138 Over/Under prop bet, in addition to an MMA breakdown for our top CW 138 betting pick. 
Webb vs Aliu Prediction
The main event betting pick puts the wrestler Leon Aliu as the underdog to Webb. Webb struggled going 2-2-1 over his last five fights, and has been knocked out twice.
Aliu lost a decision in 2018 and has since only had one fight against a 6-11 fighter for a small show.
The lower quality opponents of Aliu give Webb a second look. 
CW 138 Main Event Odds
Bet
Odds
Leon Aliu Money Line 
+160
James Webb Money Line 
-200
Over 2 ½ Rounds
+120
Under 2 ½ Rounds 
-150
Aliu has multiple first round submissions and finishes, in addition to a 4th round Italian FC championship finish in 2018. Webb has one loss and one win that fall into the under 2 ½ Rounds category inside his last six fights. While both fighters are finishers, against higher level fighters both men end up seeing a decision. Webb's chances of submitting Aliu early on are low, and his first round finishes are mainly over fighters like 14-11 Craig White. 
MMA Breakdown and CW 138 Main Event Fight Stats
Fight tape shows Aliu improving massively from 2018 to 2021. It's clear he took the time to move away from an Italian local gym to Roger Gracie BJJ in Reggio Emilia. Aliu's new focus on conditioning, yoga and more varied MMA training make him more competitive than the odds give him credit for.
Webb has good grappling control, but is slow and methodical. He doesn't focus on the kind of explosive power that ends fight's early against other competitive athletes. For that, we're looking at the Over 2 ½ Rounds prop bet. It offers $120 per $100 wager.
PLACE YOUR BETS NOW!
Shanks vs Reed Prediction
Shanks defeated Sam Creasey in their rematch last December via knockout. He's 2-2 over his last four fights, with two knockout wins over decent fighters in Cage Warriors.
🤯After knocking out flyweight champ Sam Creasey at #CW132 and evening the score between them, what is Luke Shanks' next move? pic.twitter.com/xnTx9mNfnu
— Cage Warriors (@CageWarriors) December 20, 2021
Reed is also 2-2 over his last four, winning both fights via finish. Reed is a growing fighter, with multiple wins and losses via submission and knockout finish. He set a pace early, and has had mixed results as he faces better competition. Nearly all of Reed's eighteen pro bouts have been for Cage Warriors.  
CW 138 Co Main Event Odds
Bet
Odds
Josh Reed Money Line 
+175
Luke Shanks Money Line 
-215
Over 2 ½ Rounds
-125
Under 2 ½ Rounds 
-105
Reed is a +175, indicating the oddsmakers give him a 35% chance of winning this fight. I have to agree. He goes out there bringing serious knockout power on a 5'8'' frame that is tough to train for at bantamweight. 
The under aligns with nine of Reed's last twelve fights, but only two of Reed's last ten fights. The Cage Warrior 138 odds lean toward a Luke Shanks decision win. 
MMA Breakdown for Reed vs Shanks
Shanks has grown into a fighter that prefers a slugest. He's looking to go out early and deal damage. Shanks has a more methodical approach despite his early finishes. He's better in the clinch and in the bottom position attacking submissions than most fighters. 
I'm predicting an upset, with Josh Reed finding the submission over Shanks by round 3. 
The Reed upset pays out $175 per $100 wager. 
PLACE YOUR BETS NOW!
Prins vs Mearns Prediction
Prins is an undefeated pro going up against a crafty vet in Tom Mearns. Mearns 8-7 record has seen an upswing, winning his last two split decisions in 2021. He's been finished only three times in his career, and has been fighting as an amatuer since 2012.
Prins had a short amatuer career, but has submitted three opponent's in pro debuts over his last three bouts.
Cage Warriors 138 Prins vs Mearns Odds
Bet
Odds
Tom Mearns Money Line 
-110
Orlando Prins Money Line 
-120
Over 2 ½ Rounds
-180
Under 2 ½ Rounds 
+150
The fight is close, mostly because Prins is untested against decent opponents. No one Prin has faced had a pro record, just debuting fighters in all fights. The Under is 2 ½ Rounds at +150, but if Prins can live up to his hype, it's' a great bet.  
MMA Breakdown for Prins vs Mearns
Prins is the head instructor at Focus JJ Netherlands and a blackbelt ranked fighter. He spends a lot of time in the gi, but he looks to be in fantastic shape and takes each opponent down with ease. Mearns has good survival instincts, and will look to draw out the fight, but from his bouts with Steven Hooper and Mike Ekunadayo, Mearns purple belt level in BJJ is accurate. 
We expect Prins to get the win. 
Bet Prins at -120, a $83.33 payout per $100 wager. 
PLACE YOUR BETS NOW!
Lukosiunas vs Elliott Prediction
Luko is undefeated with three finishes. He competed from 2018 to 2019 and has taken three years off. He faces former Cage Warriors 7-0 mature champion Elliot, who's gone 1-2 over his last three. Elliot is a talented finisher, with two knockouts and two submissions among pro wins.
CW 138 Luko vs Elliot Odds
Bet
Odds
Oban Elliott Money Line 
-220
Herkus Lukosiunas Money Line 
+180
Over 1 ½ Rounds
-125
Under 1 ½ Rounds 
-105
Because both fighters are talented, the under is at -105. Elliots losses were late in round two and three, but both via knockout finish.
"Never trust a gangster" 😳
Oban Elliot came to make a statement and he did just that at #CW108
Skills, experience and charisma 👏
📺 Watch LIVE on @UFCFightPass
📍The Viola Arena, Cardiff 🏴󠁧󠁢󠁷󠁬󠁳󠁿 pic.twitter.com/xMBpCaRnIs
— Cage Warriors (@CageWarriors) October 12, 2019
Lukosiunas is coming back to make a statement. His wins were each very early in the first including a ten second head kick. I expect Herkus to look like he was shot out of a cannon. 
Our betting picks the under 1 ½ Rounds bet at -105, a $95 payout per $100 wagered. We think Elliot can win, but there's no telling how much Lukosiunas has improved in the three years off. 
PLACE YOUR BETS NOW!
Tanasa vs Pedersen Prediction
Both fighters have multiple losses, two decisions each. Pedersen also has a submission loss to local amatuer favorite Nik Bagley.
Both fighters had a massive amount of amatuer experience for MMA, showing submission and TKO wins.
I expect this bout to be competitive. 
CW 138 Tanas vs Pedersen Odds
Bet
Odds
Scott Pedersen Money Line 
-215
George Tanasa Money Line 
+175
Over 2 ½ Rounds
-245
Under 2 ½ Rounds 
+195
Fight tape shows why Pedersen gets the oddsmakers nod. He's a better athlete overall. He's taken on tough challenges since turning pro, but Tanasa doesn't have the conditioning to keep Pedersen's pace. Our pick is the favorite at -215, a $46.51 payout per $100 wager. 
PLACE YOUR BETS NOW!
Lupoli vs Hignett Prediction
The opening fight of the night pits striker vs MMA fighter. Lupoli has knockout wins and submission losses. He sports a 5-2 record, contrasting with the experience of Hignett's 9-7 pro record. Hignett started his career as a grappler, but has grown into a striking centered fighter. Lupoli has real weaknesses in grappling, and will lose if Hignett is able to get the takedown. 
CW 138 Hignett vs Lupoli Odds
Bet
Odds
Connor Hignett Money Line 
-130
Michelangelo Lupoli Money Line 
+100
Over 2 ½ Rounds
-160
Under 2 ½ Rounds 
+130
Hignett is a slight favorite, despite two knockout losses over his last four fights. I think this is a bit of a mismatch. If Lupoli keeps it standing, he will finish Hignett, and if Hignett takes it to the ground, he will submit Lupoli. For that, we see an early night. We're calling the Under 2 ½ Rounds at +130. Both fighters look to finish, and both have real weakness in the other's respective discipline. 
PLACE YOUR BETS NOW!