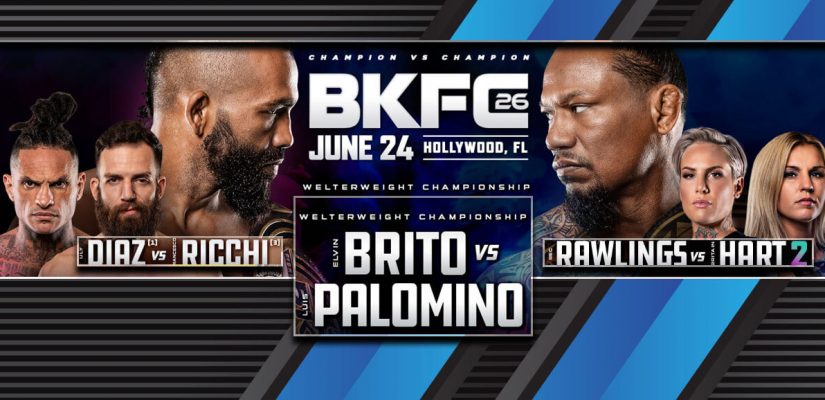 BKFC is back with a nine fight card and Betonline.ag has offered betting odds for each bout. There are no props available, so we've studied each fight to make our top money line pick. 
How to Watch and Bet on BKFC 26
BKFC will air on the FITE App, Friday June 24th, 2022. The fights start at 8:00 PM ET, so click any of our place bet now buttons to be taken to Betonline where you can add our top picks to your ticket. 
BKFC 26 Predictions
Luis Palomino vs Elvin Brito: Palomino -270
Jimmie Rivera vs Howard Davis: Rivera -129
Cary Caprio vs Tyler Randall: Randall -260
Bec Rawlings vs Britain Hart: Rawlings +130
Ulysses Diaz vs Francesco Ricchi: Diaz +140
Gorjan Slaveski vs Juston Stills: Slaveski -225
Freddy Masabo vs Will Shutt: Masabo -350
Brian Duran Braeden Tovey: Duran -425
Stephen Townsei vs Chris Sarro: No Opponent 
PLACE YOUR BETS NOW!
Luis Palomino -270 vs Elvin Brito +210
Palomino owns the BKFC welterweight title. This man seems built for bare knuckle boxing. He's now 6-0 in the sport after a  26-17 MMA career. Brito has lost to Palomino before, back at BKFC 10 in 2020. Since then he's defeated Kaleb Harris twice and two other no name BKFC athletes. 
Expect Palomino to beat him again. 
BKFC 26: Brito 🏆vs. Palomino for the welterweight gold!
Fri. June 24th | 8PM EST
Tickets & Ordering: https://t.co/HLL6nJslEV pic.twitter.com/Ki2zo2V4Ow
— Bare Knuckle FC (@bareknucklefc) June 18, 2022
Elvin Brito has lost via knockout once in bare knuckle rules and three times in pro MMA. He just doesn't have the chin for it. 
Meanwhile, Palomino has two bare knuckle knockouts and another dozen MMA finishes. Palomino's money line winnings are $37.04 per $100 wager. 
PLACE YOUR BETS NOW! 
Jimmie Rivera -129 vs Howard Davis -101
Rivera is making his bare knuckle debut after losing out of the UFC. He was beaten by three ranked opponents and released. Rivera has beaten Urijah Faber, Munhoz, Almeida, Stamann and Dodson all in the last five years. 
Jimmie Rivera knocked out Marcus Brimage in under two minutes in his UFC debut back in 2015.#UFCvegas20pic.twitter.com/IHvByCPNDf
— Alex Behunin (@AlexBehunin) February 25, 2021
Howard Davis is 3-0 in BKFC, defeating washed up MMA fighters. He does seem good at the rule set, but it's confusing to see this level of skill discrepancy even allowed by the commission. 
Bet Jimmie Rivera for a $77.52 payout per $100 wager. 
PLACE YOUR BETS NOW! 
Cary Caprio +200 vs Tyler Randall -260
Randall is now 2-0 in BKFC after losing his MMA pro debut. Caprio has never won a fight of any kind, pro or amatuer. This is an easy pick for Tyler Randall. 
PLACE YOUR BETS NOW! 
Bec Rawlings +130 vs Britain Hart -160
Hart is 4-3 in BKFC and lost to Rawlings in her first BKFC showing in 2018. She's also a boxer with a losing record active since 2017. Hart has gotten better, and took Rawlings to a split decision in their first showing. 
The most anticipated rematch in BKFC history! Watch Bec Rawlings vs. Britain Hart at BKFC 26 on June 24th!https://t.co/HLL6nJaKgl pic.twitter.com/Tk6fhl6MLy
— Bare Knuckle FC (@bareknucklefc) June 23, 2022
Rawlings went back to Bellator for a 1-1 run, but is still undefeated in BKFC at 3-0. She's not much of a knockout puncher, but Hart's three TKOs were not against quality fighters. I see Bec taking it to Hart yet again, for $130 of winnings per $100 wagerd. 
PLACE YOUR BETS NOW! 
Ulysses Diaz +140 vs Frencesco Ricchi -170
Diaz is 41, but has a 13-1 MMA record and 3-1 BKFC record. His only loss is to the UFCs Thiago Alves. He is also a professional boxer with multiple KO wins and a 4-1 record. 
Ricchi is 4-0 in BKFC but his quality of opponent is moderate at best. Two of the fighters he's faced have no BKFC wins at all. 
After watching a bit of tape, it's clear the BKFC 26 betting odds favor the Diaz Money line. He's the better boxer offering more cash. 
PLACE YOUR BETS NOW!
Gorjan Slaveski -225 vs Juston Stills +185
Slaveski is 3-4 in boxing and 1-0 in BKFC, totalling three knockout wins. Stills is just getting started, coming off his first win at BKFC Fight Night in April. 
Stills looked moderate, but it doesn't look like he had the power to take out Gorjan. Our pick is the favorite at -225. 
PLACE YOUR BETS NOW! 
Freddy Masabo -350 vs Will Shutt +275
Masabo has never fought bare knuckle, but comes out of the brutal training ground Goat Shed Academy. His opponent is 1-1-1 in BKFC and on a seven fight MMA losing streak that consists of multiple losses. Shutt will come out and swing as hard as he can, sometimes resulting in a win. Masabo should beat him with superior accuracy in striking. Bet the favorite at -350. 
PLACE YOUR BETS NOW! 
Brian Duran -425 vs Braeden Tovey +325
Duran has one amatuer finish win. Tovey has one pro win because his opponent got sick in the ring. It's unclear who will win, but Duran does appear to be the better boxer from limited fight tape. We're betting Duran due to Tovey's string of amatuer losses totaling a 3-4 record. 
PLACE YOUR BETS NOW! 
Stephen Townsei +140 vs Chris Sarro (NA)
Townsei's opponent has changed last minute and it's unclear if odds will be available. He's now 1-2 in BKFC and has been knocked out in the first round twice in a row. At 42, he can't take too many more of those. 
BKFC 26 Odds and Predictions Wrap Up
If you're struggling to make your BKFC ticket,  we can show you how to use MMA betting sites. If you're interested in seeing BKFC 26 odds for prop bets, let us know which ones you think would be fun to bet on in the comments. 
PLACE YOUR BETS NOW!