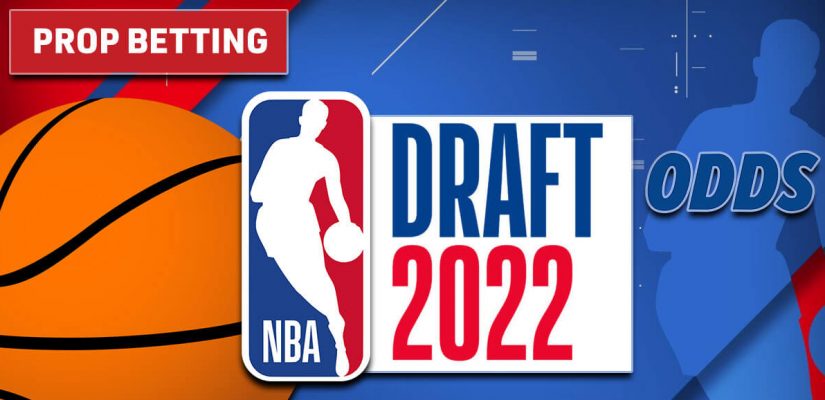 The 2021-22 NBA season has come and gone, but it's never too early to start betting on the 2022-23 campaign. Top NBA betting sites have already released odds for which team will win next year's title, just days after the Golden State Warriors won it all for the fourth time in the last eight years.
Some of the teams that fired their head coaches after last season have already hired replacements, while a few other vacancies remain. Later this week, the NBA will be in the news again when the draft goes down on Thursday night. Just a few days after that, what should be a wild free-agency period will open up, as well.
So, there is no true basketball offseason nowadays. You can find NBA draft odds at those aforementioned online sportsbooks, with props and futures to keep you occupied over the next few days.
Which NBA draft props are worthy of your attention this year?
NBA Draft Prop Bets
No. 1 Overall Pick
Jabari Smith Jr. (-155)
Paolo Banchero (+210)
Chet Holmgren (+230)
Jaden Ivey (+9000)
Last month, the Orlando Magic won the draft lottery for the first time since 2004. Orlando struck gold with its selection of high-school phenom Dwight Howard that year, but this is a franchise that has been out in the wilderness for quite some time. Save for a few playoff appearances under former head coach Steve Clifford, this team hasn't been all that relevant since its NBA Finals loss back in 2009.
The Magic are no strangers to the lottery, but they're still searching for a franchise cornerstone. The chance to pick first in a loaded draft class could finally put Orlando back on the right track.
Auburn's Jabari Smith Jr. has been the betting favorite to go first ever since the Magic won the lottery. Smith averaged nearly 17 points and better than seven rebounds per game last season for the Tigers, and the 6'10" forward emerged as one of the nation's best offensive big men as a freshman last term.
Smith shot a stellar 42 percent from three-point range, so he has the floor-spacing ability teams desperately crave in this day and age. His defense is a work in progress, but he should continue to fill out that 220-pound frame as a pro. Smith looks like a good value at -155 odds to wind up in Orlando, but it's far from a sure thing.
Magic president Jeff Weltman did say earlier this week the team hasn't yet decided on which player will go first, however. That certainly could be smoke and mirrors, which is nothing new around this time, but Orlando has to be somewhat tempted by both Duke's Paolo Banchero (+210) and Gonzaga's Chet Holmgren (+230).
ICYMI: Magic president of basketball operations Jeff Weltman said on Monday that the team still hasn't finalized a decision on the No. 1 pick: https://t.co/70U184bQLb
— Hoops Rumors (@HoopsRumors) June 21, 2022
Banchero is probably the most NBA-ready prospect in the draft, while Holmgren may have the highest upside of any player if he pans out. Smith is over a year younger than Holmgren, however, while he's a more polished shooter than Banchero. Banchero's odds to go No. 1 have improved considerably over the past couple of days, but I'm not buying it.
Anyone other than Smith with the No. 1 selection would be a surprise for the Magic. Bet on Jabari's -155 NBA draft odds while they're still somewhat profitable.
Best NBA Draft Prop Bet: Jabari Smith Jr. (-155)
No. 2 Overall Pick
Chet Holmgren (-155)
Jabari Smith Jr. (+145)
Paolo Banchero (+300)
Jaden Ivey (+2000)
Shaedon Sharpe (+6000)
Keegan Murray (+10000)
The Oklahoma City Thunder need a little bit of everything. Shai Gilgeous-Alexander is entrenched as the new franchise centerpiece, but the team is still very much a work in progress around the young point guard.
GM Sam Presti has been hoarding draft picks and shamelessly tanking for the past few years. Oklahoma City certainly would've loved to land the top pick, but No. 2 isn't a bad place to be in this class. With needs at every position, the Thunder likely can't go wrong regardless of which player they grab here.
With Smith likely off the board, Presti's decision will come down to Holmgren (-155) and Banchero (+300). We know the Thunder are playing the long game, and Holmgren is the more boom-or-bust prospect here. His size (7'1″), ability to protect the paint, and stretch the floor offensively make him an incredibly rare breed, and I really don't think Presti will be able to pass on that upside.
Chet Holmgren on OKC: "It's a great organization, great people within it. They know what they're doing. They have a proven track record. And they have a vision for the future."
— Brandon Rahbar (@BrandonRahbar) June 20, 2022
In an interview earlier this week, Holmgren said of the Thunder, "It's a great organization, great people within it. They know what they're doing. They have a proven track record. And they have a vision for the future." None of that is really true, but those words sure sound like something someone that knows he's going to Oklahoma City would say of their situation.
The Thunder aren't going to be trying to win games next season, but they will be able to give Holmgren the opportunity to play right away and adapt to the NBA game. As is the case with Smith to the Magic, Holmgren's -155 NBA draft odds to wind up in OKC look attackable.
Best NBA Draft Prop Bet: Chet Holmgren (-155)
No. 3 Overall Pick
Paolo Banchero (-320)
Chet Holmgren (+550)
Jabari Smith Jr. (+600)
Jaden Ivey (+900)
Keegan Murray (+1800)
Shaedon Sharpe (+2000)
AJ Griffin (+6000)
If form holds with the first and second picks, it's hard to imagine the Rockets passing on Banchero. For the second consecutive year, it's looking increasingly likely that Houston may wind up with the draft's top overall prospect despite not having had the first selection. Last year, they grabbed future star Jalen Green at No. 2, and they're likely to pair him with Banchero this year.
Last week, Houston shipped forward/center Christian Wood to Dallas in a trade that can be best described as a dump for the Rockets. Wood was making north of $20 million to play mediocre basketball while soaking up frontcourt minutes. With Banchero likely to join another star rookie from last year, Alperen Sengun, the Rockets had no need for Wood anymore.
In the last 24 hours, Paolo Banchero's odds to be drafted No. 1 overall on @DraftKings have shifted from +1600 to +250.
— Evan Sidery (@esidery) June 21, 2022
In Banchero, the Rockets will get an incredibly talented offensive big man capable of averaging 20 points per game from day one. He's big enough to play both frontcourt spots at 6'10", though there are some doubts about his ability to translate defensively at the next level.
Regardless, there's a reason Banchero has healthy -320 NBA draft odds to wind up in H-Town. Betting on any other outcome looks like a foolish endeavor.
Best NBA Draft Prop Bet: Paolo Banchero (-320)
No. 4 Overall Pick
Jaden Ivey (-175)
Keegan Murray (+125)
Shaedon Sharpe (+850)
Dyson Daniels (+1000)
Paolo Banchero (+1500)
Chet Holmgren (+4000)
Bennedict Mathurin (+6000)
AJ Griffin (+6000)
For all intents and purposes, the draft won't get interesting until the Kings hit the clock at No. 4. Sacramento is the most unpredictable franchise in the sport, and it's absolutely perfect that they wound up with the fourth pick in a draft with only three clear-cut top prospects.
There's a very strong chance the Kings could trade out of this spot altogether. Purdue guard Jaden Ivey (-175) looks like the fourth-best player in the draft, but Sacramento already has De'Aaron Fox and Davion Mitchell in the backcourt. The Kings just traded Tyrese Haliburton because of a logjam at the guard spots. Adding Ivey to the mix would just present the same problem all over again. Bennedict Mathurin (+6000) is a guard, too.
Sussing out the Anunoby noise; fake Kings trade-down scenarios (meh); what are the Spurs up to?; what is going on with Kyrie?; the top-3 picks; Hawks, Pacers, Knicks, Gobert, much more w/ @DraftExpress. And, oh yeah, some stuff with some coach whose team just won the title. https://t.co/gY31iKuvuQ
— Zach Lowe (@ZachLowe_NBA) June 21, 2022
Sacramento would be smart to take Ivey if they do keep the pick. He has clear-cut star potential after helping the Boilermakers make a deep run in the NCAA tourney as a freshman, and we know the Kings need as much talent as they can get their hands on. Even if they trade the pick, Ivey could still go No. 4 to whichever team moves up.
There is enough uncertainty here to take a shot on Mathurin (+6000), Murray (+125), or Sharpe (+850) given how profitable their NBA draft odds look. Ivey is far from a lock with this pick regardless of which team makes it.
Ivey is the "safe" option, but I don't love the -175 number. Roll the dice with a low-dollar wager on Murray (+125) or the long odds of Mathurin (+6000) to leapfrog him on Thursday night.
Best NBA Draft Prop Bets: Bennedict Mathurin (+6000) OR Keegan Murray (+125)
Bennedict Mathurin Draft Position
Over 6.5 (+110)
Under 6.5 (-140)
If you watched or bet on March Madness, you're surely familiar with Bennedict Mathurin. The sophomore guard became the leader of a very impressive Arizona team, and he unsurprisingly declared for the draft following his second season in Tucson.
Mathurin has elite size for a guard at 6'6″, and he's shown the ability to play either spot. He's more of a scorer than a distributor – as he averaged 17.7 points to just 2.5 assists with the Wildcats – but the playmaking could come. Mathurin has reportedly fared well in individual pre-draft workouts and improved his draft stock since the end of the college hoops campaign.
Wow.
ESPN Insider has the Detroit Pistons selecting Bennedict Mathurin at #5.
That would be some selection for Detroit and a major W for Mathurin who returned to college. pic.twitter.com/fYHjWCsbWg
— The Front Office (@NBASkoolOfThort) June 21, 2022
There have been rumors in the Pistons' potential interest in Mathurin with the fifth pick. Detroit has last year's No. 1 pick, Cade Cunningham, in the mix, which means Mathurin would be able to settle into a comfortable role as a shooter/scorer playing off the ball. Mathurin is still only 19, which should only improve his chances of hearing his name called early in the first round.
A team could certainly trade up for Mathurin at No. 4 if the Kings decide to bail. Indiana doesn't look like a logical landing spot at No. 6, however, given their own logjam in the backcourt. That gives Mathurin a pretty small window between picks 4 and 5.
I don't really think the NBA draft odds should be so heavily skewed in favor of Mathurin landing in the top-six at -140. He's just as likely to go seventh or later. Take the value there on Mathurin to fall a bit below the first six selections at the +110 odds.
Best NBA Draft Prop Bet: Over 6.5 (+110)
New York Knicks' First Pick
Jaden Ivey (+350)
Malaki Branham (+400)
Johnny Davis (+450)
AJ Griffin (+700)
Jalen Duren (+950)
Jeremy Sochan (+1100)
Ousmane Dieng (+1100)
Mark Williams (+1200)
Tari Eason (+1200)
The New York Knicks fell back into the lottery after a disappointing failure to make the playoffs a season ago. You can bet the Knicks will try to be as aggressive as possible in free agency, as usual, while they're currently slated to pick 11th in the draft.
New York is reportedly in the market for trading this pick if they can get a starting-caliber guard in return. Indiana's Malcolm Brogdon looks like the most obvious target. If a trade comes to pass, New York's next pick won't come around until No. 42. Of course, they could always acquire the Pacers' second-rounder (No. 31) in a deal, but that obviously remains to be seen.
So far the Knicks are attached to Jalen Brunson, Kyrie Irving, Jaden Ivey, Donovan Mitchell, Deandre Ayton, Carmelo Anthony, Malcolm Brogdon, Myles Turner.
The Knicks will actually get: Terrence Ross, Ty Ty Washington and a new MSG janitor.
— Dishonestly, Nevermind (@travbryanmusic) June 20, 2022
Jaden Ivey's +350 NBA draft odds to wind up in New York are surprisingly short. I suppose the betting site is playing for the potential the Knicks make a trade with the Kings to move up to No. 4. It doesn't sound particularly likely to happen, but you never know.
If the Knicks keep the 11th pick, they're likely looking at players like AJ Griffin (+700), Ousmane Dieng (+1100), and Jeremy Sochan (+1100) in this range. Sochan's defensive versatility is something that would presumably endear him to Knicks coach Tom Thibodeau. Griffin, one of the draft's best shooters, would also help the team in a major area of need.
Sochan at +1100 is the way I'd go with this NBA draft prop bet.
Best NBA Draft Prop Bet: Jeremy Sochan (+1100)