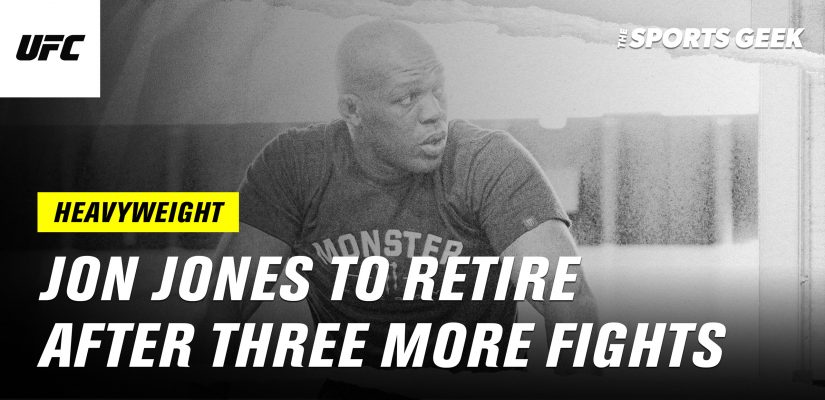 The odds of Jon Jones returning to action and making his long-awaited heavyweight debut are rising by the minute. He won't, however, be fighting for much longer, if a recent report is to be believed.
Jones will supposedly grace the Octagon for three more times before hanging his gloves and calling it a career.
A TOWERING GIANT
That's at once both unexpected and somewhat logical. He has nothing left to prove and at thirty-four years of age he's no spring chicken either. He could keep fighting until his forties but what would be the point? What exactly does he stand to gain?
He's been training day in and day out for well over a decade and has earned millions upon millions of dollars. He's set for life. Now is the moment for him to solidify his legacy and "call it quits" while he's still on top and, by the looks of it, he couldn't agree more.
Doing the opposite would run the risk of him getting badly injured, knocked out cold, carried out on a stretcher, and losing control of his own personal narrative — something which, in all fairness, has happened many a time in the past, what with him having so many run-ins with the law.
One of the greatest fighters of all time will, therefore, retire from mixed martial arts in about a year or two's time.
But whom will he face now that he seems to be on the tail end of his career? That's the million dollar question and, as always, we have a bunch of fairly educated guesses we'd like to talk about.
Jon Jones vs. Stipe Miocic — A Clash of Legends
A fight with Stipe simply needs to happen. There's really no other way to say it. It'd be a phenomenal match-up for both men, and also one that would no doubt generate an incredible amount of interest from both the hardcore and casual parts of the community.
It'd be a historical clash, too, one that would allow the winner to further solidify his spot on the UFC "Mount Rushmore."
'HOUSE ALWAYS WINS'
As for Ngannou, we'd probably forget about "The Predator" the very moment these two legends start trading the heaviest of blows. The UFC waits for no one, after all.
And in that kind of set-up, we couldn't help but lean more towards the greatest light heavyweight of all time. He doesn't have any concrete heavyweight experience, but his fight IQ and overall veteranship would no doubt offset and alleviate such a deficiency — to a certain extent, at least.
Hopefully this match-up gets made in the near future as these men aren't going to get any younger.
FUTURES BETTING — Jon Jones vs. Stipe Miocic:
Jon Jones vs. Francis Ngannou — What Dreams Are Made Of
This one's a barnburner just waiting to happen. Sadly, we're not so sure if it'll ever get made. One could rightfully argue that this is the only fight Jon Jones might not be able to win.
Ngannou is cut from a different cloth. He is a giant unlike any other, and much of the same can be said for his ability to shut one's lights out in a split second. He's one of the "baddest" men who've ever walked the planet and he's actually a lot more versatile than we thought, too.
His fight against Ciryl Gane was revelatory. Turns out, Francis never resorted to his wrestling because he never needed to. Why go through the "hassle" of getting a guy down (and keeping him there) when you can just shut his lights out in a matter of seconds?
Would he be able to do the same to Jon "Bones" Jones? We're not quite sure, what with Jon being as crafty and dextrous as he is. There's certainly the potential of it happening, but we don't think Jon would ever be so foolish to allow Francis to get within range.
Then again, no option is off the table when "The Predator" starts swinging.
That's the thing: Jones would stand to lose way too much. It would, however, provide him with a once-in-a-lifetime opportunity to, potentially, solidify his spot as the GOAT.
We, for one, think it's worth the risk.
And if he really has bulked up as much (and as intelligently) as people say, then who knows — maybe he would stand a chance at beating one of the most feared and avoided men in all of combat sports.
It's certainly not impossible, what with him being so elusive and all.
A VERSATILE ARSENAL
Add in his nasty elbows, malicious oblique kicks, and a wrestling pedigree so stacked and impressive you cannot help but start watering at the mouth, and you get a fighter that could, by all means, compete on even footing with the sitting heavyweight champion.
Whether these two will ever get to share the Octagon, however, still remains to be seen. Fingers crossed!
The oddsmakers have him as a +180 underdog, but we feel Jones' staggering experience and ability to weather the proverbial storm would, in the end, give him an edge over "The Predator."
FUTURES BETTING — Jon Jones vs. Francis Ngannou:
Who'll Rise to the Occasion?
Fighting Jon Jones at any weight is a privilege without equal. We think that there's no clear third opponent for Jon, and that's actually the best possible scenario — that man is yet to emerge.
Tai Tuivasa, Tom Aspinall, Curtis Blaydes, Derrick Lewis, and the aforementioned Ciryl Gane all have a shot at making waves and, in doing so, setting up a potential clash with one of the all-time greats. The first three on our list are perhaps closest to it, but it's still a bit too early to make any kind of prediction as to who'll eventually face Jon "Bones" Jones.
Regardless of what ends up happening, one thing's for certain: Jon Jones will be favored no matter what happens — and rightfully so. And, naturally, we're sure that many UFC betting sites will soon reflect it as well.
FUTURES BETTING — Will Jon Jones Make His Heavyweight Debut in 2022: