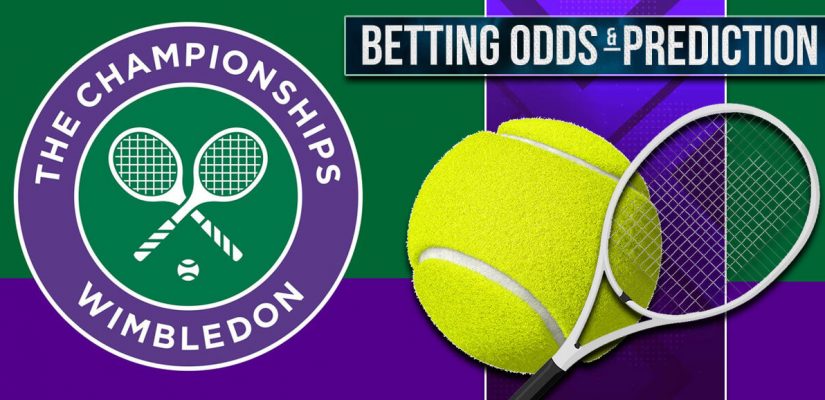 The weather is heating up, and the 100th edition of Wimbledon is upon us in London. Players that don't have the luxury of an auto-berth into the tournament are currently fighting for a spot to get on the Wimbledon odds board.
Russians and Belarusian athletes will not be permitted to play at Wimbledon in 2022. The US Open recently took a different stance and will allow Russian and Belarusian players, but Wimbledon is off-limits. This undoubtedly has an impact on the Wimbledon odds this year.
All smiles from some familiar faces 😃#Wimbledon pic.twitter.com/5QtgvZMtu3
— Wimbledon (@Wimbledon) June 22, 2022
World No. 1, Daniil Medvedev, will not be allowed to participate at Wimbledon.
We can argue whether Medvedev deserves to be No. 1 in the world, but regardless, he's a very talented player that won't be on Centre Court at Wimbledon in 2022. The US Open is taking a different approach and welcoming Russian and Belarusians to play in late August.
ATP No.1 Absent From Wimbledon
Novak Djokovic and Rafael Nadal were strongly against the Wimbledon ban, but the ruling did not change. Djokovic and Nadal received a small bump on the Wimbledon odds board without Medvedev.
ATP No. 2 Alexander Zverev will not play after suffering an injury in the French Open.
Djokovic was going to be the favorite regardless of Medvedev's status, but the road is clearer without the Russian. The odds for Wimbledon suggest that Djokovic is in the driver's seat to win Wimbledon in 2022.
Djokovic won Wimbledon in 2021 for his sixth title in London.
Is there a strong candidate to upset Djokovic and win the tournament? A couple of players might be worth considering on your Wimbledon card.
First, let's look at the Wimbledon betting odds and search for the best value. If you want to line shop, check out the top tennis betting sites for wagering on Wimbledon.
Wimbledon Odds
Novak Djokovic has the best odds for Wimbledon in 2022. He hasn't played in a tournament since losing to Rafa in the quarterfinals of the French Open. Djokovic was steamrolling his opponents before the best player in the world on the clay stopped him.
Djokovic as the favorite to win Wimbledon isn't the story of the 2022 Wimbledon odds. Things get interesting behind Djokovic, though there isn't anyone close to him on the odds for Wimbledon.
The next highest favorite to win Wimbledon is Italian Matteo Berrettini at +600. He's red-hot after winning two tournaments on the grass, so Berrettini as the second favorite makes sense in this spot.
19-year-old Carlos Alcaraz may have the most attractive Wimbledon odds at +800 to win.
Nadal follows closely behind Berrettini at +650. The public will be eager to back him at this price, but he doesn't feel most comfortable on the grass. This certainly isn't the French Open, where Rafa is the king of the clay.
Wimbledon odds are courtesy of Bovada:
Odds
Player
ATP Ranking
-125
Novak Djokovic
3
+600
Matteo Berrettini
11
+650
Rafael Nadal
4
+800
Carlos Alcaraz Garfia
7
+1400
Felix Auger-Aliassime
9
+1600
Hubert Hurkacz
10
+2000
Marin Cilic
17
+2000
Nick Kyrgios
45
+2500
Stefanos Tsitsipas
6
+3300
Andy Murray
51
+5000
Denis Shapovalov
16
+5000
Milos Raonic
328
+6600
Jannik Sinner
13
+10000
Alex de Minaur
24
2022 Wimbledon Prediction
Carlos Alcaraz Garfia (+800)
Carlos Alcaraz at +800 to win Wimbledon makes for a tempting bet on good value. Before Djokovic lost to Nadal in the French Open, Alcaraz was his most recent loss.
Alcaraz upset Djokovic at the Madrid Open in the semifinals, 6-7, 7-5, 7-6, and then beat Alexander Zverev for a 6-3, 6-1 win to capture the Madrid Open title.
This was after winning in Barcelona, including beating Stefanos Tsitsipas and Pablo Carreno Busta in the final round, 6-3, 6-2. He hasn't entered a tournament since losing to Zverev in the French Open.
Ready to rumble at @Wimbledon🌱@carlosalcaraz 🇪🇸🔝 #DavisCup | @RFETenis pic.twitter.com/mQRJOXzX1m
— Davis Cup (@DavisCup) June 22, 2022
Zverev was playing pretty well against Rafa before rolling his ankle. He lost the first set, but forced two tiebreakers and gave the Spaniard all he could handle on his signature court.
Alcaraz hasn't played since losing to Rafa. He should be fresh and prepared to go on the grass. He doesn't have the most experience playing on the grass, but he's a talented 19-year-old who will win a Grand Slam and many in his career.
Matteo Berrettini (+600)
The Italian can't be ignored going into Wimbledon. Given his recent form, his grass game is peaking at the right time, and he can't be far behind Djokovic.
Berrettini won the Stuttgart Open over Andy Murray, 6-4, 5-7, 6-3, and then stayed in good form in the Queen's Club Championships. He won five matches to win his second straight tournament and second on the grass.
Since 2019, Berrettini has gone 32-3 on the grass. This year alone, he's a perfect 9-0 and only lost four sets in 22 attempts. He has to feel confident after winning two straight tournaments as well.
Matteo Berrettini beats Filip Krajinovic 7-5, 6-4, defends his title at the Queen's Club.
9-0 on grass in 2022, 20-1 since 2021, 32-3 since 2019.
8th ever player to defend a title in this tournament — *all* the other 7 were former #1s. pic.twitter.com/AParyC4Rhn
— José Morgado (@josemorgado) June 19, 2022
My only concern with Berrettini is that he didn't play elite competition at the Stuggart Open and Queen's Club. Wimbledon is going to see Berrettini have to go through some really good players, including possibly Djokovic.
Novak Djokovic (-125)
The favorite on the Wimbledon odds board is predictably Djokovic. Roger Federer at Wimbledon is the most success we've seen from a player, but Djokovic is only one Wimbledon title away from moving closer to Federer's eight titles.
He is the defending Wimbledon winner and has won this Grand Slam three times since 2018.
Hey there, champ 👋#Wimbledon | @DjokerNole pic.twitter.com/p0Q3e8bEGs
— Wimbledon (@Wimbledon) June 22, 2022
Djokovic disappointedly crashed out of the French Open at Roland Garros, but he should feel more comfortable on the grass. He ran into a confident and hot Rafa on the clay, which isn't anything to feel discouraged about.
Before that loss, Djokovic won nine straight matches in straight sets. He was on a 22-0 tear after losing to Alcaraz in the Madrid Open.
Djokovic is likely to go deep into Wimbledon this year. Expect him to bounce back well in a favorable draw at Wimbledon. You will wish you had a -125 ticket to win late in this tournament. This price will look much better when it's the semifinals, and Djokovic is rolling.