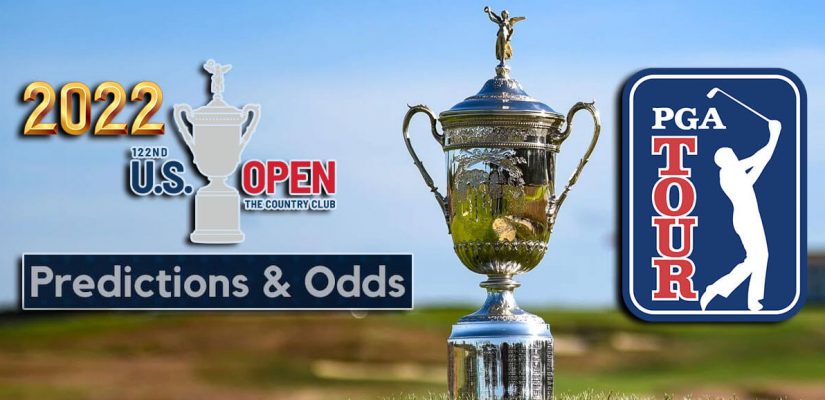 The third major golf tournament of the year takes place at The Country Club at Brookline from Thursday through Sunday.
The US Open is one of the more highly-anticipated golf tournaments of the year. We are looking over the best US Open odds and odds of winning the US Open.
When and where to watch the #USOpen. ⤵️ pic.twitter.com/bAUuxPq3ur
— Golf Channel (@GolfChannel) June 14, 2022
If the US Open is as exciting as the Canadian Open on Sunday, we will be in for an exciting tournament in Brookline, Massachusetts. Rory McIlroy, Justin Thomas, and Tony Finau dueled on the tournament's final day.
The final round was closer than the leaderboard indicates.
Thomas and McIlroy were neck and neck going into the final two holes. McIlroy was clutch, while Thomas crumbled at St. George's in Toronto.
Tough for Thomas's future bettors, including myself, but I was able to grab Charl Schwartzel in the LIV opener in London for a nice price. LIV players will be playing at the US Open in Boston.
The USGA has announced that LIV golfers are eligible to play in the US Open. That means the likes of Phil Mickelson, Dustin Johnson, and Bryson DeChambeau will be participating.
Some of their colleagues on the PGA Tour haven't had nice things to say about the LIV Tour, so seeing each other could be awkward at The Country Club. This is the first US Open at The Country Club since 1988.
There have been three US Opens at The Country Club in 1913, 1963, and 1988. Jon Rahm is the defending US Open champ, with the 2021 tournament at Torrey Pines in San Diego. Rahm is +1600 to win the US Open this year.
Brookline, Boston and really all of New England are already showing up BIG and it's only Tuesday! #USOpen pic.twitter.com/BscMVF0pv7
— U.S. Open (USGA) (@usopengolf) June 15, 2022
Let's go over the top US Open odds and the contenders with the best odds of winning the US Open in 2022. If you are looking for an online sportsbook to bet on the US Open, look at what we have on our golf betting sites page.
US Open Odds
Rory McIlroy is fresh off a thrilling win in the Canadian Open. He also has the best odds of winning the US Open. This isn't a surprise after his clutch win in Toronto.
However, can McIlroy do it again for the fifth major championship of his career? The Northern Irishman is dealing with a tougher field at The Country Club than he had last week.
It's also never easy to win in back-to-back weeks. That was an emotional Canadian Open win in front of a charged crowd. McIlroy must come down off that high and focus on this Thursday.
The guy who was breathing down McIlroy's neck in Toronto, Justin Thomas, has the second-best odds of winning the US Open. Masters' winner Scottie Scheffler has the next best US Open odds.
I'm going more of the longshot route for my three US Open picks. This should be a wide-open tournament, and I'm not sure there is good value in playing the front runners in 2022. Let's get into the odds for the US Open and US Open picks below.
Odds
Golfer
Ranking
+1000
Rory McIlroy
3
+1200
Justin Thomas
5
+1400
Scottie Scheffler
1
+1600
John Rahm
2
+2000
Cameron Smith
6
+2200
Sam Burns
9
+2200
Will Zalatoris
14
+2200
Xander Schauffele
12
+2500
Jordan Speith
10
+2500
Patrick Cantlay
4
+2800
Matthew Fizpatrick
18
+3300
Collin Morikawa
7
+3300
Joaquin Niemann
17
+3300
Max Homa
23
2022 US Open Picks
Corey Conners (+5000)
Corey Conners could not defend his home turf in Canada at the Canadian Open, but the Listowel native had another productive tournament. Despite not winning a tournament recently, Conners has been underrated and consistent.
He isn't getting the most attention during broadcasts, so it's often difficult to watch Conners play. However, he's worth searching out and watching how smooth he can be on the tee.
Conners is one of the more accurate drivers on the PGA Tour. He hits the fairways at a 66.59% clip and finds the green well before most golfers do.
Note that Conners is the fourth-best golfer in the world, with a greens in the regulation percentage of 70.40%. Scottie Scheffler is second, and Jon Rahm is first; not bad company to be in.
Conners has finished 6th, T13, T21, T12, T6 in five of his previous six tournaments. His most impressive effort was T6 in April at Augusta National in the Masters.
At +5000 odds for the US Open, Conners must be worth serious consideration to bet as a longshot to win in Boston.
Max Homa (+3300)
Another golfer with juicy odds of winning the US Open is 31-year-old Max Homa. Homa has won four titles on the PGA Tour, but has yet to break through and win a major.
He's coming off another steady performance in his last attempt at the Memorial Tournament. He finished at T5 and -6 under par.
His biggest recent success was winning the Wells Fargo Championship at Avenel Farm in Texas on May 8. He won by two strokes over Cameron Young to secure his fourth win on the PGA Tour.
Homa gave it a good go at the PGA Championship to finish T13 for an even four rounds of golf at Southern Hills. It was a respectable performance and perhaps a sign that Homa is getting more comfortable in majors.
Homa always seems to be lurking and should have a big chance on the final day. He's finished in the top-20 in eight tournaments this year. With odds of winning the US Open at +3300, that's all I can ask for on Sunday in the US Open.
2022 US Open Prediction
Will Zalatoris (+2200)
Will Zalatoris has not won a PGA Tour title. However, he's one of the best players in the PGA that hasn't won yet. That will likely change soon, and it could be in the US Open.
Zalatoris has been on a major tear since the end of March. After running with a partner in the Dell Technologies Match Play and finishing T5, Zalatoris was top-10 in five of his previous seven tournaments.
His worst finish out of those five outings was T6 in the Masters, so the other four attempts were inside the top-5. Since December, Zalatoris has finished in the top-20 in eight tournaments.
Zalatoris is the second-best on the PGA Tour with an SG: Tee-To-Green average of 1.797. That should be helpful at Brookline in the US Open. His odds for the US Open are on BUY territory.