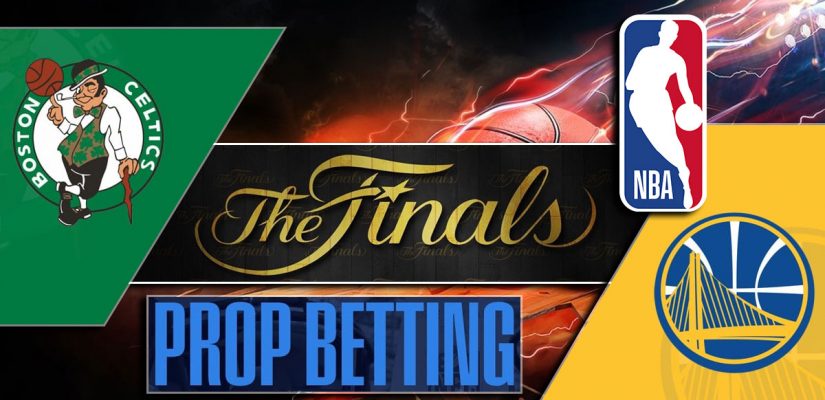 The 2022 NBA Finals should be a fascinating clash between a couple of legitimate heavyweights. The Golden State Warriors will be looking to win a fourth championship during the Steph Curry/Klay Thompson/Draymond Green/Steve Kerr era, while the Boston Celtics are hunting for a record 18th NBA title.
These two teams are evenly matched across the board, and they split their pair of regular-season meetings. Boston hasn't lifted the Larry O'Brien Trophy since 2008, but the team's young core is out to prove their dramatic midseason turnaround was no blip on the radar. The Warriors, meanwhile, will try to win it all without Kevin Durant for the first time since 2015.
This will be your last chance to bet on NBA basketball until the fall when the 2022-23 campaign gets underway. Fortunately, NBA betting sites have you covered with a slew of fun options ahead of the 2022 Finals, which will begin on Thursday in San Francisco.
Which NBA Finals prop bets should be on your radar?
Series Scoring Leader (Total Points)
Player
Odds
Jayson Tatum
-125
Stephen Curry
+155
Jaylen Brown
+850
Klay Thompson
+4000
Jordan Poole
+10000
Klay Thompson
+10000
Andrew Wiggins
+10000
Marcus Smart
+20000
Jayson Tatum (-125) is an odds-on favorite to lead the Finals in total points. This probably shouldn't come as a huge surprise after the 24-year-old posted a career-best 26.9 points per game during the regular season. Tatum has been Boston's most impactful offensive player all season long, so it'll be interesting to see how the Warriors attack him defensively.
In Game 7 of the Eastern Conference Finals, the Heat clearly game-planned to get the ball out of Tatum's hands and make his teammates beat them. Tatum still took 21 shots and finished with 26 points in 46 minutes, but Miami routinely sent multiple defenders his way. Draymond Green will surely get the first crack at defending Tatum in this series. On the other side of the floor, Stephen Curry will have his hands full with the 2021-22 NBA Defensive Player of the Year, Marcus Smart.
Curry is still the focal point of everything the Warriors want to do offensively, and he did average north of 25 points per game during the season. The Warriors can give him plenty of help between Thompson, Andrew Wiggins, and Jordan Poole, however, which means this team won't be dead in the water offensively if Smart can put the clamps on Curry.
37 wins, 12 losses for Jaylen Brown and the Celtics since January 31st.
The energy has certainly shifted. https://t.co/o9nJsxD5XK
— NBA (@NBA) May 31, 2022
Jaylen Brown is a +850 long-shot to lead the Finals in total points, which is interesting. Brown actually averaged more points per game (24.1) in the conference finals than Curry did (23.8) in Golden State's five-game triumph over Dallas. If the Warriors try to make Tatum give it up, as the Heat did in Game 7, Brown would likely take on a higher-usage role.
Any other player to lead the Finals in scoring looks like an easy fade.
Thompson, Poole, Wiggins, and Smart will all have their moments in this series, but both offenses will flow through Curry, Tatum, and Brown. With the odds the way they are for this NBA Finals prop bet, I think Curry (+155) and Brown (+850) look like the options with the most profit potential. Tatum may feel like a "safe" bet, but the -125 odds offer very limited upside.
Best NBA Finals Prop Bet:
Series Rebounding Leader (Total Rebounds)
Player
Odds
Al Horford
+125
Kevon Looney
+165
Robert Williams
+900
Draymond Green
+900
Jayson Tatum
+950
Jaylen Brown
+2000
Andrew Wiggins
+8000
Stephen Curry
+8000
While the Celtics and Warriors are similar in a lot of ways, there are also a few differences. Boston's full-strength starting frontcourt of Tatum, Al Horford, and Robert Williams is all 6'10" or taller. Kevon Looney, meanwhile, is the only player taller than 6'10" in Golden State's normal rotation.
Williams (9.6) led the Celts in rebounds during the regular season, but the shot-blocking center has been limited by a knee injury in these playoffs. With Williams logging just 21.4 minutes per game, I'll have a hard time backing his chances to lead the Finals in rebounds. Williams has also missed a handful of games with the injury. If he misses any more, that'll certainly hurt his chances with this NBA Finals prop, as well. Horford (9.6) leads Boston in caroms in these playoffs. The 35-year-old is no spring chicken, but he is averaging nearly 37 minutes per game during the playoffs.
With Williams banged up, Horford has been forced to take on a much more substantial role in the postseason. He's been up to the task, with three double-digit rebound games in his six appearances against Miami in the last round. At +125, Horford is a worthy favorite to grab the most rebounds of any player in the Finals.
Al Horford (35y, 360d) is the 2nd-oldest player in NBA history to average at least 10 rebounds per game in an Eastern Conference Finals (Dennis Rodman – 36y, 15d) pic.twitter.com/xAdVWxXjYn
— Taylor Snow (@taylorcsnow) May 30, 2022
Looney's role with the Warriors is much more volatile given the team's proclivity for going small around Green at center. Looney has started 10 of the 16 playoff games to this point, however, and he did average 28 minutes per game against the Mavericks.
Loney averaged 10.6 rebounds per game in that series, and one would imagine the Dubs will need his size against the Celtics' aforementioned jumbo frontcourt. Looney averaged nine rebounds in 24 minutes per game in the two regular-season showdowns against Boston, including a 10-rebound showing back in December.
The issue is the minutes. Looney is a great rebounder, but Horford will likely finish the series averaging quite a few more minutes per game. Looney does look like a decent value here at +165, but Horford is the smarter bet at still-favorable +125 odds.
Best NBA Finals Prop Bet:
Series Assists Leader (Total Assists)
Player
Odds
Draymond Green
+105
Stephen Curry
+300
Marcus Smart
+300
Jayson Tatum
+425
Jaylen Brown
+3500
Al Horford
+3500
Jordan Poole
+6500
Derrick White
+8000
Draymond Green has the best odds of any player to lead the Finals in assists at +105. That's saying something considering he's a full-time power forward/center, but he often serves as Golden State's playmaking hub. Green averaged a healthy seven assists per game during the regular year, and he's at 6.3 helpers per game in about 30 minutes per game in these playoffs.
Curry is more of a scoring guard than a playmaking one, but he's still averaging 6.2 dimes per game in the postseason.
He has the ball in his hands enough to lead the Finals in assists, however, and it'll be interesting to see what kind of a role the Celtics try to force upon him. If Smart successfully shuts down on Curry's scoring, Steph may have to find another way to help keep the offense humming along.
Throwback to when Draymond Green arguably had a Perfect Game in Game 7 of the 2016 NBA Finals
32 Points
15 Rebounds
9 Assists
2 Steals
73/75/100
The Best Offensive and Defensive Player on the floor while sharing the court with LeBron James and Steph Curry. Insane pic.twitter.com/lLecoqSrdW
— WarriorsMuse (@WarriorsMuse) May 31, 2022
Tatum's playmaking has come a long way this postseason. After averaging 4.4 assists per game during the regular season, he's up to 5.9 dimes per game in the playoffs. That includes a whopping 7.3 dimes per game in the Celtics' four-game sweep of the Nets back in the first round.
While Tatum has improved remarkably in that regard, Smart still leads the team in assists in the playoffs (6.2) after doing the same in the regular season (5.9). With Smart's injury problems, though, I'm a little nervous to trust him to play enough games to actually lead the series in total helpers. He's already missed three of the Celtics' 18 playoff games this spring, which makes him a bit of a riskier bet than the +300 odds may indicate.
Tatum is at least somewhat alluring given his +425 odds in this NBA Finals prop bet, but Curry (+300) is the slightly safer value. It's no guarantee Tatum's improved postseason assist numbers are sustainable, while Curry's postseason production in that regard is much more comparable to his career output. I don't think Green offers enough value at his +105 odds.
Best NBA Finals Prop Bet:
How Many Games Will Go Into Overtime?
Game
Outcome
Zero
-300
One
+285
Two
+1800
Three or More
+10000
Unfortunately, the conference finals did not make for very good TV. The Celtics' series against the Heat did go to seven games, but it was hardly a seven-game thriller.
Each of the first six games of the series was fairly lopsided before the Celtics clawed their way to a close win in Miami in Game 7 over the weekend. The Celtics haven't required overtime in any of their 18 games in the playoffs to this point.
Seven of the Celtics' 82 regular-season games did go to OT, however, including two double-overtime affairs within the first 10 days of the campaign.
Please Note:
Golden State hasn't needed seven games to get through any of their first three opponents of these playoffs. The Warriors got past the Nuggets and Mavericks in five games apiece with a six-game triumph over the Grizzlies sandwiched in between. Golden State played just two overtime games during the regular season, and they have yet to play an extra session in these playoffs.
Most are expecting the Finals to be more competitive, however. The Warriors are just three-point favorites in Thursday's Game 1, and, pending injuries, it's hard to imagine either of these teams will be favored by more than five points in any game throughout.
The safe bet, of course, is to wager on no overtimes in the Finals at -300.
However, given how comparable the teams are, there is plenty of merit to taking a stab at one of the games requiring an extra five minutes at +285. It's more of a shot in the dark than anything else, but you're getting pretty good bang for your buck with that NBA Finals prop.
Best NBA Finals Prop Bet:
Will Jayson Tatum Have a 50-Point Game?
Tatum has been the driving force in the Celtics' first Finals run in 12 years. He "only" averaged 25 points per game in the last round against Miami.
But he did shoot a respectable 48 percent from the field and nearly 37 percent from three-point range.
His matchup in the Finals won't get any easier, of course, as he's likely to draw plenty of coverage from Draymond Green.
Tatum has had some monster individual games this season, including a 46-point explosion against the Bucks in Game 6 of the Celtics' second-round series. In his career, Tatum has already scored at least 50 points in a game four times. Two of those games occurred this past season. The first was a game in Washington in which he put 51 points on the board in January. In March, he scored a season-high 54 in a victory over the Nets.
Tatum scored a career-high 60 points against the Spurs in April of 2021, as well.
CELTICS OVERCOME 32-POINT DEFICIT AND BEAT THE SPURS IN OT 🤯
Jayson Tatum:
60 POINTS
20/37 FG
5/7 3PT
15/17 FT
8 rebounds
5 assists
0 turnovers pic.twitter.com/2kf17bsoO2
— Overtime (@overtime) May 1, 2021
Across 10 career games against Golden State, Tatum is averaging 22.1 points per game on 45.6 percent shooting from the floor. That includes an average of 26.5 points per game in the two meetings earlier this season.
If the Celtics are going to defy the odds and upset the Warriors in this series, they're going to need their star to shine the brightest. We know what Tatum is capable of if he can get going. Golden State has enough experience and defensive wherewithal to give him some problems, but it wouldn't be a huge surprise to see Tatum erupt for another 50-plus-point outing in these Finals. He's probably one of the 10 best players in the league at this point.
Is a 50-point game likely? Of course not. However, the +700 odds on this NBA Finals prop bet indicate as much. You don't have to put your life savings down on this prop in order to turn a nice profit. Take a stab at Tatum to post at least one monster scoring game in the 2022 Finals.