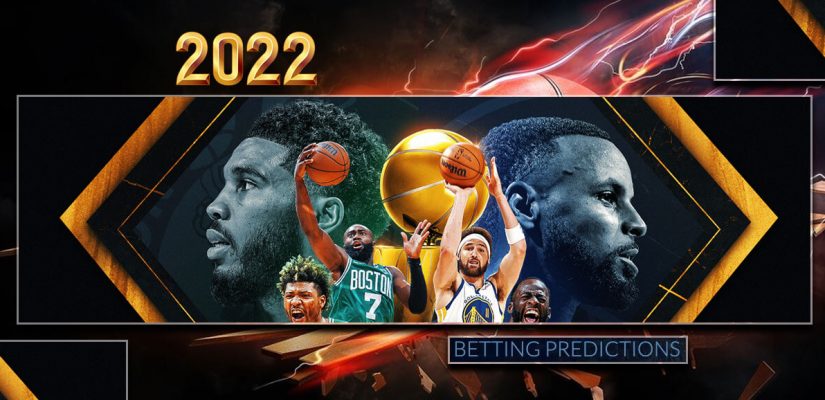 Two of the NBA's most decorated franchises will go toe-to-toe in the NBA Finals later this week. On Thursday, the Boston Celtics will head to San Francisco to take on the Golden State Warriors in what should be a compelling Game 1.
These franchises are no strangers to this stage, of course.
The Warriors have won six championships all time, four of which have come since the Warriors moved from Philadelphia to the Bay Area in 1962. This will be the sixth Finals appearance for Golden State since 2015, as well.
The Celtics, meanwhile, are looking to break a tie with their longtime rivals, the Los Angeles Lakers, for the most championships in NBA history. Both franchises have 17 banners hanging in the rafters, though this will be Boston's first trip to the Finals since losing to the Lakers back in 2010. This will be Boston's 22nd Finals appearance, as well. The Celtics are 17-4 in their first 21 trips to the championship round.
Between Stephen Curry, Jayson Tatum, Jaylen Brown, Klay Thompson, and Draymond Green, the 2022 Finals will feature no shortage of star power. With a few days left until tipoff, you've got plenty of time to head over to your favorite NBA betting sites in order to get your Finals bets placed.
Which team is the better bet to win it all?
2022 NBA Championship Odds

Team
Odds
Golden State Warriors
-150
Boston Celtics
+130
Warriors Open As Title Favorites
After a few lean, injury-plagued years, the Golden State Warriors are finally back. This will be the sixth Finals appearance for the team's longtime core of Curry, Thompson, and Green, though this year's squad may not be quite as experienced overall. Golden State will have a home-court advantage, however, as a result of finishing the regular season one game ahead of Boston in the leaguewide standings.
The Dubs haven't been a beacon of health in these playoffs. Andre Iguodala has yet to play, while Otto Porter Jr. has missed three games. Gary Payton II, who was injured in the second-round series against Memphis, is expected to return for the Finals, however. Payton emerged this season as one of Steve Kerr's most versatile defensive weapons in the backcourt, and his presence will be needed against a Celtics team with firepower on the wings.
We're quite familiar with the Warriors' high-octane offense, with Curry and Thompson entrenched as the centerpieces. Andrew Wiggins and Jordan Poole have stepped up in a big way in these playoffs, however, which gives Kerr more options than he used to have whenever the team is in need of a bucket.
Against a Celtics team that finished first in the league in defensive rating, the Warriors will need their complementary players to step up in the event Boston finds a way to slow Curry or Thompson. The primary weakness for the Dubs is turnovers. This has always been their primary weakness, for whatever reason. Golden State has been as sloppy as usual in that department this postseason, coughing it up an average of 14.8 times per game. That number jumps to over 16 per game in each of their four losses.
That could be an issue against a Boston team that has made its hay in the defensive end of the floor all year long.
Celtics' Road Success
In order to win the series, the Celtics will have to find a way to steal at least one game in San Francisco. Fortunately, that hasn't been an issue for Boston in these playoffs. In fact, three of the Celtics' four wins over the Heat in the Eastern Conference Finals came in Miami, including the decisive Game 7 triumph on Sunday evening. The Celtics' only loss came in Game 1, a game Boston dominated in the first half before faltering in the second.
The Celtics also won in their lone trip to the Bay Area during the regular season. Boston came away with an easy 110-88 win over the Warriors back in March, though that was the game in which Curry went down before halftime with a foot injury that would sideline him for over a month. Boston's trio of Tatum, Brown, and Marcus Smart combined to score 72 of the team's 110 points that night.
Injuries have been an issue for Boston, too. Robert Williams has been in-and-out of the lineup throughout the postseason as he continues to recover from a torn meniscus in his knee. Ditto for Smart, who has missed a couple of games as a result of a variety of minor maladies. Rest could be helpful, however. The Celtics have played a game every other day since May 7th as a result of back-to-back seven-game series against Milwaukee and Miami. With three days off before the Finals, we could finally get a glimpse of a more well-rested Celtics side in Game 1.
The Warriors have yet to play a Game 7 in these playoffs, meanwhile.
The Celtics are a pretty intriguing matchup against the Warriors defensively. Golden State has had no trouble offensively against three defensive teams that don't like to switch on defense. Boston, meanwhile, is the most switch-heavy team in basketball.
Who Will Win the NBA Title?
The Warriors are deserving favorites to win it all this year. Golden State is the healthier team with home-court advantage, and they'll enter the Finals confident and hungry to get back to the top of the mountain. The odds will likely change considerably if the Dubs take Game 1. As a result, a stab at their current -150 NBA title odds is still viable.
However, given the team's defensive prowess and Boston's own ability to exploit matchups on offense, the Celtics look like a worthy challenger to the Warriors' status as early title favorites. I would be all over Boston's +130 NBA championship odds before the series begins. You can argue this has been the NBA's best team since the calendar flipped to 2022, and this well-coached bunch won't be afraid of the spotlight.
Post 2022 NBA Championship Odds
Team
Odds
Golden State Warriors
+135
Boston Celtics
+190
Miami Heat
+475
Dallas Mavericks
+550
Golden State Warriors (+135)
The Warriors and Suns were the two best teams in the Western Conference all year, but Phoenix's collapse against Dallas means we won't see that highly-anticipated matchup.
Instead:
The Warriors will have to get through Luka Doncic and the Mavericks, who should be playing with the utmost confidence after eliminating a Suns side that won 64 games during the regular season.
Golden State will have home-court advantage in the Western Conference Finals, which is huge. The Dubs went 31-10 at the Chase Center during the regular year, and they're a perfect 6-0 at home in these playoffs.
The Playoffs are better with Klay Thompson back on the court. pic.twitter.com/2lAkCRmFBU
— NBA (@NBA) May 14, 2022
We know this team has more than enough experience to go all the way.
Steph Curry, Klay Thompson, and Draymond Green have combined to play in 391 career playoff games. Doncic, meanwhile, has 23 NBA playoff games under his belt, though he did see plenty of high-stakes action for Real Madrid before coming to the US.
All of that experience makes the Warriors deserving +135 favorites to win it all, per the latest NBA championship betting odds.
Boston Celtics (+190)
Oddsmakers like the Celtics to get past the Heat in the Eastern Conference Finals despite Miami having home-court advantage in that series.
Boston has been arguably the best two-way team in the league since the end of January, so it's hard not to like their updated +190 odds to win it all this summer. Jayson Tatum has established himself as one of the 10 best players in the league during Boston's run past Brooklyn and Milwaukee. Tatum is contributing north of 28 points per game through the first 11 playoff games of the year along with 6.1 assists and 5.6 rebounds.
He finds ways to impact the game in a positive manner even in the rare instances in which his shots aren't falling.
MVP vote getters this season:
1. Eliminated
2. Eliminated
3. Eliminated
4. Eliminated
5. Luka Doncic
6. Jayson Tatum pic.twitter.com/c5Qc2lETBh
— StatMuse (@statmuse) May 16, 2022
Between Jaylen Brown, Al Horford, Marcus Smart, Grant Williams, and Robert Williams, the Celtics have enough depth across the board to present matchup issues for anyone they'll face from here on out.
Since February 1st:
The Celtics own the NBA's best point differential, outscoring their opponents by an incredible 419 points over 30 regular-season games. Memphis, who was eliminated by Golden State in the last round, ranked a distant second (plus-273) in the same span.
These Celtics are absolutely the real deal, which makes their +190 NBA title odds look awfully appealing.
Miami Heat (+475)
Despite finishing as the top seed in the Eastern Conference with 53 wins, the Heat have somehow managed to fly under the radar all year long. For whatever reason, oddsmakers are still reluctant to buy what the Heat are selling.
The matchup against the Celtics in the Eastern Conference Finals is certainly more daunting than any Miami has faced thus far. The Heat cruised past the mediocre Hawks in round one before taking advantage of the injury-depleted Sixers in the conference semis.
That series may have played out differently had Joel Embiid been healthy, but he wasn't. Of course, the Heat can only play the games on their schedule, so credit to them for making the most of their easy path thus far.
"Still don't know how we let him go"
Embiid on Jimmy Butler no longer being a 76er pic.twitter.com/kyGhZ4dLuI
— Bleacher Report (@BleacherReport) May 13, 2022
Kyle Lowry is a question mark for this series, and a hamstring injury will likely keep him sidelined for at least Game 1 on Tuesday.
Please Note:
Without Lowry, the Heat don't have much offensive playmaking beyond Jimmy Butler and Tyler Herro. Butler has stepped his offensive game up considerably in these playoffs, but he's unlikely to maintain his current 52.5 percent shooting in a rough matchup against Boston's stingy defense.
Erik Spoelstra's squad has defied the odds all year long, though Boston did win two of the three regular-season showdowns between the teams.
Dallas Mavericks (+550)
If you want a value bet to win it all this season, look no further than Dallas. The Mavs upended a downtrodden Jazz team in the first round despite the fact that Luka Doncic missed the first three games of that series with a calf strain.
Doncic has looked no worse for the wear since his return, however, and he took center stage in Dallas' epic beatdown of Phoenix in Sunday's Game 7. The Mavs will go as far as Doncic can carry them. Considering Luka may well be the best basketball player on the planet right now, however, who's to say he can't carry them all the way across the finish line?
Dirk Nowitzki pulled a similar stunt when the Mavs won it all 11 years ago, and there are quite a few parallels between this team and that one.
2022: Booker says, "The Luka special," Mavs win the next two games and close the series behind 68 Luka points.
2011: Bron & Wade troll Dirk with the fake cough, Mavs win the next two and close the series behind 50 Dirk points.
11 Years apart, ⚠️ destiny? ⚠️
— Josh Eberley 🇨🇦 (@JoshEberley) May 16, 2022
The Mavericks have had the Warriors' number so far this season, too. Dallas claimed three of the four head-to-head meetings with GSW during the season.
Despite a status as one of the best defensive teams in the league, the Dubs have yet to find a way to solve Luka. Doncic averaged 31.5 points per game in his four outings against the Warriors this season.
If Dallas can get past Golden State, who's to say they can't beat Boston or Miami in the Finals?
Who Will Win the NBA Title in 2022?
You can make a compelling argument for each of the final four remaining teams to win the title later in the summer. As of now, I'm the most bearish on Miami. The Heat may struggle to generate consistent offense against the Celtics, especially with one of their primary playmakers, Kyle Lowry, uncertain for the series.
At +475, I'll pass on betting on the Heat.
Dallas is a compelling underdog to get past the Warriors and into the Finals, which means their +550 NBA title odds offer some upside.
There is still money to be made betting on the favorites, of course. The Warriors have won three titles since 2015, so you're not wrong if you believe they're good money at +135 to make it four this year. Boston, meanwhile, will likely see their current +190 odds shrink considerably if they're able to steal one of the first two games of the conference finals in Miami.
The best value bets to win the NBA championship this year are listed below:
Team
Odds
Boston Celtics
+190
Dallas Mavericks
+550
Golden State Warriors
+135
Miami Heat
+475
So far, two more teams have punched their tickets to the postseason. The Minnesota Timberwolves and Brooklyn Nets won their Play-In Tournament games earlier in the week, which means they'll square off against the Memphis Grizzlies and Boston Celtics, respectively, in the upcoming first round.
Two more playoff spots will be decided on Friday night.
The Atlanta Hawks and Cleveland Cavaliers will battle for the rights to face the Miami Heat in the East. Out West, the LA Clippers will host the New Orleans Pelicans with a date with the top-seeded Phoenix Suns on the line.
In most years, one or two teams stand out above the rest as bona fide title contenders. Let's not forget the Golden State Warriors were often odds-on favorites at times during their dynastic run a handful of years ago. This year, however, there are no such teams. While a few have better odds than others, the field entering the 2022 playoffs is rife with championship hopefuls.
Of course, only one will go on to win it all. For as many quality teams as there are vying for the same goal, there will only be one winning bet when it's all said and done. NBA championship betting is all about timing. With no team facing title odds better than +255, you can get pretty good bang for your buck if you place your bets on the NBA postseason before it even begins.
Which team is the best value bet to win it all in 2022?
How to Bet on the NBA Championship
NBA betting sites step things up for the playoffs. While a straight bet on the winner is the easiest way to bet on the NBA championship, it's far from the only way to do so.
PLACE YOUR BETS NOW!
Some sites offer bets on which conference will win this season's title. The overall betting favorite may come from the Western Conference, but the Eastern Conference has a few more upper-echelon teams this year.
Additionally, you can place real money bets on how many games it will take for the winner to clinch the series.
We have only seen one Finals series since 2009 decided in the minimum of four games, but it's been six years since any Finals went to the full seven. Some sites even let you wager on which state will produce the champion.
California (+700) is the only state with multiple teams in the playoffs, but the field (-250) is a heavy betting favorite entering the postseason.
Opening NBA Championship Betting Odds
Golden State Warriors:
+850
Philadelphia 76ers:
+1400
Los Angeles Clippers:
+7000
Minnesota Timberwolves:
+7000
New Orleans Pelicans:
+30000
Cleveland Cavaliers:
+50000
Six teams have odds of +1000 or shorter to win the 2022 NBA title. The cream generally rises to the top in this league, but these NBA championship betting odds indicate a level of parity we don't usually see.
PLACE YOUR BETS NOW!
Of course, the expanded postseason field and the new play-in format also means we have some massive long-shots among those with listed odds, as well. Which teams are the best bets for the NBA championship?
Teams to Fade
New Orleans Pelicans:
+30000
Cleveland Cavaliers:
+50000
Unfortunately, not every team that qualifies for the playoffs is a real title contender. Each of the five teams listed above seems to be trending in the right direction, but they're probably at least a year or two away from really getting into the NBA title conversation.
Chicago, Atlanta, New Orleans, and Cleveland are really up against it. The Bulls are staring down a first-round date with a Bucks team that swept them during the regular season. Chicago won't be getting Lonzo Ball back at all this season. His injury has effectively tanked Chicago's backcourt defense, and the defending champions will prove to be too much to overcome in the first round. Not all of Atlanta, New Orleans, or Cleveland will even advance to the first round.
The Hawks will visit the Cavs in Cleveland on Friday night, with the winner advancing to take on the top-seeded Heat in round one. The Pelicans, meanwhile, will head to LA on Friday night after Wednesday's stirring win over the Spurs. I don't expect any of these teams to mount a series playoff run, even if they're lucky enough to survive the play-in.
The Raptors (+8000) are easily the best of the also-rans, but still a massive long shot to actually win it all.
Nick Nurse's heavy reliance on his five starters is going to cost him, at some point. In the playoffs, depth matters quite a bit. The Raptors' core is a solid one, but their lack of a bench or a clear go-to No. 1 offensive option will likely spell doom come playoff time.
Long Shots
Los Angeles Clippers:
+7000
A lot would have to go right for any of the Jazz, Nuggets, Mavericks, or Clippers to win the 2022 NBA title. Los Angeles fell to Minnesota in the Play-In Tournament earlier this week, and they'll have to beat New Orleans on Friday night just to keep their season alive.
If they escape that, Ty Lue's crew will face off with Phoenix in the first round.
Anything can happen if Kawhi Leonard comes back, but that doesn't look particularly likely. The Clips will have to wait until next year to try and win that elusive first NBA title.
The Jazz, Nuggets, and Mavs face tough roads, as well.
Utah seems to have some serious chemistry issues flaring up at the wrong time. They may get past Dallas in the first round, but advancing beyond round two would be a surprise. Dallas is up against it with Luka Doncic expected to be sidelined for much, if not all, of the Mavericks' first-round series vs. Utah. Pass on the Mavs' title hopes at +4000.
Denver has Nikola Jokic…and that's about it. The reigning MVP gives the Nuggets a puncher's chance against the Warriors in round one, but this team isn't deep or healthy enough to go much deeper than that.
Phoenix Suns (+255)
If there is one team that stands out above the rest, it's the Suns. Phoenix won a franchise record and NBA-high 64 games this season. All year long, this team has been out to prove that last year's run to the NBA Finals was no fluke. So far, I'd say they've been proven right on that front.
The Suns have never won an NBA championship, but this might be their best-ever chance to do so.
Chris Paul is still playing at a remarkably high level despite the fact that he'll turn 37 during these playoffs. Devin Booker may well have an MVP in his not-too-distant future, while Deandre Ayton has quietly developed into one of the league's most consistent two-way centers.
No excuses: Phoenix #Suns have everything to win #NBA championship this season https://t.co/xfLvBqyZJi via @azcentral pic.twitter.com/bVox44qeiW
— Duane Rankin (@DuaneRankin) April 14, 2022
Phoenix won the first two games of last year's Finals against Milwaukee before losing four straight. That disappointment has been fueling them all season long. This team now has the experience and depth necessary to get over the hump. At +255, it's hard not to love the value on the Suns' NBA championship betting odds entering the playoffs.
Milwaukee Bucks (+475)
An NBA Finals rematch could be in the cards. The Bucks are playing their best basketball of the season entering the playoffs, and they're getting healthy at the right time. Brook Lopez, the team's undisputed defensive anchor, is back after missing most of the campaign with a back injury.
One potential issue for the Bucks is that the Eastern Conference looks considerably stronger at the top this year. The Nets and Celtics both have NBA championship betting odds shorter than +1000, while the Heat and 76ers are dangerous dark-horse contenders. Any of those five teams representing the conference in the NBA Finals wouldn't be that surprising, which means the Bucks will have to earn it if they want to win a second straight conference title.
If I had to bet on one team to navigate that minefield, however, it's still the Bucks. Giannis Antetokounmpo proved last summer that his game does translate to the playoffs. Khris Middleton and Jrue Holiday give the Bucks two Robins they can lean on in case Batmannis Antetokounmpo struggles. The Bucks' defense will bounce back after a rough regular-season showing, as well.
Brooklyn Nets (+600)
NBA betting sites have never known what to do with the Nets. Brooklyn has been the league's biggest wild card all year long, and they haven't shed that designation coming into the postseason. Brooklyn is still holding out hope that Ben Simmons will be healthy enough to contribute to a potential playoff run.
Whether he actually does, of course, remains to be seen.
Even if he does play, how much will he give them? Simmons hasn't set foot on an NBA floor since the 76ers' upset loss to the Hawks in the second round of last year's postseason. The availability of Kevin Durant and Kyrie Irving will keep the Nets relevant, but Brooklyn's roster is sorely lacking beyond their two superstars.
A first-round showdown with the defensive-minded Celtics will be a good test for the Nets right away. If Brooklyn can go on to beat Boston in the first round, you can bet the Nets' NBA championship betting odds will shorten considerably heading into round two.
Jay-Z was impressed by what he saw from the Nets on Tuesday night!@BrooklynNets take on the Celtics in Round 1 of the #NBAPlayoffs presented by Google Pixel.
Game 1: Sunday at 3:30pm/et on ABC pic.twitter.com/BWPhm1HnRq
— NBA (@NBA) April 14, 2022
For now, I'm still inclined to fade the Nets' +600 odds to win it all. Public optimism is what keeps Brooklyn's odds as short as they are, and I don't share it. The Nets are yielding north of 117 points per possession since the beginning of February.
Unless Simmons' return improves their defense considerably, I don't see how the Nets can get enough stops to make a deep playoff run.
Golden State Warriors (+850)
Speaking of uncertainty, we have no idea how the Warriors will look when they take the floor for Game 1 against the Nuggets this weekend. Stephen Curry could return from the foot injury that has kept him sidelined since mid-March, but the Dubs have yet to confirm whether the two-time MVP is officially ready. Curry did practice earlier this week, so a return could be imminent.
If Curry does come back, don't be surprised to see Golden State's NBA championship betting odds improve immediately from where they are now. The trio of Curry, Klay Thompson, and Draymond Green has played a grand total of 11 minutes together since Thompson went down injured in the 2019 Finals. If Curry returns this weekend, though, the Warriors will suddenly be completely healthy for just the second time all year.
That has to count for something. Earlier in the season, Golden State was able to keep pace with Phoenix atop the West before injuries sent them flying back into the pack. I'll gladly buy into the Warriors' current odds, especially if Steph hits the floor in Game 1 this weekend.
Boston Celtics (+850)
We're going to find out in a hurry whether the Celtics are serious title contenders when they face the Nets in the first round. Boston did find success against Brooklyn during the regular season, however, with three wins across four meetings. Each of those three victories came within the last two months, as well, which should leave the Celts feeling pretty confident in their chances of advancing through round one.
As is the case with the Warriors, I think the Celtics are going a little undervalued by oddsmakers.
Boston is the No. 2 seed in the East after a 51-31 finish. Boston has a record of 24-6 since the beginning of February, which is the best mark in the league. If the Celtics squared off against the top-seeded Heat in a hypothetical series, I'd side with Boston without much hesitation.
Jaylen Brown on our midseason turnaround: "There definitely was a shift in the energy, for sure. We made the most of our adversity through learning and experience."
— Boston Celtics (@celtics) April 14, 2022
This team is entirely legit, which makes their +850 NBA championship odds look like a misprint.
Miami Heat (+1000)
The Heat went to the NBA Finals just two years ago. This team has done nothing but win since Pat Riley hired Erik Spoelstra over a decade ago.
Miami finished with an East-high 53 wins this season, as well.
In spite of it all, I will gladly pass on betting on the Heat to win it all this summer. Miami's defense-first approach will make them a tough out in the playoffs, but I'm not sold they can score enough to keep pace with some of the East's other contenders. Jimmy Butler is about as inefficient a No. 1 option as you'll find, which means Miami's hopes may hinge quite heavily on whether Tyler Herro can get hot off the bench. Herro is a lock to win Sixth Man of the Year this season, but I'm not sure he's ready to take on such an important role.
Clearly, oddsmakers aren't really buying into the Heat despite their impressive regular season, either.
Memphis Grizzlies (+1300)
The Grizzlies were even better than the Heat this season, finishing 56-26 and in the No. 2 spot in the West. However, Memphis' NBA championship betting odds (+1300) are even longer than Miami's. What gives?
The Grizz are being docked because of their youth. The 28-year-old Steven Adams is the oldest player on this entire roster. About 80 percent of the Grizzlies' rotation hasn't even been in the NBA for three full seasons yet. Memphis got some much-needed playoff experience last year before ultimately falling in the first round at the hands of a more experienced Jazz team in five games. Unlike Miami, though, Memphis has a legit MVP candidate in Ja Morant along with enough depth to potentially overwhelm their playoff foes.
A first-round matchup with the T-Wolves won't be easy, but I do expect Memphis to survive and advance. The Grizzlies were giant-slayers all year, with a record of 28-18 against teams with winning records.
The Suns were the only team that fared better against quality foes.
Given the relative dearth of depth in the West this year, I think you would do very well to get in on the Grizzlies' long +1300 NBA title odds while you still can.
Philadelphia 76ers (+1400)
Immediately after the James Harden trade, the 76ers' NBA championship betting odds improved considerably. Harden looked like a perfect fit next to Joel Embiid, and the Beard was rejuvenated after ditching the Nets ahead of the trade deadline.
Please Note:
Harden came back down to earth after a few dazzling games in his first outings with the team.
But Philadelphia is still 14-7 with the former MVP in the lineup since the trade went down in February. The 76ers' offense with their two stars has been amazing, outscoring their opponents by nearly 16 points per 100 possessions with Harden and Embiid on the floor together.
"I'm not going into the series hoping to average 40," Embiid said Tuesday. "They're going to get the ball out of my hands, so it's all about me really not getting frustrated, keep trusting my teammates over and over, making the right plays." https://t.co/yPgB5SAFJT
— Kyle Neubeck (@KyleNeubeck) April 14, 2022
Obviously, that's a recipe for success in the playoffs. Unlike the Heat, for example, the 76ers have two elite offensive options on which to rely in crunch time. Philadelphia has been marred by playoff failures in recent years, but this team is built for a deep run.
You can do worse than taking a flier on Philly's current +1400 odds to win it all.
Best Bets for NBA Championship
Rather than going all-in on one team to win the 2022 NBA title, spreading your exposures isn't a bad idea this year. Maybe a flier on one team here, a few bucks down on another team there. Without an obvious favorite, we have quite a few teams with somewhat realistic chances of achieving the ultimate goal later this year.
The best bets, of course, are Phoenix (+255) and Milwaukee (+475). Both are battle-tested and primed for deep playoff runs.
Milwaukee faces the tougher road through the East, but this is still the defending champions we're talking about. The Suns have gone wire-to-wire as the NBA's best team all season. If they can stay healthy throughout these playoffs, they're going to be the team to beat. Otherwise, you're just taking stabs at some of the undervalued teams.
That includes Boston (+850), Golden State (+850), Memphis (+1300), and Philadelphia (+1400).
I'll rank my favorite bets to win the 2022 NBA championship below:
Golden State Warriors:
+850
Philadelphia 76ers:
+1400
PLACE YOUR BETS NOW!