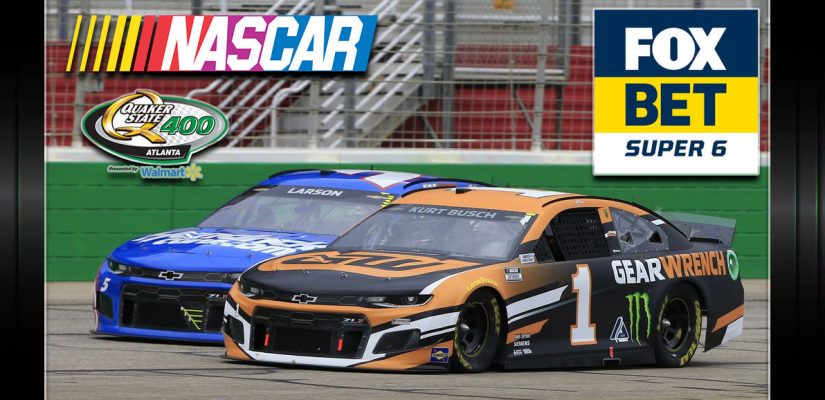 The NASCAR Cup Series returns to the oval after another road course race at Road America. NASCAR is at Atlanta Motor Speedway for the Quaker State 400. We're playing the Fox Bet Quaker State 400 Super Six picks, looking for a winning ticket.
Qualifying was washed out on Saturday at Atlanta Motor Speedway. Chase Elliott is on the pole with no qualifying session for this tri-oval event. The Cup Series made its first trip to the reconfigured Atlanta Motor Speedway in March. This race on Sunday will have superspeedway elements.
William Byron got it done in March over Ross Chastain and Kurt Busch. It's the second win for Byron this season, but he hasn't been consistent enough for the top-5 in the Cup Series standings.
The Fox Bet Quaker State Super is completely free to play. You must download the Fox Bet Super 6 app to participate in the prop contest. Correctly select all of your Quaker State 400 Super Six picks, and you share the Quaker State 400 Super Six pool.
Fox Bet has $1,000 available to be won. This is on the low end of Super Six prizes, but fewer players should be playing to increase the odds of winning. Head below for our free NASCAR Quaker State 400 Super Six picks. If you want a sports betting experience, check out our top NASCAR betting sites for the Quaker State 400 at Atlanta.
1. Which of these Drivers will finish in the best position at the end of Stage 1?
I'm looking at William Byron and Tyler Reddick as leading candidates to finish the best by the end of Stage 1. An honorable mention to Kevin Harvick, who could be lingering.
Reddick is coming off a win at Road America last weekend. He had been getting close this season, but just missing out. Reddick finally struck for his first career Cup Series win.
He has a favorable starting position on the grid this afternoon.
Reddick starts P4 after qualifying was canceled on Saturday. He didn't have an ideal finish at Atlanta in March in P28, though he was P6 last July in this race.
Reddick has a solid car at the moment and should have some momentum from the win at Road America.
William Byron is going to be a popular answer for the first question, and I can't argue him running well, but I will go slightly contrarian on Reddick.
Quaker State 400 Super Six Picks
2. How many Chevys will finish in the Top 10 at the end of Stage 1?
Chevrolet isn't going to complain about having qualifying canceled. They welcome the news because Chevy is stacked in the top-5.
The first four cars on the grid are Chevy vehicles. Chase Elliott, Ross Chastain, Kyle Larson, and Tyler Reddick are all up front on the grid.
Daniel Suarez and Alex Bowman also start in the top-10 at Atlanta Motor Speedway. I like Chastain in this race, while the consistency of Elliott can't be ignored. Larson should be hanging around as well.
There is likely another Chevy holding onto a top-10 position at the top of the order as well. Let's ride with four Chevys.
Quaker State 400 Super Six Picks
3. Which of these Drivers will finish in the worst position at the end of Stage 2?
From the best of Stage 1 to the worst at the end of stage 2. The third question has some good drivers to finish the worst.
Christopher Bell will attract most of the public in this one, but he's been quietly running well recently.
I'm going to stay away from the public and look elsewhere. Martin Truex Jr. might get some support here, too, but he's always liked racing at Atlanta.
Let's go opposite of pretty well everyone and select Kyle Busch. Busch didn't care for the new configuration at this race in March.
Busch couldn't get involved, as he finished P33 after getting removed from contention in Stage 1. He was vocal before the race that he wasn't a fan of the changes. Opening P19 on the grid, Busch has some work to do.
Quaker State 400 Super Six Picks
4. Which Hendrick Motorsports Driver will finish in the Top 5 at the end of Stage 2?
Kyle Larson, Chase Elliott, and William Byron all stand out as potential top-5 drivers. Larson is second in the Cup Series with eight top-5 performances.
Only Ross Chastain has been better than Larson getting into the top-5 this season. Larson isn't a winning machine this year, so he isn't getting as much respect.
The oddsmakers have a lot of respect for Larson, though, as he's a favorite to win the Cup Series. Elliott currently leads the Cup Series standings with 624 points. He's the only driver with at least 600 points
More than one driver in the top-5 looks like the right option. Byron has four top-4 finishes this year, which can't be overlooked. Alex Bowman could have a nice run as well.
Quaker State 400 Super Six Picks
5. Which manufacturer will have more cars in the Top 10 and how many cars will they have?
Chevrolet dominates the top-10 at the green flag for the first lap. Ford has two cars, while Toyota only has Martin Truex Jr. Denny Hamlin and Christopher Bell in P16 and P15 are the next closest Toyotas.
Despite Toyota not being well-represented after qualifying was canned, they will likely have strong claims by the end of Stage 2. You can make an argument for Truex Jr., Hamlin, and Kurt Busch.
Christopher Bell hasn't been running too bad as of late, either. Chevy should have the most in the top-10, with Toyota following three cars.
Quaker State 400 Super Six Picks
6. Which driver will have the better finish at the end of the race and by how many positions?
Joey Logano is the bigger name, so he'll most likely attract most of the attention for the final question. However, it's hard to ignore Alex Bowman's consistency at Atlanta Motor Speedway, and he's been near the front at this track recently.
Bowman starts high on the grid in P8 on Sunday. He should appreciate the nice starting position on a track he's been successful in the past.
Bowman has finished P10, P4, P3 in his previous three starts at Atlanta. Logano is P9, P19, P15 in his previous three Atlanta races. I don't see Logano being too far away, but I like Bowman by three positions at the checkered flag.
Quaker State 400 Super Six Picks