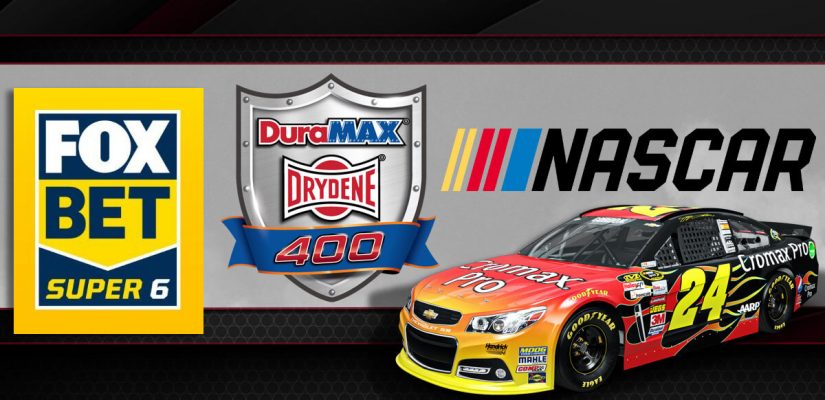 NASCAR is in Delaware this weekend for the DuraMAX Drydene 400. The Fox Bet Super Six app has a $5,000 free contest. If you have the most correct DuraMAX Drydene 400 Super Six picks, you will win the $5,000 prize.
Not good enough to be a one-of-one winner? Then you will share the pool with others. Not bad for a free contest. If this is your first time playing the NASCAR Super Six, it is essentially a prop bet contest with the only goal of getting the most questions correct.
The DuraMAX Drydene 400 Super Six picks are not going to be completely predictable. You might have to take your best guess and hope for the best. If you're looking to bet at Dover, check out the best NASCAR online betting sites available for auto racing handicappers.
Dover Motor Speedway is a mile on a narrow track. This isn't a popular track on the circuit, but Dover can provide some exciting moments. Head below for our best DuraMAX Drydene 400 Super Six picks.
1. Where Will the Pole-Sitter Finish at the End of Stage 2?
Dover is not a place where it's easy to move up and pass. It's a mile track, but narrow and doesn't result in a lot of room to operate for drivers. In other words, qualifying can be important at Dover.
If a driver gets out ahead at Dover, it can be tough to catch a fast car in Delaware. We do not know who qualified first, as this is written before qualifying, but they're likely not going to stray too far from the front.
DuraMAX Drydene 400 Super Six
2. Drivers Will Have the Most Laps Led at the End of Stage 2?
Kyle Larson is going to be a popular pick for the second question at Dover. Any time you see Larson in a question, the public is going to follow.
If you are going for a big chunk of the Super Six pool, you will have to take some chances, but I don't even think Kevin Harvick is that out there of a pick.
Harvick has been successful at Dover in the past and should have a good car this weekend. He has finished in the top-6 in seven straight outings at Dover.
Harvick won in 2018 and 2020 and stands a decent chance of doing it again. I will fade Larson and go with Harvick for question two.
DuraMAX Drydene 400 Super Six
3. Laps Under Caution Will There Be by the End of Stage 2?
Passing isn't the easiest at Dover, so don't expect too much action. Drivers don't like to take chances.
Gambling at Dover can lead to ending up on their roof like Joey Logano in 2009. That's the wildest thing that's happened at The Monster Mile since then.
Debris cautions are tough to predict, but we'll likely have one of two of those by the end of Stage 2. Then a crash would probably put us in the 11-18 range.
B looks like the pick for the third question at Dover, with 12 or 13 caution laps.
DuraMAX Drydene 400 Super Six
4. How Many Lead Changes Will There Be by the End of Stage 2?
Lead changes at Dover often happen under the yellow flag and restarts. As noted earlier, this isn't a track where passing is possible on the regular. Pit strategy is ultimately the most important aspect of racing at Dover.
Last season there were a total of ten lead changes through the end of the event. The crazy finding with that is only one lead change was a green flag pass. The other nine were under a caution flag.
The most likely scenario for the fourth NASCAR Dover Super Six picks is 5-8 laps under caution by the end of Stage 2 on Sunday.
DuraMAX Dyrdene Super Six
5. Drivers Will Have the Fastest Lap at the End of Stage 2?
Christopher Bell is going to be a hot pick for the fifth NASCAR Dover Super Six selection. I can't disagree with the public for this one, but see Chase Briscoe as a sneaky option here.
Briscoe has been solid this season, as he enters Delaware in 12th with a win and two top-5 finishes.
While Briscoe didn't run a strong race in his first event at Dover, 35th after qualifying 17th last year, Briscoe has looked better this year.
He didn't finish at Talladega, though should bounce back to run faster than this field. Bell can be fast, but he's been a major disappointment this season. I was expecting much better from him.
From a group of drivers that aren't the best this season, Briscoe has a good chance of being the fastest.
DuraMAX Drydene Super Six
6. Have Yet to Win at Dover Will Finish Best at the End of the Race?
For the final Super Six question, look at William Byron and Joey Logano to be competitive. Logano has liked racing at Dover in the past and should be in the mix at the end of the race.
He has finished 3rd, 7th, 34th, 8th, 6th, 5th in his last six trips to Dover. He's been running under the radar this season, but a consistent performer.
Logano enters Dover in 6th with 308 points and three top-5 finishes. I have Logano as a main contender to win this race, so naturally, he has to be my pick for question six.
DuraMAX Drydene Super Six