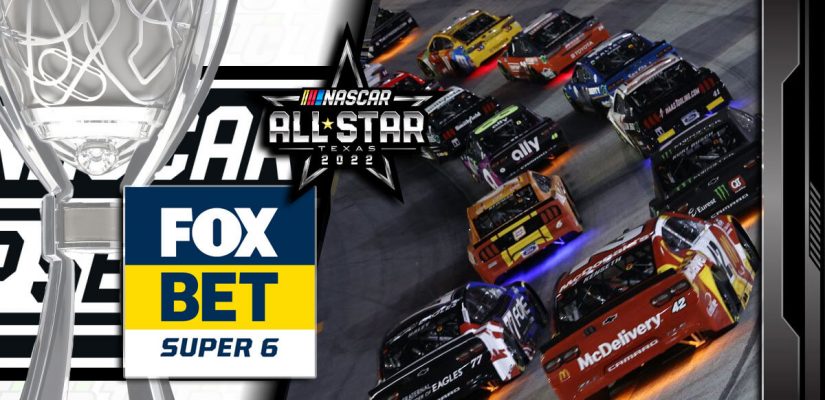 The NASCAR Cup Series takes a pause from the points schedule for the Cup Series All-Star Race at Texas Motor Speedway. TheSportsGeek is back playing the Fox Bet Super Six, this time Cup Series All-Star Race Super Six picks.
An action-packed weekend is coming up at @TXMotorSpeedway.
(oh, and $1,000,000 on the line! 💰) #AllStarRace pic.twitter.com/Y65iGjgygL
— NASCAR (@NASCAR) May 17, 2022
The Fox Bet Super Six is a free prop contest that doesn't cost a penny to play. We have picks all season long for the Cup Series schedule on the Super Six app. You can find our NASCAR Cup Series All-Star Super Six picks below.
Heading into the All-Star break, Chase Elliott leads the Cup Series standings with 475 points. Ryan Blaney is second with 423 points. Elliott has benefited from a consistent and steady season.
Elliott has a win and knows how to finish in the top-10. Despite only the one win and three top-5 finishes, Elliott is being rewarded for running a consistent race.
Kyle Larson, the defending Cup Series champ and All-Star winner, is on the grid on Sunday night. He hasn't looked like much of an All-Star this season.
Larson is ninth with a win and six top-5 performances. That doesn't sound bad, but when he's not near the front, Larson is usually done early.
Head below for our best 2022 Cup Series All-Star Race Super Six picks on May 22, 2022. Note that this is a Sunday night race, with the green flag expected to drop at 8:00 p.m. EST. If you want traditional sports betting, check out the best NASCAR betting sites.
1. From the Open Qualifying race, which driver will have the best finish in All-Star Race's Final Stage?
There are some questions where you are just going to have to take a guess and hope for the best. The Super Six is a mix of questions that are tough to prepare for and handicap, then there are others where you are just going to need to get lucky.
The first NASCAR Super Six All-Star pick is one of those lucky questions. In a prop contest where the prize money is split, it's a better plan to fade the public especially on these type of questions.
Stage 1 isn't getting much love from the public, so let's opt for the Stage 1 winner to finish the best at the end of the event.
Cup Series All-Star Race Super Six Picks
2. How many CHEVYs will finish in the Top 15 at the end of Stage 3?
Chevrolet has many talented drivers in its garage. Three of the top-5 drivers are driving Chevys. If we want to go back to ninth and Kyle Larson, there are five Chevys in the top-9.
The Cup Series leader going into the All-Star race is Chase Elliott, who is driving a Chevrolet Camero. Larson likes this race and is the defending champ. Elliott is the definition of consistency and should be involved as well.
We are looking at five or six Chevys in the top-15 at Texas Motor Speedway in the All-Star Race. I'll go with six drivers in Chevrolet Camero's will be in the top-15 at the end of Stage 3.
Cup Series All-Star Race Super Six Picks
3. Which of these winning drivers, from this year, will have the fastest lap by the end of Stage 3?
Kyle Busch and Ross Chastain are well-liked in my book going into Sunday night. I wouldn't have Busch and Chastain tickets to win the All-Star Race if they weren't high on my list of drivers.
Chastain is the wildcard of this race. He could be really good, but if you are looking for a safe and reliable option then it has to be Kyle Busch for question 3. This is a track where Busch has certainly been reliable.
Busch has finished in the top-10 in six straight races at Texas Motor Speedway. He won in 2020 and has four wins here since 2013.
He's been fast on this track in previous attempts and should have another good trip on Sunday night. For our third NASCAR Cup Series All-Star Super Six picks, let's play Busch and ride with the public.
Cup Series All-Star Race Super Six Picks
4. Which team will win the Pit Stop Competition and will start the Final Stage in 4th position?
(E) Richard Childress Racing
This is a two-part question, having to correctly pick the winner of the All-Star Pit Stop Competition and then who is 4th going into the Final Stage.
Joe Gibbs is going to get a lot of support from the public, and I can't argue with this sentiment.
Joe Gibbs has some talented Pit Crews on their team and likely going to run well on All-Star Weekend.
In what should be a wide-open question, and projecting 4th is tough, expect a crew like Busch's to have a lot of success in this one.
Cup Series All-Star Race Super Six Picks
5. Which manufacturer will have the most cars in the Top 5 at the end of the Final Stage?
This is a redundant question with the second question of the All-Star Super Six. Redundant in the sense that I feel the same about Chevrolet.
Chevy is going to be well represented in the Final Stage of the All-Star Race. If you're backing Chevy, you have a group of really talented drivers on your team.
Chase Elliott, Will Byron, and Kyle Larson are likely to be involved. I'm also high on Ross Chastain having a strong performance at Texas Motor Speedway.
The public is heavily in favor of Chevy having the most drivers in the top-5 and I can't fault the direction they're going in for this Super Six question. I'm following the rest and picking Chevy to have the most in the top-5.
Cup Series All-Star Race Super Six Picks
6. Which of these previous All-Star Race Winners will finish in the best position in the Final Stage?
I'm going back to feeling contrarian and fading the public for the final question of the NASCAR All-Star Super Six. Kevin Harvick is not going to be a popular pick in the All-Star Race, but the veteran isn't done being a competitive driver yet.
He's at Texas on Sunday night where this track has treated him well in the past. Harvick is a three-time winner at Texas Motor Speedway.
All three of his wins have come since a win in 2017. Five races back at Texas in 2019, Harvick struck his third win here.
Harvick has finished top-5 at Texas in seven of his last 11 attempts in Fort Worth. Only around 5% is backing Harvick in this question, but you likely hit a big payday if he wins and you have the other five questions correct.
Cup Series All-Star Race Super Six Picks