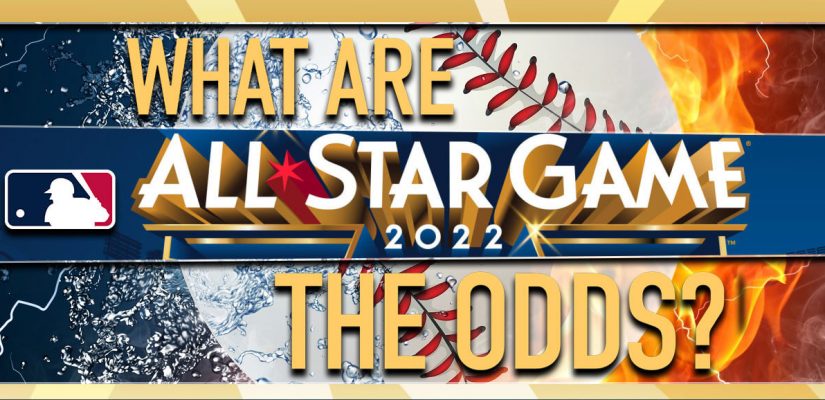 Now that the 2022 Home Run Derby is in the rearview mirror, we can turn out attention to the main event. The Major League Baseball All-Star Game will go down on Tuesday night from Dodger Stadium in Los Angeles. This is the first time Dodger Stadium has held MLB's midsummer showcase in 42 years, so it's been a long time coming.
Regular-season MLB action won't return until Thursday, so you've got to find a way to pass the time if you're a baseball bettor. This part of the sports calendar is typically pretty thin. Fortunately, baseball betting sites have you covered with MLB All-Star Game odds.
Which team will win? And which star will shine the brightest and win All-Star MVP? Let's break down those MLB All-Star Game betting odds, shall we?
2022 MLB All-Star Game Odds
Moneyline: American League -105, National League -115
Runline: American League -1.5 (+170), National League +1.5 (-200)
Over/Under: Over 7.5 runs (-110), Under 7.5 runs (-110)
As you can see, the National League is listed as a slight -115 moneyline favorite to win on Tuesday night. That would be enough to make headlines considering the NL hasn't tasted victory in any of the last eight All-Star Games. Matt Cain was the winning pitcher and Melky Cabrera won ASG MVP the last time the NL won an All-Star Game back in 2012. Both of those guys are now retired.
Clayton Kershaw will make his first career All-Star start for the National League in this one. That's hard to believe considering all that Kershaw has accomplished over the course of his storied career. The veteran left-hander has been as good as ever this season, and he took a perfect game into the eighth inning in his most recent start on Friday night against the Angels.
The future Hall-of-Famer is 7-2 with a tidy 2.13 ERA on the year for LA, and it's only logical that he'd be the choice to start the All-Star Game for the first time on his home field. Kershaw got the nod over Miami's Sandy Alcantara, who leads the NL with a 1.76 ERA for the Marlins.
'This would have been a really big team perfect game if it happened."
No. 22 retired 21 Angels in a row on Friday, but lost his bid to pitch MLB's 24th perfect game. Yet Clayton Kershaw, the defense and offense combine to make it a near-perfect win.
🔗https://t.co/iLuxAmRdFa pic.twitter.com/9oU3bddP17
— Dodger Insider (@DodgerInsider) July 16, 2022
Shane McClanahan will get the nod for the American League. The 25-year-old is in just his second full season as a member of the Rays' rotation, but he's certainly earned the start. McClanahan leads all qualified MLB starters in ERA (1.71) with a 10-3 record. He's also tied for second with Gerrit Cole behind Dylan Cease in strikeouts, with 147 so far this season.
All-Star Betting Trends
Not only has the American League won each of the last eight games, but they're also 6-2 on the runline in that span. However, the all-time series between the leagues is competitive. The AL is 46-43-2 all-time against the NL in the midsummer classic. The National League picked up a 4-2 victory the last time the game was held at Dodger Stadium 42 years ago.
While Kershaw and McClanahan will begin the game on the mound, it's highly unlikely we see either starter last more than one or two innings, at the very most.
Each manager has to find a way to get as many pitchers as possible into the game over the course of nine innings, because there will be no extra innings if the game's tied after nine. After that, the teams will participate in a three-on-three home run derby in order to determine a winner.
As a result, it's hard to feel too much conviction about the MLB All-Star Game betting odds in either direction. It's an All-Star Game, after all. Both teams are oozing with talent. The AL's recent dominance can likely be chalked up to random luck more than anything else.
Career All-Star Game home runs:
Vladimir Guerrero Sr.: 1 (2006, off Brad Penny)
Vladimir Guerrero Sr.: 1 (2021, off Corbin Burnes)
— Sarah Langs (@SlangsOnSports) July 14, 2021
There are quite a few injury-related absences, however, and most of them seem to be negatively affecting the AL side. All of Yordan Alvarez, Mike Trout, Jose Altuve, Justin Verlander, and Gerrit Cole will sit this one out for Dusty Baker's team. Shohei Ohtani reportedly will not pitch, either. The most noteworthy absences on the National League side are Bryce Harper, Nolan Arenado, and Corbin Burnes.
Because of the inherent randomness in play here, however, I slightly prefer the more profitable MLB All-Star Game odds you can get on the AL to win it yet again. This game is a crapshoot, so you might as well get the AL at -105 odds in a game that amounts to little more than a coin flip.
Pick: American League (-105)
All-Star MVP Odds
Shohei Ohtani (+390)
Aaron Judge (+500)
Vladimir Guerrero Jr. (+600)
Mookie Betts (+750)
Giancarlo Stanton (+900)
Paul Goldschmidt (+1300)
Byron Buxton (+1400)
Manny Machado (+1600)
Trea Turner (+1600)
Joc Pederson (+1600)
Ronald Acuna Jr. (+2000)
Rafael Devers (+2500)
Willson Contreras (+2500)
Pete Alonso (+3500)
Shohei Ohtani checks in with favorable +390 All-Star Game odds to win the game's MVP award. Ohtani started on the mound and at the DH spot for the AL last year, but the award was ultimately won by Toronto's Vladimir Guerrero Jr. Vlad his a memorable moonshot off of Milwaukee's Corbin Burnes in the AL's 5-2 victory in Denver last summer.
Ohtani will lead off for the AL on Tuesday night, but he likely won't pitch. That certainly negatively impacts his chances to win MVP. He'll also face Kershaw to begin the game, which won't help, either. Ohtani is 0-for-8 lifetime against the Dodger southpaw, and Kershaw is extremely tough on left-handed hitters.
One player whose All-Star Game betting odds stand out is Trea Turner at +1600. The Dodger shortstop will start at the same position for the National League, and his ability to impact the game in several areas gives him an edge. Turner is hitting .306 with 14 homers, 68 runs batted in, and 17 stolen bases in his first full season in LA.
Trea Turner's reaction to seeing Juan Soto could get traded?
"I texted him saying, 'What the heck's going on over there?'"
— Jorge Castillo (@jorgecastillo) July 18, 2022
Turner's Dodger teammate, Mookie Betts, has the shortest All-Star Game MVP odds of any NL player at +750.
Aaron Judge has been putting on a show all season long for the AL-leading New York Yankees. The free-agent-to-be leads the league with 33 home runs entering the All-Star break, and he's slated to hit second behind Ohtani in the AL's fearsome lineup.
Judge has only faced Kershaw three times in regular-season action, but his lone hit against the left-hander was a home run. All-Star Games tend to be quite low-scoring, and players that hit homers in the game have historically fared quite well in MVP voting.
Judge in first ab vs Kershaw tomorrow pic.twitter.com/1u1R1BaNMf
— VOLPE SZN (@DannSports) July 18, 2022
Judge has as good of a chance as anybody else of going deep in this one. At +500, the slugger's All-Star Game odds still offer plenty of upside. Assuming the AL wins the game, picking an American League player to take home MVP honors makes sense.
Pick: Aaron Judge (+500)