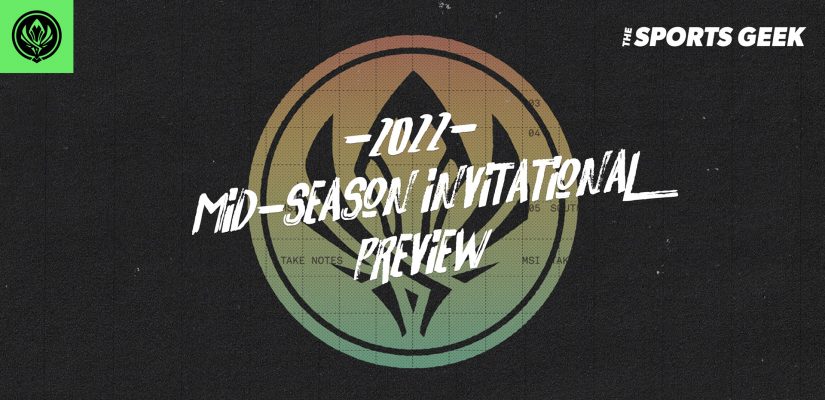 The 2022 Mid-Season Invitational is finally here which means that a fairly comprehensive preview is in order! The first international tournament of the year is always a reason for us to celebrate and this one, in particular, will be especially entertaining for a wide variety of reasons.
First of all, a most interesting transition of sorts will potentially take place — T1, an organization that needs no introduction, stands a very real chance at dethroning Royal Never Give Up and becoming this year's MSI champions.
In fact, it is an outcome many pundits deem most likely.
Moreover, we have two Western teams that are feisty and capable beyond measure, but also pretty flawed overall and, potentially, exploitable. They're not expected to accomplish much once all is said and done, but they're not to be trifled with whatsoever — they're still comprised with numerous seasoned veterans, all of whom are bound to put on one heck of a show!
A LOT ON THE LINE
It is, therefore, a clash of East vs. West, and also a fight between the legends of today and, potentially, the superstars of tomorrow. What more could you ask for?
But before we delve any deeper into the nitty-gritty, let's first go over the tournament structure and all the many peculiarities and interesting details that will make this year's Mid-Season Invitational one to remember!
2022 Mid-Season Invitational Preview | Who's Competing?
Eleven teams — or champions, rather — will converge in Busan, South Korea, and duke it out for a shot at making history and a sizable sack of cash. These teams have been divided into three separate groups:
— GROUP A —
T1 [LCK]
Detonation FocusMe [LJL]
Saigon Buffalo [VCS]
Team Aze [LLA]
— GROUP B —
Royal Never Give Up [LPL]
RED Canids [CBLOL]
PSG Talon [PCS]
Istanbul Wildcats [TCL]
— GROUP C —
G2 Esports [LEC]
Evil Geniuses [LCS]
ORDER [LCO]
As you can see, we have quite an interesting mix on our hands! And, as fate would have it, we'll witness a most historic clash between Europe and North America, a feud and rivalry from time immemorial.
Now, as far predictions go, all three groups seem rather simple and devoid of any potential surprises. Upsets can still happen, of course, but nowhere near as often as was the case at some prior international tournaments.
T1 and DFM are obviously the best teams in Group A, although Saigon Buffalo might be able to echo some of their forerunners and pull off a few miracles. It's been two whole years since the last time we saw any Vietnamese representatives (due to COVID-related complications and travel restrictions), so it'll be exciting to see if they're still as feisty and creative as was the case in the past.
Group B is also rather straightforward — RNG and PSG Talon stand out and, well, naturally so. RED Canids and Istanbul Wildcats might be able to get a win or two on the board, even that feels like an overly optimistic reach.
Group C is perhaps most interesting in that regard, although its outcome, too, seems quite "telegraphed."
AS HYPE AS EVER
That being said, we're still excited beyond measure and can't wait for these eleven teams to step foot on stage in Busan and show us what they're made of! The fact that it's all a foregone conclusion should in no way diminish the hype and grandeur of this year's Mid-Season Invitational!
2022 Mid-Season Invitational Preview | Tournament Format
Two of the best teams from each group will advance further into the tournament and compete in the oh-so-fascinating Rumble Stage. Those matches are also Best of 1 but are bound to be a lot more competitive and noteworthy.
The top four teams will then advance even further and compete in the Knockout Stage — a stage reserved for the crème de la crème. The format will then shift to Best of 5s, with the two very best contenders duking it out for all the marbles on May 29th.
Expect absolute chaos and some truly spectacular League of Legends.
2022 Mid-Season Invitational Preview | What's on the Line
We'll, a fair bit of everything: the teams that ends up winning will not only write a bit of history but also set the stage for what's to come — we're all dying to see whether T1 are really as good as they seem and if Royal Never Give Up have what it takes to defend their throne.
Evil Geniuses and G2 Esports will also face an uphill battle, and it'll be mighty interesting to see whether they're equipped for the monumental task at hand. Running circles around their opposition back on home soil is one thing; competing on the second-biggest stage the world of competitive League has to offer is a completely different kind of challenge, one you cannot really prepare for beforehand.
DON'T GET TOO HYPED
You should, therefore, temper your expectations, lest you be disappointed. Still, they have a shot at making waves, no matter what the oddsmakers have to say about it. They're confident, feisty, and fairly capable, too. They're in no way better than their Asian contemporaries, but that doesn't mean they won't be able to put up a fight — that they very much will.
You should also keep an eye on the many "wildcard" contenders, namely Detonation FocusMe, Saigon Buffalo, and PSG Talon. They're the most stacked and capable, and even though they're not going to accomplish much once everything is said and done, they're still worthy of our attention and, hopefully, praise.
2022 Mid-Season Invitational Preview | What's Most Likely to Happen?
This is never an easy question to answer, what with the meta being so darn flexible and teams still trying to figure out how exactly the game should be played. Still, certain teams stand out from the crowd, and that's obviously T1 and Royal Never Give Up.
NOT ON THE SAME LEVEL
They're a cut above and, well, no one should be overly surprised for that being the case. The gap between the East and West is about as big as the one between the West and the many wildcard regions that are scheduled to compete. There's really no other way to say it.
Upsets can happen, but they're not going to change much in regards to the end result. This aforementioned disparity (in talent and overall ability) simply cannot be circumvented or narrowed in a few days' time.
As for T1 and Royal Never Give Up, they're neck-and-neck in terms of overall power and potential, so it'd be ludicrous of us to even attempt to discern who's better than whom. And, well, it'd be wholly redundant, too, seeing how they're bound to clash off in a matter of days!
2022 Mid-Season Invitational Preview | Closing Remarks
Betting on this year's MSI definitely makes a lot of sense. If you're yearning for even more coverage — and an in-depth breakdown on who's competing and why they're worth following — make sure to check out our previous coverage.