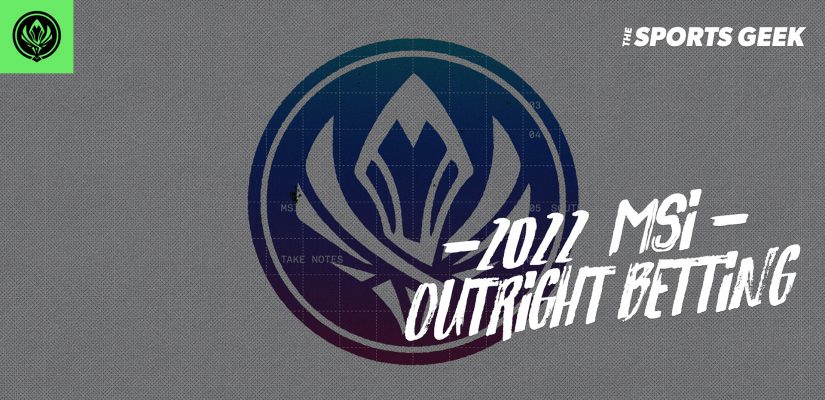 Outright betting on the 2022 Mid-Season Invitational makes a whole lot of sense and, well, there's a very good reason why: with just a "handful" of teams competing, predicting who'll come out on top is about as "easy" as it will ever get.
That's not something that can be said for the World Championship, what with it being the converging point for so many teams and champions. MSI, on the other hand, only has two favorites, two underdogs, and a bunch of wildcard contenders who will not accomplish anything of note.
It's a much simpler set-up, in other words, which makes betting on it a lot easier than one might expect. Upsets can still happen, of course, but nowhere near in the same frequency as it is the case at Worlds.
So, let's take a closer look at who's favored to go the "whole nine yards!"
T1 — The Heavy Favorites
The oddsmakers have T1 pegged at -185 which, frankly, feels a bit over the top. We understand why they're favored but to deem them so much better than Royal Never Give Up is downright ludicrous.
It's the hype talking and it's not wholly justified.
Just because they ran circles around their opposition over in South Korea doesn't mean they'll be able to do the same against the very best teams from China, Europe, and North America. The gap between these regions isn't nearly as big as it was just a few years back, although it does, in all fairness, still exist.
NOT ON THE SAME LEVEL
The LEC and LCS are obviously worse (in every way, shape, and form), but they, too, have a shot at doing some damage and upending the status quo. The LPL, on the other hand, is much more stacked and competitive, and few are the teams talented and layered enough to truly trade blows with a towering giant like RNG.
T1 do have the tools and weapons to fight back (and perhaps even win), but they're not all that much better — if they're even better at all. That's the thing: they weren't really pushed all that much over in the LCK so it's impossible to know whether they're really as good as people think they are or if we all have a skewed perception of their power because they didn't have a worthy adversary, one that would truly push them to their limits.
Then again, that certainly isn't their fault — you can't blame a champion for being too dominant; the onus is on the rest of the league to step up and challenge, and that, in short, is yet to happen.
So, what are the odds of T1 going the distance and etching their names in history for what feels like the millionth time? They're favored for a very good reason, but they're not going to have an easy time against the Royal Never Give Up, a team as stacked as any and the rightful (and most dominant) ruler of the LPL.
2022 Mid-Season Invitational | Outright Betting:
RNG — Don't Let the Odds Fool You
We'd be quite angry if we were RNG, what with the oddsmakers pegging them as a +155 "underdog." They're the defending champions after all, and one of the very best teams ever assembled! And, well, they're not any worse than they were back in 2021, even though their playstyle has shifted with Li "Xiaohu" Yuan-Hao moving back to mid.
And while we do think that T1 are ever so slightly better, that gap between them (assuming such a thing even exists) is by no means insurmountable. These are some of the most seasoned players around, legends who are still at the top of their game. They can adapt on-the-fly as if it were nothing. Moreover, they'll all be competing in the oh-so-exciting Best of 5 format which means they'll have more than enough time to adjust and room to maneuver.
Don't let the odds fool you: RNG have an equal shot at emerging victorious and going the "whole nine yards." Betting on them to win would no doubt be a wise choice, and it could yield a respectable payout, too!
The choice, ultimately, is yours.
2022 Mid-Season Invitational | Outright Betting:
G2 — Good But Not Good Enough
At +1092, no one's expecting G2 Esports to win and, well, it's easy to understand why: the sheer fact that they're even competing at this year's MSI is tantamount to a small miracle. To punch their ticket to South Korea, G2 had to pull off one of the most impressive miracle runs we've ever seen.
A WORLD OF DIFFERENCE
The fact that they succeeded, however, doesn't necessarily mean they're ready to compete on the international stage. Playing against Fnatic and Rogue — impressive and talented though they are — pales in comparison to what they'll experience once they take the stage to face T1 and RNG. And they know it, too.
There's a world of difference between these teams, despite the fact that they're all champions of their respective regions. The gap between them is vast — it is a chasm of epic proportions, if you will. That, however, doesn't mean G2 (and even EG, for that matter) should be disrespected and deemed unfit to compete — far from it. They're hungry, capable, and have all the right tools and weapons which are necessary to rub shoulders with their more towering Asian contemporaries.
Plus, the first two stages of the tournament will consist of Best of 1s. In such a volatile setting anyone can pull off an upset and get away with the win, even the many wildcard pretenders.
So, T1 and RNG would be wise not to underestimate their opponents, some of which do have the potential to put on a show, entertain the masses, and even upend the status quo (to a certain degree).
2022 Mid-Season Invitational | Outright Betting:
Evil Geniuses — The Ultimate Dark Horse

This is where things get a whole lot more interesting. We're at once both enthralled by this version of Evil Geniuses and somewhat terrified as predicting how well they'll perform feels nigh impossible.
On the one hand, they shouldn't be able to accomplish much once everything is said and done. On the other, they're so darn crazy that we can envision a world in which they pull off the seemingly impossible. They have that aura about them, the vibe of a "king slayer." It sounds weird, we know, but it's a gut feeling and listening to it and trying to decipher its "rhythm" is always advisable, especially when betting is concerned.
And, frankly, just saying such a thing is enough to draw the ire of the community. North American teams have been failing (quite miserably) on the international stage for years; so much so, in fact, that people aren't even willing to entertain the idea of an LCS champion doing some damage to the status quo.
Evil Geniuses, however, deserve a clean slate. A slate that is free of the weight of their forerunners and their many — and often quite tremendous — failures.
How well EG will perform still remains to be seen, but they're not to be trifled with, that's for sure. They're hungry to win and to prove themselves on the biggest of stages, and they also have the mechanics and talent to back up nearly any kind of play, no matter how outlandish in nature.
Will that suffice against the giants of the LPL and LCK? We're not quite sure, but they do have a shot at making waves, especially if they come out the gates swinging.
2022 Mid-Season Invitational | Outright Betting: