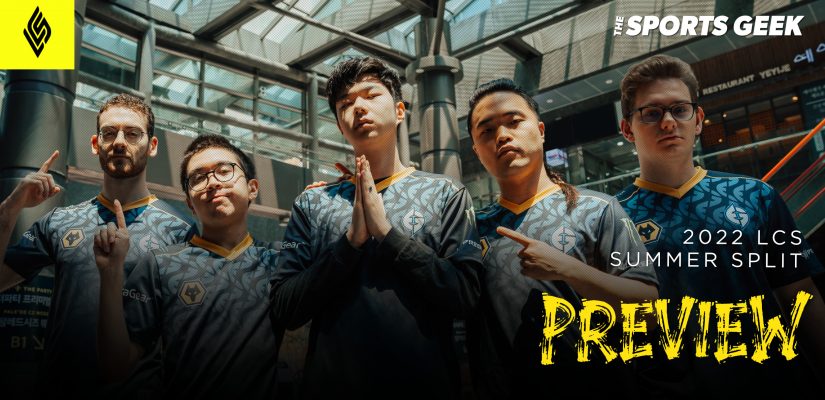 The 2022 LCS Summer Split is about to begin which means it's the perfect moment for us to take a closer look at who's competing and what's most likely to happen over the coming weeks and months! The second half of the season is always a lot more exciting as it leads into the oh-so-important World Championship.
At this point, each and every single game matters immensely. We've said it a million times but it's true: a single win or loss can — and most often does — end up making a world of difference.
Teams can, therefore, no longer afford to experiment, switch out players willy-nilly, and drop games to their direct competitors. This, in turn, should result in a much more exciting state of affairs along with a higher overall level of play.
AN ENTRENCHED STATUS QUO
The LCS, however, is as top-heavy a region as they come. We have four exceptional, towering "giants" — Evil Geniuses, Team Liquid, 100 Thieves, and Cloud9 — and then a bunch of severely flawed and wholly limited mid-tier challengers and bottom-dwellers.
The four teams listed above are the only ones that have a shot at going the "whole nine yards." The rest of their peers and competitors pale in comparison. There's really no other way to say it. EG, TL, 100, and C9 have the best line-ups, the most stacked coaching staff, and the biggest budgets to work with.
And, well, it's not even remotely close.
2022 LCS Summer Split Betting Odds & Preview | Complicating Factors
It's been a hot minute since the last time we've seen any of these teams play and, needless to say, the game itself has changed quite a bit. We're not talking about any huge, sweeping changes, but rather more nuanced ones — the kind that alter the game without us even noticing it.
Evil Geniuses, for one, had to compete against the very best teams the world of competitive League of Legends had to offer which, in turn, has surely left a mark on their energy levels and overall psyche. They're motivated beyond measure, there's no doubt about it, but they've also had the least amount of "downtime" — assuming they had any at all.
They went from pulling off that miraculous playoffs run, to preparing for MSI, to traveling to Busan, then trading the heaviest of blows with the crème de la crème, and then returning back to Los Angeles to prep for the second half of the competitive season.
That's the very definition of a grueling schedule. And, needless to say, it very well could affect their performance, at least early on.
MANY QUESTION MARKS
The meta is still somewhat flexible (and ever-changing) and that, too, is bound to affect the ten teams competing in numerous different ways — some of which will be positive, others less so. The latest patch has totally "flipped the script" and has affected the game to its very core. That, too, cannot be overstated.
The reason why we're saying all of this is rather simple: expect the unexpected. We have a fairly large sample size at our disposal, information on which to base our assumptions and predictions upon, but there are still many unexpected ways and directions in which things could unravel.
Furthermore, five teams (out of ten) have made substantial changes to their starting line-ups. This means that what we know about them — and, by proxy, their skill ceiling — has now been rendered moot.
Some of these teams will, as a result, enter the second half of the competitive season better than ever. Others, however, will regress as the changes they made were done in haste and without proper planning.
Predicting how well they'll perform, therefore, is not only a gargantuan task but perhaps even a fool's errand — this is the LCS we're talking about, a region known for its mind-boggling twists and fiestas.
Be that as it may, there's definitely a lot to look forward to! The LCS hasn't been this competitive in years so if you have the time, do make sure to tune in!

2022 LCS Summer Split Betting Odds & Preview | Preliminary Power Rankings
The following tier list should only be used as a rough guide into who's good and why — it's not gospel nor should it be read as such. This is basically the best we can do with the information that is currently available to us.
It's a flawed approach, no doubt, but until something better comes along we'll simply have to resort to it.
1. Evil Geniuses, 100 Thieves & Team Liquid — The 'Top Dogs'
Coming in at number one, we have a three-way tie between the defending champions Evil Geniuses, 100 Thieves, and Team Liquid. Now, this does feel like a cop-out answer, but hear us out: the gap between them can and most certainly will shrink.
In fact, there's not much of a gap at all; the fact that Evil Geniuses beat both of them last split in the playoffs doesn't mean much in the grand scheme of things.
They had the better read on the meta and happened to have peaked at just the right moment. Nothing more, nothing less.
Now, don't get us wrong: they're still an exceptional team and are undoubtedly going to be one of the biggest favorites this time around as well, but 100 Thieves and Team Liquid do, by all means, have the right players and support staff to bounce back in the most tremendous of fashions.
Evil Geniuses aren't better "pound-for-pound" nor do they have more experience. They are a bit more creative and they do fight with a bit more conviction, but that's about it.
Granted, these are hugely important traits that are seldom found in the LCS, but the point stands nonetheless.
Team Liquid and 100 Thieves have all the right tools to rebound and leave some kind of a mark once all is said and done. Plus, the meta might shift in a few weeks time which would undoubtedly paint them in an even better light when compared to the reigning LCS champions.
MORE COMPETITIVE THAN EVER
In any case, our main point is this: the fashion in which things panned out last split should by no means be taken at face value. Evil Geniuses deserve all the credit and praise in the world, but they are by no means a perfect team.
They, too, are fallible beyond measure, and one needn't look any further for proof than the most recent Mid-Season Invitational.
We feel that 100 Thieves have a better shot at dethroning EG than Team Liquid, but not by much. They're a lot more flexible and their teamfighting is ever so slightly better, too; and that, we feel, could end up making a world of difference.
2022 LCS Summer Split Odds — Outright Betting:
Team Liquid, however, do have a higher skill ceiling. Whether they'll harness said potential in time for it to matter still remains to be seen, though. We, for one, are not particularly optimistic and we're not sure why.
They're still favored to leave a mark, but we don't see them claiming the LCS throne in 2022.
Still, if it were to happen we would by no means be surprised as they have all the right tools and players for the job. Their line-up is so darn talented and capable it's not even fair. Bwipo, Santorin, Bjergsen, Hans Sama, and CoreJJ? How is that even legal?
Something, however, seems to be missing.
Call it synergy, call it the "X factor," call it what you will, but they still don't have it.
2022 LCS Summer Split Odds — Outright Betting:
As for Evil Geniuses, we're still not quite sure what to make of them. They're exceptional at the game, there's no denying it, but just how good they really are and how high they'll be able to soar still remains to be seen.
On paper, they're not that much better than 100 Thieves and Team Liquid — if they're even better at all. They still have a very peculiar playstyle and it can, by all means, be exploited and, by proxy, punished. Moreover, they cannot always count on Danny to style over his opposition and make the most mind-blowing plays imaginable — he, too, is only human and can make egregious mistakes as well.
THERE'S STILL A BIT OF DOUBT
There's a very real possibility of Evil Geniuses dropping the ball at some point in the near future. They're not going to implode by any stretch of the imagination, but we'd be mighty surprised if they were to defend their throne and go to Worlds as the number one seed.
Then again, if they could upend the status quo and pull off the seemingly impossible once, who's to say they couldn't do it again?
2022 LCS Summer Split Odds — Outright Betting:

4. Cloud9 — Now We're Talking
The boys in blue will enter the second half of the competitive season with both a chip on their shoulder and a truly frightening line-up — one that could, by all means, go the distance and dethrone Evil Geniuses.
You really ought to keep that in mind: there's a very high likelihood of this line-up doing wonders but the stars will have to align for that to happen. The biggest question mark, of course, pertains to their bottom lane duo.
WILL IT PAN OUT?
Berserker and Zven is, by all means, an experiment, and much like all other experiments, it may or may not pan out. There's really no other way to say it. On the one hand, we know what Berserker is capable of. The guy is "cracked" for hands and is amongst the very best AD carries in North America.
Zven, on the other hand, is as big a veteran as they come — a legend, even. He's not a support, though, and just because some of his peers managed to pull it off (CoreJJ and Aphromoo, for instance), doesn't mean he, too, will be able to deliver.
It's a bit of a gamble, but if ever there was a team that could pull it off, it's Cloud9.
If everything goes "according to plan," they will compete at the highest of levels and perhaps even lock down a ticket to the World Championship. These players already have an immense amount of synergy and are amongst the very best in their respective roles.
The fact that Jensen will be making a comeback only further strengthens this point. He is, at worst, a Top 3 mid laner and will no doubt give C9 a puncher's chance against the three teams listed above.
2022 LCS Summer Split Odds — Outright Betting:

5. Golden Guardians & FlyQuest — Neck and Neck
Next up, we have a tie for fifth between the Golden Guardians and FlyQuest. These two teams have already made waves last split and, well, there's no reason to think they'll be any worse this time around.
They're well-rounded, capable, and feisty beyond measure; they are, therefore, more than worthy of our undivided time and attention.
Neither of them will end up leaving much of a mark, although it certainly won't be for a lack of trying. Both teams will come out the gates swinging and they should, by all means, be able to challenge the upper echelon of the LCS — much like they did last split.
Perhaps even more so now that they've had a bit more time to acclimate and get on the same page.
A Top 6 finish for both teams feels most realistic. Nothing more, nothing less.
2022 LCS Summer Split Odds — Outright Betting:
Will GGS and FLY Make Playoffs?
7. Dignitas QNTMPAY — A Capable Dark Horse
Coming in at seventh place, we have Dignitas QNTMPAY, a team that is both incredibly capable and inherently flawed. We saw many glimpses of their potential throughout the most recent split and, needless to say, we were not left indifferent.
These flashes of brilliance, however, happened at random, sporadically. They couldn't be counted upon nor could they be conjured up whenever the need arose.
And so betting on (or against) Dignitas QNTMPAY always felt like an exceedingly dangerous endeavor as you could never confidently predict what would happen — as in whether they would show up and bring the house down or, conversely, implode ten minutes into the whole thing.
They've made just a single change to their starting line-up, but it is a most vital one: they've promoted the venerable Gamsu from their Academy line-up which might just be what the doctor ordered!
Now that they have a more seasoned top laner by their side (one who isn't as exploitable as his predecessor), Dignitas could, by all means, challenge for a spot in the playoffs.
What'll end up happening still remains to be seen, though, but Dignitas are, without a shadow of a doubt, the biggest dark horse coming into the second half of the competitive season.
8. TSM FTX — We're All Out of Faith
This one's tricky. Gauging the power level and overall potential of this slightly "tweaked" TSM line-up feels nigh impossible. They have upgraded, there's no doubt about it, but have they upgraded enough for it to matter?
That's the million dollar question and, well, we're not quite sure how to best answer it — and whether or not it can even be answered at this point in time.
On the one hand, bringing in a legend like Maple will make them a more dangerous team. There's no denying it. On the other, it might be a bit too late.
The key to our roster has arrived.
Please join us in giving @TSMMaple a warm welcome to the TSM family! We're incredibly excited for him to take on the starting position as our LCS mid laner.
His experience and leadership will be pivotal to the success of our roster. pic.twitter.com/k14lswRBSf
— TSM FTX (@TSM) May 4, 2022
He, too, will need a bit of time before he can fully acclimate to his new surroundings and teammates, and by the point that happens it'll be all too late for TSM to stand a chance at leaving a mark.
He's a phenomenal mid laner, but a miracle worker he certainly is not.
NOT THE GIANTS OF YORE
And that's precisely what TSM need so as to move the needle and make something of their season. It goes without saying, but the odds will be stacked against them.
We're still excited to see them play, granted, but if you're a TSM fan you should definitely temper your expectations — assuming you even have any after everything that went down.
2022 LCS Summer Split Odds — Outright Betting:
9. Immortals & CLG — Not For the Faint of Heart
Finally, to close things out, we have a two-way tie for ninth between Immortals and Counter Logic Gaming. Let's not beat around the bush: neither of these two teams will be leaving much of a mark once everything is said and done.
They're just not good enough to compete with the "big dogs," and they probably know it, too.
Immortals are a fair bit better than CLG, but they, too, are flawed and exploitable beyond measure. A few stellar players (their top, mid, and support, primarily) are by no means enough for them to stand a chance.
They've made three changes to their starting line-up and only one of them can be deemed an upgrade. They are a bottom-dweller through and through and it pains us to say it.
Counter Logic Gaming, on the other hand, haven't made any changes at all. They will, therefore, be about as mediocre as they were last split. Expecting anything different would not only be illogical but downright insane, too. There's really no other way to say it.
Much like Immortals, they, too, will pull off a few upsets over the coming weeks and months, but anything more than that feels nigh unrealistic. Whether they'll finish tenth, ninth, or perhaps even eighth means very little in the grand scheme of things.
In any case, these two teams are the least capable of the bunch, and that is a fact as clear as day.
View the entire 2022 #LCS Summer Split schedule at https://t.co/o0axpMBQHQ pic.twitter.com/qypldinuWQ
— LCS (@LCSOfficial) June 8, 2022
2022 LCS Summer Split Preview | Betting Odds — Closing Remarks
As already mentioned, take the power ranking listed above only as a rough guide for your betting endeavors.
A STATE OF ABSOLUTE UNCERTAINTY
Our assumptions, while certainly rational and based in fact, may not end up being correct — there are simply too many intangibles and question marks lingering in the air.
Be that as it may, we do know which teams will eventually end up on top, what with the LCS being as top-heavy as it is. That, however, should by no means dissuade you from watching! You can catch all the action on Twitch, YouTube, and the official LoLEsports website!
And, on the off-chance you happen to be looking for the best esports betting sites, we have you covered there as well!