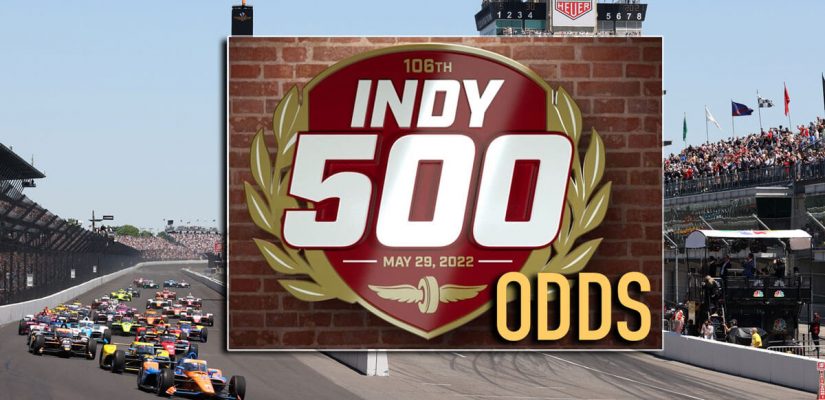 The 106th Indianapolis 500 is on for Memorial Day Weekend this Sunday. The first green flag is set to fly at 12:45 p.m. EST to open the Indianapolis 500 at Indianapolis Motor Speedway. In what many people consider the biggest auto race in the United States, we have the best Indy 500 odds at TheSportsGeek.
1️⃣3️⃣ #Indy500 Wins
8️⃣ Former Winners
1️⃣ Historic Race
This group of modern legends are 8 of 73 drivers ever to win "The Greatest Spectacle in Racing." Will one of these drivers drink the milk on Sunday, or will the group welcome it's 74th member?@INDairy | #WinnersDrinkMilk pic.twitter.com/IYCbvf1cAJ
— Indianapolis Motor Speedway (@IMS) May 26, 2022
IndyCar has seen an increased interest in racing. They're seeing their best TV ratings in almost 20 years this year. IndyCar is riding the popularity of Formula 1 in the US and picking up new fans with F1. IndyCar and F1 are both great in their own ways, with it good to see more people are paying attention to open-wheel racing in the US. If you are looking for F1 betting sites, we have you covered there as well.
F1 is a worldwide event, while IndyCar isn't the biggest outisde of North America. That said, IndyCar has some fast and entertaining tracks, with none faster than the Indianapolis 500.
The fastest speed in qualifying last weekend was Scott Dixon's blazing hot four-lap average of 234.046 mph. This speed broke Scott Brayton's record of 233.718 mph in 1996.
After he put on that show last weekend, Dixon is the Indy 500 odds favorite. The rest of the Indy 500 betting odds don't carry many surprises, either.
NASCAR fans will recognize Jimmie Johnson. The retired NASCAR driver qualified for the Indianapolis 500 in his career.
This isn't his specialty and it's more of a bucket list item, but at +1600 to win, the oddsmakers and public feel reasonably confident with a fast car.
Will Power leads the IndyCar Series standings with 170 points. He doesn't have a win, but Power is rewarded for his consistency with five top-5 finishes. Power was in the top-5 for every assignment in five IndyCar Series races this season.
Colton Herta is coming off a win in the GMR Grand Prix on the road course at Indianapolis Motor Speedway. He's the fourth different winner this season, with Josef Newgarden winning back-to-back races at Texas and Long Beach.
Who Won The Indy 500
We will take a look at past winners of the Indianapolis 500. This is the most prestigious race an IndyCar driver can win in his career.
Sometimes we see NASCAR drivers drive this race early in the day and then fly out if they can for their Cup Series event for Double Duty.
It's a race that any driver would like to have on their career resume. Veteran Helio Castroneves is looking for back-to-back Indy 500s and his fifth title at Indianapolis Motor Speedway.
Castroneves holds the record for most wins in the Indy 500 with four. Let's go through who won the Indy 500 since the 2008 season.
Year
Driver
Team
2021
Helio Castroneves
Meyer Shank Racing
2020
Takuma Sato
Rahal Letterman Lanigan Racing
2019
Simon Pagenaud
Team Penske
2018
Will Power
Team Penske
2017
Takuma Sato
Andretti Autosport
2016
Alexander Rossi
Andretti Herta Autosport
2015
Juan Pablo Montoya
Joe Gibbs Racing
2014
Ryan Hunter Reay
Andretti Autosport
2013
KV Racing Technology
Tony Kanaan
2012
Dario Franchitti
Chip Ganassi Racing
2011
Dan Wheldon
Bryan Herta Autosport
2010
Dario Franchitti
Chip Ganassi Racing
2009
Helio Castroneves
Team Penske
2008
Scott Dixon
Chip Ganassi Racing
Indy 500 Betting Odds
The odds to win the Indy 500 aren't going to catch anyone off-guard this year. Perhaps the most surprising name on the Indy 500 odds board this high is Jimmie Johnson.
After running well in qualifying for P12 and practice sessions, he appears to have a fast car. However, Johnson has never qualified for an Indy 500 before and doesn't have much experience in the IndyCar Series.
Johnson is a tremendous stock car driver and will go down as one of the best in NASCAR history, though I wouldn't have his Indy 500 betting odds at +1600 to win. That's the eighth-best odds to win the Indy500. The same odds to win the Indy 500 as Will Power? I don't know.
Scott McLaughlin and Colton Herta didn't have the best qualifying, but they've won this season and have worse odds than Johnson. I do agree with Dixon as the top driver on the Indy 500 odds board, though. He won't be beaten if his car is as fast as last week and he doesn't run into bad luck.
Indy 500 Odds are Courtesy of Bovada:
Odds
Driver
Team
+550
Scott Dixon
Chip Ganassi Racing
+700
Alex Palou
Chip Ganassi Racing
+1100
Pato O'Ward
Arrow McLaren SP
+1100
Rinus VeeKay
Ed Carpenter Racing
+1200
Josef Newgarden
Team Penske
+1400
Marcus Ericsson
Chip Ganassi Racing
+1500
Takuma Sato
Dale Coyne Racing
+1600
Jimmie Johnson
Chip Ganassi Racing
+1600
Will Power
Team Penske
+1800
Colin Herta
Andretti Autosport
+2000
Ed Carpenter
Ed Carpenter Racing
+2000
Scott McLaughlin
Team Penske
+2000
Tony Kanaan
Chip Ganassi Racing
+2200
Felix Ronenqvist
Arrow McLaren SP
Indy 500 Best Picks
Takuma Sato (+1500)
It's hard to look away from Takuma Sato at these odds to win the Indy 500. He is a two-time winner in this race and knows his way around this track.
This isn't a long time back that Sato won, either. He won in 2017 as the first Japanese-born driver to win the Indy 500. Three years later, Sato did the same at Indianapolis Motor Speedway.
Sato isn't a top favorite to win the 2022 Indy 500, but I'd put his chances at better than +1500 to notch his third win. He was in fine form in qualifying and practice laps.
Sato qualified P10 to start within striking distance of the front of the grid. After sweeping three practice sessions last week, he had the fastest car going into qualifying.
He was fast on Friday, with Sato clocked at faster than 232 mph. While Sato couldn't stay that hot for qualifying, a respectable P10 gives him a strong starting position on Sunday.
Sato has a fast car and is a driver that has handled the Indy 500 twice in recent memory. Sato is a serious value play at these odds to win the Indy 500.
Indy 500 Odds
Marcus Ericsson (+1400)
Marcus Ericsson is going into Sunday as another strong value pick for the Indy 500. He's been running well through five races this season.
Ericsson has two top-5 finishes and is likely going to be a threat in the 2022 Indy 500 on Sunday.
The Swede started P9 and placed P11 in the Indy 500 last year. He qualified in similar form in his first two Indy 500s as well in 2020 and 2019, but fell out of contention with bad cars.
This is the best starting position for Ericcson on the grid at the Indy 500 in his IndyCar career. Ericsson is P5 on the grid to open the race on Sunday and has his best car to date this year.
The former F1 driver from 2014 to 2018 should continue to improve in his IndyCar career. With good value at +1400, Ericsson is a player on Sunday. A career-changing win in the Indy 500 isn't out of the question for him.
Indy 500 Odds
Indy 500 Race Prediction
Scott Dixon (+550)
The 2008 Indy 500 winner has a great chance to add another title to his resume. Dixon was blazing fast in qualifying and continues to run a quick car in practice at Indianapolis Motor Speedway.
Dixon left no doubts who has the fastest car, as he broke the pole speed record at 234.046 mph. This was a record that went back to 1996.
It wasn't just qualifying where Dixon was flying. In eight practice sessions, Dixon was the fastest or second-fastest in every outing. In the most recent on Monday, he was second behind teammate Alex Palou.
The fastest pole speed in #Indy500 HISTORY!@ScottDixon9's average speed of 234.046 mph breaks the late Scott Brayton's record of 233.718 mph. pic.twitter.com/i82tcKVwF3
— NBC Sports (@NBCSports) May 22, 2022
He was just slightly slower than Palou after running the fastest in the seventh practice round.
Dixon is 5th in the IndyCar Series standings heading into this weekend. He has finished in the top-10 in all five races and top-2 in two. If Dixon runs a clean race, he should consistently be the best around 200 laps at Indianapolis Motor Speedway.