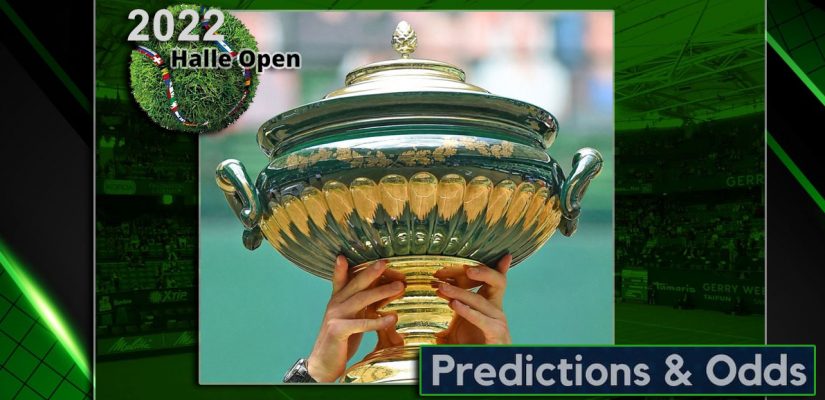 It is grass season on the ATP Tour, as we have another grass surface tournament after the Stuggart Open in Germany. Matteo Berrettini returned to the court with a Stuttgart Open title, following a three-set win over Andy Murray. Moving on from Stuttgart to Halle in Germany, we have the best Halle Open Odds at TheSportsGeek.
THE BOSS OF THE BOSS OPEN! 🤩
Check out the moment @MattBerrettini claimed the 🏆 in Stuttgart!@theweissenhof | #BOSSOPEN pic.twitter.com/aUTvX7VnZI
— ATP Tour (@atptour) June 12, 2022
Halle Open Odds Sportsbooks
We have you covered if you're looking for tennis betting sites that cater to the Halle Open. For the purposes of this blog post, we're playing the Hello Open futures. TheSportsGeek will also feature our matchup bets for the tournament.
This Halle Open comes with more notable names than in Stuttgart. Several players took that one off following the French Open. Berrettini didn't want to rush back from his hand injury, so he passed on Paris and pointed to Germany.
The No. 1 player on the ATP Tour will be playing in the Halle Open.
Novak Djokovic falls all the way back to No. 3 in the world after a disappointing effort in the French Open, and the French Open points from last year are off going into this week.
ATP weeks at No. 1
Djokovic 373
Federer 310
Sampras 286
Djokovic drops to No. 3 this week and will drop further after Wimbledon, which has no points
But if he never returns to the top, 373 will be the number to beat for many (many) years
Phenomenal achievement#getty pic.twitter.com/zYqueTukZi
— Christopher Clarey 🇺🇸 🇫🇷 🇪🇸 (@christophclarey) June 12, 2022
He is passing on Halle, but you will find No. 1, Daniil Medvedev, on the Halle Open betting odds board. There isn't an undisputed No. 1 on the ATP like there is on the WTA Tour right now.
Four players are participating in the Halle Open ranked in the top-10, including Stefanos Tsitsipas, Andrey Rublev, and Felix Auger-Aliassime.
Hopefully, our Halle Open predictions are spot on with a winning player in Germany. You can find the latest Halle Open betting odds and predictions below.
2022 Halle Open Odds
The betting favorite to win the Halle Open isn't a surprise for this tournament. Medvedev is the top-ranked player in the world and the Halle Open odds favorite.
He isn't a convincing favorite to win the tournament, though. You aren't going to find chalk with any player in the Halle Open field.
The second-ranked player in the Halle Open is not the second favorite. No. 3 seed Andrey Rublev follows as the next likely winner according to the oddsmakers and then Tsitstipas.
Halle Open Odds are Courtesy of Bovada:
Odds
Player
Seeding
+300
Daniil Medvedev
1
+700
Andrey Rublev
3
+750
Stefanos Tsitsipas
2
+750
Felix Auger-Aliassime
4
+800
Nick Kyrgios
Unseeded
+1000
Hubert Hurkacz
5
+1600
Karen Khachanov
8
+1800
Sebastien Korda
Unseeded
Uga Humbert
+2500
Unseeded
Miomir Kecmanovic
+3300
Unseeded
Roberto Bautista-Agut
+3300
7
Pablo Carreno-Busta
+3300
6
Ilya Ivashka
+4000
Unseeded
+4000
Marton Fucsovics
Unseeded
Halle Open Predictions
Felix Auger-Aliassime (+750)
If you're looking for one of the players with generous odds that can fetch a good payday, Felix Auger-Aliassime has to be one of the best bets.
Rafael Nadal won another French Open this year, but the player that gave him the biggest problems was Auger-Aliassime. He's only a 21-year-old and continues to improve his game.
In the Italian Open and French Open, Auger-Aliassime's only losses were against Djokovic and Rafa. He won two matches, including against No. 5 seed Karen Khachanov, but then No. 2 Auger-Aliassime saw No. 1 Djokovic.
That's when Auger-Aliassime ran into Djokovic, who was on fire then, and lost the match 5-7, 6-7. Despite the loss, it was a good effort from the 21-year-old Canadian. I can't fault a 3-game loss to Djokovic.
🇨🇦Felix Auger-Aliassime falls to Rafael Nadal in four hours and 22 minutes.
The Canadian is just the third player ever to force a fifth set against Nadal at #RolandGarros. pic.twitter.com/AmMR2eTh21
— TSN (@TSN_Sports) May 29, 2022
He was in good form with three straight wins in the French Open, but couldn't get past the tournament's eventual winner again. This time, Auger-Aliassime pushed Rafa to his limits in a five-set thriller.
In his most recent tournament this past weekend, the trend continued with Auger-Aliassime losing to the winner. Tim van Rijthoven upset Auger-Aliassime, and then he upset Medvedev for the title.
Looking at this field, Auger-Aliassime has to be a live dog to win the Halle Open. He's one of the more talented players in this field and could have an upset on a good day.
Also, note that Auger-Aliassime has been in good shape on the grass in his career.
Auger-Aliassime isn't a stranger to winning on a grass surface. He is 21-7 in 28 matches on the grass. His Halle Open odds look like good value and probably worth considering.
Daniil Medvedev (+300)
Daniil Medvedev was in tremendous shape to win in the Netherlands this past weekend. He reached the final round and was a heavy favorite against Tim van Rijthoven. However, Medvedev took his eyes off his opponent and lost 4-6, 1-6.
It wasn't close, with Medvedev out of form after losing three striaght matches in straight sets.
Medvedev did the same in the French Open. He was cruising through his first three matches in straight sets and then upset in a 2-6, 3-6, 2-6 loss to Marin Cilic.
This is another tournament for Medvedev where he has all of the tools to win against a field that isn't the best. How motivated will be be to compete in the Halle Open, though?
With Wimbledon right after the corner, Medvedev should be motivated to get his head together and focus on playing better tennis. If he were an even-money favorite or something along those lines, there'd be little value with Medvedev.
However, getting +300 on the best player in the Halle Open is worth serious consideration. If he decides to play to his full potential, he should get through this tournament without too many issues. I'm willing to back him at this price to win the Halle Open.